Sun, 06 Apr 2014, 09:44 AM



The California Flash



By Steve Reyes


Photo copyright 2014 Steve Reyes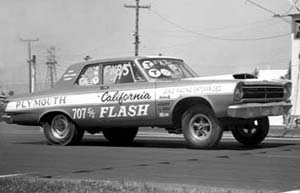 Butch Leal
It was 1960 in the farming town of Pixley, California when a farm boy named Larry Leal decided to go drag racing instead of doing his farming chores. The sixteen year old headed to Bakersfield with his new El Camino and so began a three decade career in the sport of drag racing. In 1962, the newly named Butch Leal guided his 409 Chevy Super Stocker at local central California race tracks.
The 409 proved to be too slow for Butch so in 1963 he upgraded to a 427 Z-11 Chevy supplied to him by the folks of Chevrolet. Mid-season in 1963 Butch traded the Chevy for a 427 ci and then he traded the Chevy for a 427 ci Ford Galaxie. Leal was a terror in the super stock class with his Ford but another change in 1964 saw Butch in one of eleven factory built Thunderbolts. Now this was the first car I saw Butch drive down the 1320. Being a top fuel and gasser fan, Butch was one of a few door slammers I would make an effort to watch make his way down the quarter mile.
Of course Butch was again on the move and became a Mopar man. He raced a two car team for his Mopar bosses, an A/FX and a Super Stocker both being Plymouth Belvederes. Leal did so well he topped $96,000 in 1965. Then Butch took off in 1966 to enjoy his second favorite sport, golf.
In 1967 Butch entered the world of nitro burning, tube chassis and fiberglass bodied funny car racing. Well, in a blink of an eye, Leal had the fastest nitro burning injected funny car in the USA. Butch had one heck of a year in 1967 but when 1968 dawned, Leal abandoned the funny car class for his roots in the super stock class and of course the game of golf.
When I spoke with Butch at CHRR 2013 he told me about leaving the funny car class. He was with both Don Nicholson and Jack Chrisman when they were trying different blower set ups on their funny cars. Both Nicholson and Chrisman had bad explosions and fires in their first ventures into blown funny car racing. Unfortunately, Chrisman suffered horrific burns on his hands with his blower failure. Seeing this Leal backed away from the "new" blower equipped funny cars.
By 1969 Butch was behind the wheel of his old friend Mickey Thompson's new 429 ci Shotgun Ford Hemi powered Mustang pro stock. The car didn't fare well in the new pro stock class and so Mickey scrapped the pro stock project and Leal had no ride. That was early in 1970 and just like that Butch was back in a Chevy product in the pro stock class. His rat motor did fine but breakage problems plagued the Camaro throughout the season.
It was musical brands again for Butch as he vacated his Chevy for the Mopar brand again. For the 1973 season Butch and his Mopar were inactive the first part of the year but then Leal went on a terror in the pro stock class all over the USA. He won the NHRA Grand Nationals in Canada and the AHRA World Finals. With all his match race wins in 1973 he was voted Drag News Pro Stock Driver of the Year. This was his second Drag News award having won it in 1972 as well.
Butch put together a two car team in 1974 driving the pro stock Mopar and his old friend Gale Mortimer drove the Mopar super stock. Leal had a few more years with Mopar but nothing like his early glory years.
The 1980's saw Butch go pro stock racing with Gil Kirk and his Nationwise stable of race cars. Leal's ride was a big bad Pontiac Firebird. Starting in 1984 Butch began a string of "bridesmaids" or runner ups at the NHRA Cajun Nationals and NHRA Winston World Finals. Then in 1985, he was runner up at the NHRA races at Denver, Englishtown and Grand National. Finally in 1985 Butch won the NHRA Southern Nationals to break his string of runner ups. A few more national runner ups and the game of golf called to Butch and he answered the call walking away from drag racing.
If you wish to purchase prints of the photos below, they may be obtained by contacting us at sreyes@reyesontour.com. Other photos may be viewed by following the link at the bottom of the page at www.reyesontour.com.
After his venture with Ford, Butch was seen at the wheel of his own
Mopar team. One super stocker and an A/FX car. Ever wonder where
Leal's nickname came from? While on tour Ben Christ told Butch he needed
a catchy name for promoters to promote.
Ben and Butch came up with "The California Flash."
Butch with his nitro burning injected A/FX car at Fremont, California in 1966.
Yes, that is a flagman as Fremont did not have a tree in 1966.
In 1967 Butch had the quickest and fastest nitro burning injected funny car
in the USA. Leal had a full match race card and here at Fremont, California,
Leal put the Bloomin Bullett Camaro on the trailer.
In 1968 Butch ditched the funny car and went back to super stock and golf.
He didn't like the trend of funny cars sporting blowers with their explosions and fires.
So he went back to his door slammer super stocker.
When 1970 came around, Butch went back to being a Chevy man with his rat motored Camaro.
The Camaro did well but had mechanical issues. Rufus "Brooklyn Heavy" Boyd purchased
the car at the end of the 1970 season. Now it was back to Mopar for Butch.
While waiting for his new trick Mopar pro stock to be finished, Butch joined
Don Grotheer's Mopar team in 1971. Butch drove Grotheer's super stocker and won.
In 1971 at the NHRA Nationals, Butch lined up against life long friends HL and
Shirley "Drag On Lady" Shahan and their pro stock Hornet. Leal sent his friends back
to California. He also faced off with old friend Dyno Don Nicholson and then Leal
vacated the funny car class because of blower explosions and fire. Leal left the funny
car class before he could experience the explosions and fire first hand. Nicholson tried
to hang in the blown funny car class and did go through the explosions and fire before
jumping to the young pro stock class.
The first of two Drag News Pro Stock Driver of the Year Awards for Butch Leal.
He brought home this award in 1972 and 1973 as the readers of Drag News voted him that honor.
Butch and I got together and burned a hole in the OCIR bleach box in 1972.
We got Leal a cover on Drag Racing Magazine in June of 1972 and some harsh words
from OCIR GM Mike Jones. I don't think Mike liked me burning holes in his bleach box area.
The big money race in August of 1972 was at Tulsa, Oklahoma. It had a purse of $25,000 for top fuel,
funny car and pro stock. Leal was just edged out by Bill Jenkins in the final of the PRA race.
Butch tried to make his Camaro work in 1970 but to no avail. He was soon backed by Mopar
and was a West Coast mainstay for the pro stock class. Leal, Landy and Bagshaw were the big
three pro stock racers and all three raced Mopar.
This is a smiling Butch Leal in the middle of Miss Longhorn Nationals, and Miss IHRA.
Leal raced NHRA, AHRA and IHRA national events and won his share of each sanctioning body's events.
Two of the best ever to drive race cars squared off at Bristol, Tennessee in 1973.
Both Butch and Ronnie Sox came up the door slammer ranks and were two of the best to
drive in the pro stock class.
These were a few of the last of Leal's Mopar pro stocks. Butch didn't fare well with
these rides so he went golfing until Gil Kirk called him to drive for his national team.
Butch found a home in the 1980's with Gil Kirk's Nationwise team. He was at the wheel of
the team's pro stock Pontiac Firebird. A string of runner-ups at NHRA national events and
then Butch broke his sting with a win at the NHRA Southern Nationals in 1985. After a few more
national event victories in 1986, Butch went golfing for good, calling it a career in drag racing.
The Pixley, California farm boy, Larry "Butch" Leal in 1972.




NHRA: 10 Most Recent Entries [ top ]

Mar 17- GAINESVILLE - Top Sportsman presented by RacingRVs.com Round 1 Winners
Mar 17- GAINESVILLE - Super Gas Round 2 Winners
Mar 17- GAINESVILLE - Super Stock Round 2 Winners
Mar 17- GAINESVILLE - Top Sportsman presented by RacingRVs.com Round 1 Eliminations
Mar 17- GAINESVILLE - Super Gas Round 2 Eliminations
Mar 17- GAINESVILLE - Super Stock Round 2 Eliminations
Mar 17- GAINESVILLE - Super Comp Round 2 Winners
Mar 17- GAINESVILLE - Stock Eliminator Round 2 Winners
Mar 17- NGK Adds 'Spark' to NHRA Four-Wide Nationals
Mar 17- GAINESVILLE - Super Comp Round 2 Eliminations