Fri, 04 Apr 2014, 14:29 PM



Same Game, Different Name as Pro Mods Invade 'The Rock' for P.D.R.A. Spring Open



Courtesy of Steve Earwood



ROCKINGHAM, N.C. -
The name has changed, but the concept of free admission to watch the nation's quickest Pro Modified race cars on an eighth-mile fast track remains the same this week (April 4-6) as Steve Earwood's Rockingham Dragway plays host to the opening event in the new Professional Drag Racers Association series.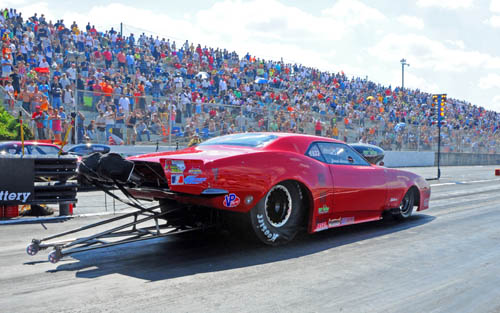 Jason Harris
The inaugural PDRA Spring Open will be international in scope with racers representing Sweden, Canada, Aruba and Dubai among those vying with America's best for points and prize money in categories already familiar to Pro Mod race fans.
Pro Extreme and Pro Nitrous race cars including those of founding PDRA partners Jason and Mitchell Scruggs of Tupelo, Miss., Gene Hector of Big Spring Texas, Roger Henson of Boliva, Tenn., and Tommy Franklin of Fredericksburg, Va., will be among the first to test a newly-refurbished Rockingham track surface expected to deliver record times and speeds.
In addition to the top two Pro Modified classes, sponsored by NAS Racing and Switzer, respectively, champions also will be crowned in the Precision/Pro-Line Pro Boost, Aruba Extreme Pro Stock, Pro Extreme Motorcycle, Top Sportsman and Top Dragster classes as well as Jr. Dragster.
"Basically, same racers, same format," Earwood said. "That's the biggest thing. Pro Mods on the eighth mile put on a great show and have become fan favorites. We're extremely proud to be hosting the PDRA's first event."
Among those expected to make the biggest noise at the opener are Mike Castellana of Muttontown, N.Y., driver of the just fabricated Jerry Bickel late model Chevrolet, Joey Martin of Milton, Fla., whose 1955 Chevy Nomad has proven to be one of the most popular cars in the category and veteran Frankie Taylor of Dickinson, Texas.
However, the Dubai-based NAS (Nad Al Shiba) Racing Team also could pose a challenge with drivers Mustafa Buhumaid and Bader Ahli at the wheel of brand new Jerry Bickel-built early-model Camaros.
One significant change to the schedule will be an early pro qualifying session at 6 p.m. Friday followed by three more starting at 11 a.m. Saturday. Sportsman eliminations will open the Sunday program at 10 a.m. followed immediately by pre-race ceremonies and the first round of racing in all pro categories.
In addition to qualifying, the Saturday night show will feature the new Ultra 4 Shootout presented by Ultra Sonic LLC in which the quickest four Top Dragsters as determined in the first two qualifying sessions will compete for a $500 bonus just before the traditional jet car finale.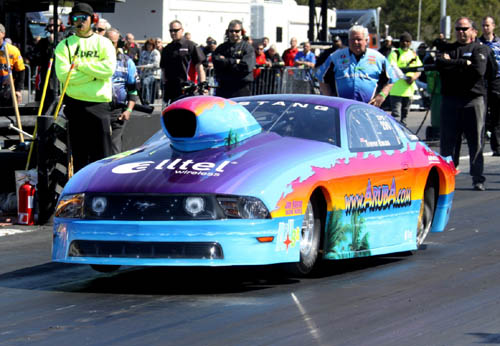 Trevor Eman
The island nation of Aruba, which has been designated the "official vacation destination" of the PDRA, will be represented by the Extreme Pro Stock Ford Mustang driven by veteran Trevor Eman of Pos Chiquito, whose U.S. shop facility is in Union, S.C.
Past Rockingham winner Elijah Morton of Jacksonville, N.C. also is considered a major Pro Stock threat while Eric McKinney of Homersville, Ohio, last year's spring winner, is favored in a Pro Extreme Motorcycle category in which former MIRock Superbike Series winners Dave Norris of Bryans Road, Md., and Ronnie Procopio of Raleigh also are expected to challenge.
The track, which recently underwent successful "surgery" to repair a problem at the transition from concrete-to-asphalt in the left lane, will be open from 11 a.m. until 7 p.m. on Thursday for testing in all categories, pro and sportsman.
Free tickets are available at www.prdra660.com.




Drag News: 10 Most Recent Entries [ top ]

Apr 24- NHRA Heritage Series Heads To Wild Horse Pass
Apr 22- K&N Spring Fling Million Final Day Results
Apr 21- K&N Spring Fling Million Friday Results
Apr 20- K&N Spring Fling Million– Thursday Results
Apr 19- K&N Spring Fling Million- Wednesday Results
Apr 18- Buckeye S/SS @ National Trail April 28th
Apr 18- Don "the Snake" Prudhomme Returns To Baja Competition After 50 Years
Apr 18- K&N Spring Fling Million Tuesday Results
Apr 17- K&N Spring Fling Million Pre-Race
Apr 12- Summit Racing Equipment is Newest Sponsor of Midwest Junior Super Series