Tue, 01 Apr 2014, 19:13 PM



Racers Invading Vegas



Courtesy of John DiBartolomeo



LAS VEGAS --
Beginning this Wednesday, the best bracket racers from all over the country will be invading The Strip at Las Vegas Motor Speedway for the second annual K&N Spring Fling Vegas race slated for April 2-6. Last year's event attracted over 400 drag racers competing for big cash prizes each day of the event. The success of the event led promoters Kyle Seipel and Peter Biondo to increase the purse and extend the event one extra day.
The action for the Super Pro and Pro classes will kick off on Wednesday with a free test-n-tune sponsored by Yukon Gear & Axle. Don Davis Race Cars/Racetech Chassis Ultimate Shootout offers the first 96 drivers entered a chance to race for a new car from the sponsors, which will be the highlight of Wednesday. Baldwin Racing Alzheimer Awareness Thursday starts with one time trial followed immediately by eliminations. Silverstate Refrigeration and Maytag teamed up to sponsor Friday and Saturday's races followed by Baldwin Racing's Cancer Awareness Sunday race.
Shane Thompson's Silverstate Refrrigeration also recently announced they would be upping the ante for Friday's race. Instead of the originally announced $10,000 and $5,000 to win for the Super Pro and Pro classes respectively, with Thompson's help, the Friday winner's share of the purse will be $15K and $6K.
All races will be contested at the 'Fling's patented 1,000 Foot Compromise which benefits both eighth- and quarter-mile racers. On Friday night the Sparco Racer Appreciation Party along with the Spring Fling $20K Challenge will take place, with any or all randomly picked 20 drivers picking up $1000 cash with a perfect reaction time. It's all just icing on the cake where the emphasis in on FUN.
Please visit www.bracketraces.com for a complete schedule and for a live video and audio feed of the event sponsored by JEGS and Steve Schmidt Competition Engines. Visit and "like" www.facebook.com/springflingbracketrace to keep up to date with any announcements regarding both the K&N Spring Fling Vegas and Bristol Spring Fling 5 Day events.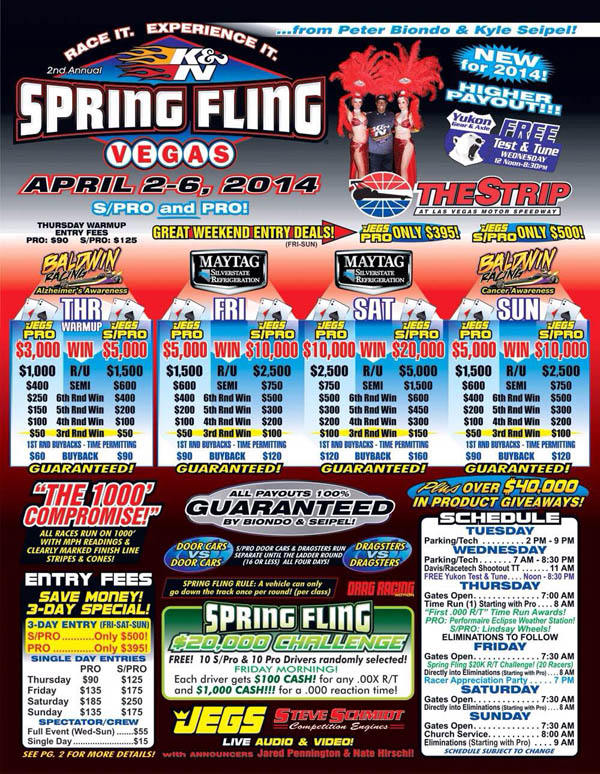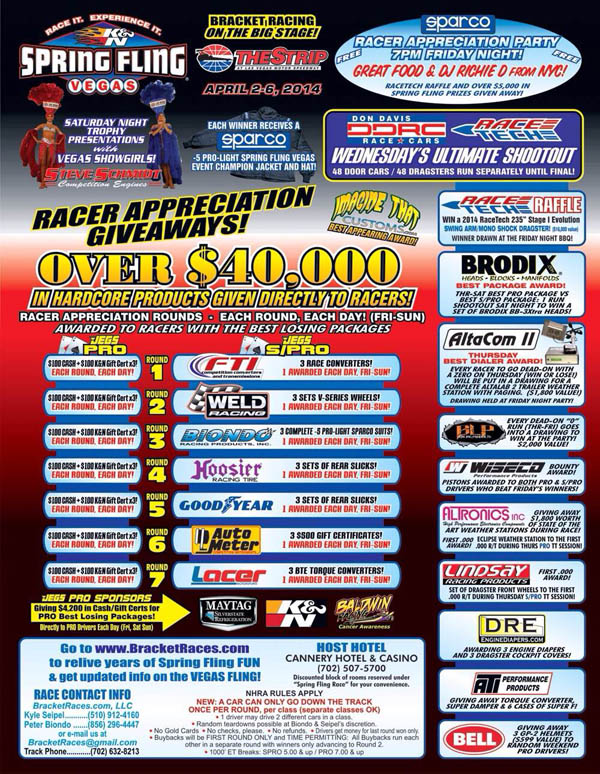 Drag News: 10 Most Recent Entries [ top ]

Mar 21- Hot Sun and Hotshots Abound at NMCA Season-Opener in Florida
Mar 12- PDRA Unveils Classic Graphix Pro Mod Challenge
Mar 12- Schwing America Becomes Title Sponsor of PDRA Pro Outlaw 632
Mar 10- BAKERSFIELD - Nostalgia Funny Car Final, Round 4 Eliminations
Mar 10- BAKERSFIELD - Nostalgia Top Fuel Final, Round 3 Eliminations
Mar 10- BAKERSFIELD - AA/Fuel Altered Final, Round 3 Eliminations
Mar 10- BAKERSFIELD - Classic Funny Car Final, Round 3 Eliminations
Mar 10- BAKERSFIELD - Nostalgia Rear Motor Top Fuel Final, Round 2 Eliminations
Mar 10- BAKERSFIELD - Junior Fuel Final, Round 3 Eliminations
Mar 10- BAKERSFIELD - A FUEL Final, Round 3 Eliminations