Tue, 01 Apr 2014, 11:03 AM



Biondo Doubles



Courtesy of NHRA Communications


Photo copyright 2014 Auto Imagery, Inc.





Severance, Januik also Score in Vegas



LAS VEGAS --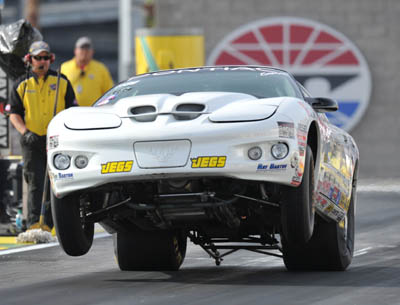 Peter Biondo won Super Stock
Peter Biondo took home not one trophy but two scoring the rare NHRA National event double this weekend at the Summitracing.com NHRA Nationals at The Strip at Las Vegas Motor Speedway while Joey Severance and Nick Januik grabbed wins in Top Alcohol Dragster and Top Alcohol Funny Car.
Biondo, Mespeth, N.Y., first faced off with Andrew Durham in the Super Stock final taking the starting line advantage and holding on for his 47th national event win in 9.862 seconds at 133.96 mph to Durham's 9.638, 135.82 in his '11 Challenger. He then came back to meet up with Ryan Mangus, Rialto, Calif., in Stock Eliminator taking the hole shot again with a .013 second reaction time, and was near perfect at the strip posting a 10.672 second lap on his 10.67 dial giving him the win and the double up. This was the second time Biondo has doubled up, having done so at National Trail Raceway, Columbus, Ohio, in 2005.
Severance, out of Woodburn, Ore., qualified No. 1 with a 5.280 second lap and ran 5.30's on his way to the final round where he posted the quickest run of the event at 5.269 seconds, 269.78 mph to defeat Johnny Ahten. Ahten qualified No. 5 at 5.340 but slowed in the final to a 5.588, 259.91.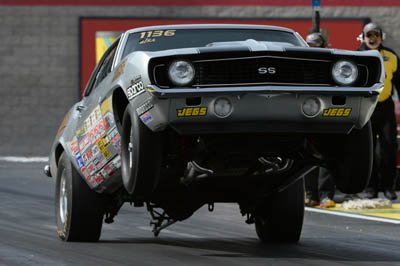 Peter Biondo won Stock.
In just his 5th NHRA national event appearance, local runner Januik, ran consistent 5.60's all weekend to capture his first ever national event win. The Las Vegas racer, posted a 5.629 to beat Clint Thompson in the semifinals then went 5.631 at 256.65 to defeat multi-national event winner Jay Payne, Claremont, Calf., in the Top Alcohol Funny Car final.
Lou Ficco Jr., Wheat Ridge, Colo., held on for the win in Comp Eliminator, ending Clint Sallee's day in 7.008 seconds at 195.17 mph. The win was number six for Ficco.
Steve Williams, Beaumont, Calif., and Trevor Larson, Starbuck, Minn., joined in on the winner's circle celebration taking the wins and the trophies in Super Comp and Super Gas respectively. Williams beat out Sheldon Gecker in a double breakout for his seventh national event win while Larson went .009 on the tree on his way to his second national event win in his '08 Corvette in defeating Steve Parsons, Ridgcrest, Calif.
The following are the final results from the NHRA Lucas Oil Drag Racing Series event at the Summitracing.com NHRA Nationals at The Strip at Las Vegas Motor Speedway:
Top Alcohol Dragster -- Joey Severance, 5.269, 269.78 def. Johnny Ahten, 5.588, 259.91.
Top Alcohol Funny Car -- Nick Januik, Chevy Monte Carlo, 5.631, 256.65 def. Jay Payne, Ford Mustang, DQ.
Comp Eliminator -- Lou Ficco Jr., Pontiac GXP, 7.008, 195.17 def. Clint Sallee, Dragster, 6.780, 199.79.
Super Stock -- Peter Biondo, Pontiac Firebird, 9.862, 133.96 def. Andrew Durham, Dodge Challenger, 9.638, 135.82.
Stock Eliminator -- Peter Biondo, Chevy Camaro, 10.672, 115.74 def. Ryan Mangus, Camaro, 11.562, 101.97.
Super Comp -- Steve Williams, Dragster, 9.049, 171.14 def. Sheldon Gecker, Dragster, 9.036, 168.83.
Super Gas -- Trevor Larson, Chevy Corvette, 10.296, 143.00 def. Steve Parsons, Corvette, 10.044, 170.11.




NHRA: 10 Most Recent Entries [ top ]

Apr 24- CHARLOTTE 1 - Steve Torrence Enjoying Four-Wide Success Heading to NGK Spark Plugs NHRA Four-Wide Nationals
Apr 24- CHARLOTTE 1 - Fact Sheet
Apr 24- Kalitta Motorsports Welcomes NASCAR Stars to the SealMaster Track Walk in Charlotte
Apr 24- zMAX Dragway Celebrates 10th Anniversary
Apr 24- CHARLOTTE 1 - NGK Spark Plugs NHRA Four-Wide Nationals Brings 40,000 Horsepower Thrill Show to zMAX Dragway
Apr 23- HOUSTON - Lucas Oil Drag Racing Series Wrap Up The NHRA Lucas Oil Drag Racing Series Wrap Up
Apr 23- CHARLOTTE 1 - J.R. Todd Aiming for Two Four-Wide Racing Wins in 2018
Apr 23- Mid America Dragway Joins NHRA Member Track Network
Apr 23- HOUSTON - Special Awards
Apr 23- HOUSTON - Sunday Video