Wed, 26 Mar 2014, 10:42 AM



Ian Hill Racing, Dilts Piston Hydraulics, and ATI Performance Products Inc.



Courtesy of Andrew Stirk


Photo Credit: Ian Hill Racing





Come together to Sponsor Modified Eliminator class in 2014



ST CATHARINE'S, Ontario --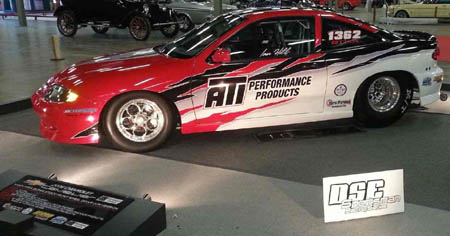 Ian Hill Racing
The DSE Automotive Sportsman Racing Series is pleased to announce that Ian Hill Racing with Dilts Piston Hydraulics Inc., has partnered with ATI Performance Products Inc., for the 2014 season to promote Ian Hill Racings new Super Stock Cavalier. As part of the promotional package for Ian Hill Racing, all three parties will team up to sponsor the DSE Sportsman Series Modified Eliminator category this Season.
The debut of the Super Stock Cavalier and the announcement of the Joint sponsorship support of the Modified Eliminator category both took place today at 10 am Eastern within The Speed and Custom Car Show in London Ontario.
"I have always looked up to those that have supported the local drag racing scene, and now I have an opportunity to do the same." Said Ian Hill, owner of Hill Racing and Dilts Piston Hydraulics Inc.
Ian would go on to add, "The DSE Sportsman Series has become a staple of Sportsman Drag Racing in our area and to be a part of what Andrew and Dave Stirk are providing us is a great way to give back. We are proud to have been able to secure ATI Performance Products as our primary sponsor this year and in turn give back to our racing community." With news of the support, Modified Eliminator racers can look forward to competing for over $5400 in total cash & prizes in the Year End Championship purse for the class. Membership pricing to join the point's series is only $75, which also comes with a $25 certificate from Competition Products, a Renegade Race Fuels T-Shirt, NAPA Auto Parts Hat, and special Race Fuel Discounts of Renegade Race Fuels through DSE Automotive.
The first Event in the DSE Automotive Sportsman Racing Series is the 3rd Annual Season Opener, which takes place June 7th-8th at Cayuga Dragway of Toronto Motorsports Park. The DSE Sportsman Racing Series boasts a (to date) $22,500 Year end points fund, and features a point's structure where racers claim their best 8 out of 12 point's races during the season. For more information on the Series and its Marketing Partners, please visit www.SportsmanRacingSeries.ca .




Drag News: 10 Most Recent Entries [ top ]

Apr 24- NHRA Heritage Series Heads To Wild Horse Pass
Apr 22- K&N Spring Fling Million Final Day Results
Apr 21- K&N Spring Fling Million Friday Results
Apr 20- K&N Spring Fling Million– Thursday Results
Apr 19- K&N Spring Fling Million- Wednesday Results
Apr 18- Buckeye S/SS @ National Trail April 28th
Apr 18- Don "the Snake" Prudhomme Returns To Baja Competition After 50 Years
Apr 18- K&N Spring Fling Million Tuesday Results
Apr 17- K&N Spring Fling Million Pre-Race
Apr 12- Summit Racing Equipment is Newest Sponsor of Midwest Junior Super Series