Thu, 13 Mar 2014, 14:07 PM



SHRA Announces Nostalgia Eliminator Shootout Program For 2014



Courtesy of Chris Graves



In an effort to bring more attention to the fun and excitement of grassroots nostalgia drag racing, the Southwest Heritage Racing Association presented by MalloryPrint.com proudly announced a new and exciting program for competitors in all three Nostalgia Eliminator classes for 2014. In each class, drivers will earn points based on qualifying positions at the first 7 SHRA events in 2014. At the 8th event of the year, the SHRA CHAMPIONSHIP FINALS to be held November 8th at the Texas Motorplex in Ennis, the top 8 points earners in each class will face off for one round to determine the two finalists of their class shootout. The two quickest winners of that first round will be slotted into the final, where the runner up will take home $500 cash and the winner will pocket $1,000!
The shootout in Nostalgia Eliminator 1 will be known at the Good Vibrations NE1 Shootout. Good Vibrations Motorsports based in Whittier, California is a huge supporter of SHRA nostalgia drag racing and Jim Maher and all the good folks at Good Vibrations where thrilled to support this quickest category of SHRA racing. Maher states, "The SHRA has put together a fantastic program for nostalgia drag racing and we felt we had to be involved in this NE1 Shootout program that has our kind of race cars!" Good Vibrations Motorsports specializes in supercharged and mechanical fuel injection applications and also stock a very large selection of gaskets, fittings, safety equipment and race accessories at discounted prices. Find them online at www.dragparts.com and be sure to sign up for their 25th Anniversary monthly sweepstakes contest!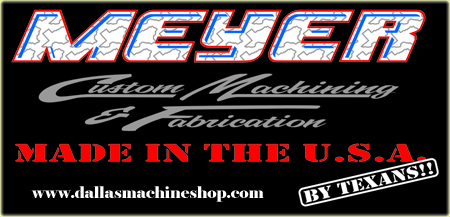 In the Nostalgia Eliminator 2 category, returning supporter Meyer Enterprises located in Denton, Texas will be sponsoring the Shootout for the NE2 racers. To be known as the Meyer Enterprises NE2 Shootout, Allen Meyer, owner of Meyer Enterprises, states "It was a natural fit for Meyer to support the great grassroots racing of SHRA, and we wanted to back the NE2 Shootout as our way of showing our support to nostalgia drag racing." If you need custom or production machining work, no job is too small or too big for the craftsmen at Meyer Enterprises. Located conveniently in the North Texas area, the fabricators at Meyer work with steel, aluminum, titanium, plastics, rubber and other exotic materials. The extensive equipment list includes CNC Machining, TIG & MIG welding, sheet metal forming equipment, tube bending and their latest addition a Techni Water Jet unit. The motto at Meyer is - Unique Solutions for Unsolvable Problems. The Meyer family name also happens to have a rich history in drag racing with Allen tuning Dale Creasy Jr. to the IHRA Funny Car Championship in 2006 and dad Larry being a well-respected racer and fuel tuner who tuned Cruz Pedregon to the '92 NHRA Funny Car Championship! Be sure to check out Meyer Enterprises on the web at
www.DallasMachineShop.com
.
For the Nostalgia Eliminator 3 racers, AlkyDigger's has returned in 2014 as a SHRA supporter and stepped up as the backer of the shootout for these competitors. The Alkydigger's NE3 Shootout will be competing with the same rules and guidelines as the other SHRA Shootouts. Alkydigger's Fuel Injection and Parts out of Nashville, Tennessee is the nation's largest Hilborn dealer along with Enderle's largest east coast distributor. Alkydigger's offers complete restoration of Hilborn, Enderle, Crower, Algon, Pete Jackson and Kinsler Injectors. There are over $200,000 in Hilborn, Enderle, Vertex and Dyer Blower parts on hand at a given time. Owner Mike Chilando states that "The SHRA has
developed a fun series for nostalgia drag racing competitors and we are proud to support the NE3 class with this fantastic shootout concept." If you need new, used or just need to discuss fuel injection, look up Alkydigger's on their website at
www.Alkydiggers.com
.
The first event to earn points for the SHRA Nostalgia Eliminator Shootouts will be Saturday April 5th for the SHRA Spring Nationals at North Star Dragway in Denton, TX. The SHRA tour will compete all year long in Texas and Oklahoma bringing fans of nostalgia drag racing the best in old school drag racing in this region. You can learn more about the series at www.SHRAracing.com where you can find rules, race dates, locations, event recaps, photos and more! Like us on our Facebook page and be sure to sign up for the free email that will keep you informed about all things nostalgia in drag racing in the Southwest!




Drag News: 10 Most Recent Entries [ top ]

Apr 19- K&N Spring Fling Million- Wednesday Results
Apr 18- Buckeye S/SS @ National Trail April 28th
Apr 18- Don "the Snake" Prudhomme Returns To Baja Competition After 50 Years
Apr 18- K&N Spring Fling Million Tuesday Results
Apr 17- K&N Spring Fling Million Pre-Race
Apr 12- Summit Racing Equipment is Newest Sponsor of Midwest Junior Super Series
Apr 12- Summit Racing Named Official MWPMS Sponsor and Event Title Rights Holder
Apr 11- NMCA All-Star Nationals Chevrolet Performance Challenge Series Final Results
Apr 11- Dragstrip Memories Returns in Presenting Canada's Drag Racing History
Apr 11- 10th Annual NMCA All-Star Nationals presented by MAHLE Motorsports Wrap Up