Mon, 10 Mar 2014, 11:27 AM



K&N Spring Fling Vegas Kicking Off



Courtesy of John DiBartolomeo



The excitement is building and will come to a crescendo at The Strip at Las Vegas Motor Speedway in a month on April 2-6 when the K&N Spring Fling Vegas event takes place.
Racers on the left coast rarely get the chance to compete for big dollars but that's exactly what will take place on those dates. And would you expect anything less for an event held in possibly the gaming capital of the world, Las Vegas? But the action on that date will take place north of that infamous "Strip." Based on the success of the inaugural event last year, promoters Peter Biondo and Kyle Seipel have increased the purse for the 2014 version of the race.
Seipel said, ""Both Peter and I are extremely happy with the support we've received from the racing community and from our many sponsors. Without either group, the K&N series of races would not have been as successful as they are. And because of this, we only feel it right to give back to the racers with purse increases."
The action for the Super Pro and Pro classes will kick off on Wednesday with a free test-n-tune sponsored by Yukon Gear & Axle. Don Davis Race Cars/Racetech Chassis Ultimate Shootout offers the first 96 drivers entered a chance to race for a new car from the sponsors, which will be the highlight of Wednesday. Baldwin Racing Alzheimer Awareness Thursday starts with one time trial followed immediately by eliminations. Silverstate Refrigeration and Maytag teamed up to sponsor Friday and Saturday's races followed by Baldwin Racing's Cancer Awareness Sunday race.
Thursday's winner in Super Pro and Pro receives $5,000 and $3,000 respectively. Friday and Sunday's winners walk away with $10,000 and $5,000 while Saturday's main event will award a whopping $20,000 and $10,000. Round money is also increased in addition to over $40,000 in product giveaways.
But there's more to the event than just the money. In addition to all races contested on the 'Fling's patented 1,000 Foot Compromise, a Friday night Sparco Racer Appreciation Party along with the Spring Fling $20K Challenge, with any or all randomly picked 20 drivers picking up $1000 with a perfect reaction time, is just icing on the cake where the emphasis in on FUN.
Please visit www.bracketraces.com for a complete schedule and for a live video and audio feed of the event sponsored by JEGS and Steve Schmidt Competition Engines. Visit and "like" http://www.facebook.com/springflingbracketrace www.facebook.com/springflingbracketrace to keep up to date with any announcements regarding both the K&N Spring Fling Vegas and Bristol Spring Fling 5 Day events.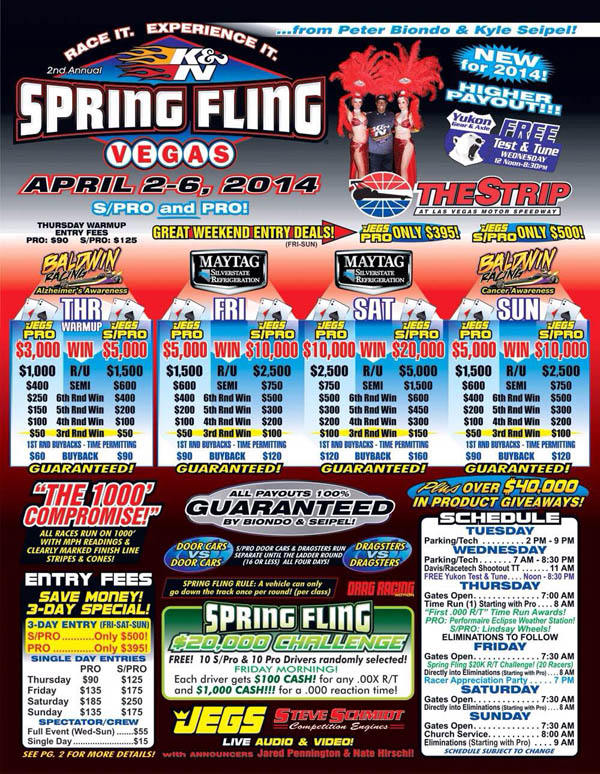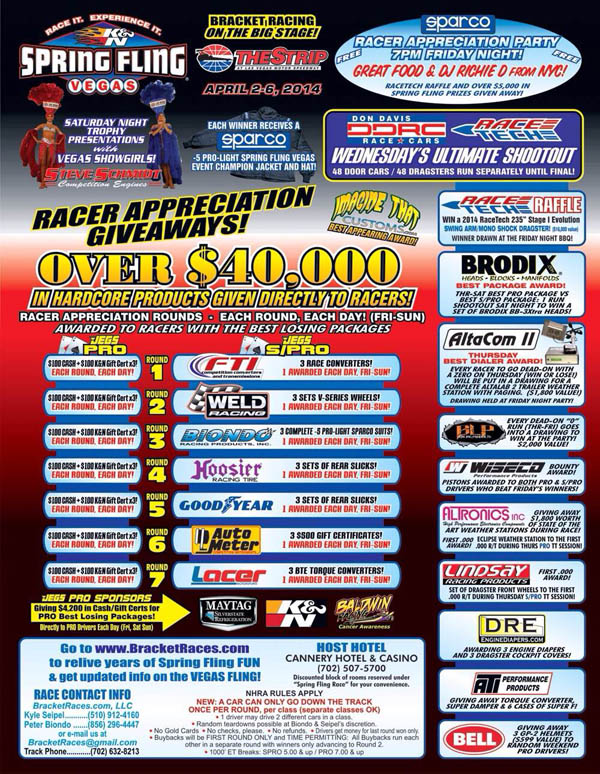 Drag News: 10 Most Recent Entries [ top ]

Mar 10- Dodge//SRT and Mopar Brands to Offer Complimentary Drag Race Experience for NMCA Competitors in 2018
Mar 10- Cottrell, Wittenberg, Hix, and Bates Come Out Swinging at the 2018 March Meet
Mar 09- Universal Technical Institute Named Official Sponsor of Sonoma Raceway's Drags and Drift Program
Mar 09- Revitalized Street Fights Series Roars into Action with a New Look and Feel
Mar 07- Todd Martin Wins in Pro Mod Return at MWPMS Season Opener
Mar 07- Keith Haney Racing Encouraged by Strong Start at MWPMS Season Opener
Mar 06- Gateway Motorsports Park to open Saturday, March 31
Mar 06- Mad Mule Pro Mod Shootout at GALOT Motorsports Park Results
Mar 05- BAKERSFIELD - Nostalgia Rear Motor Top Fuel Round 1 Eliminations
Mar 05- BAKERSFIELD - Nostalgia Funny Car Final, Round 4 Eliminations