Mon, 10 Mar 2014, 10:55 AM



Summit Bracket Racing Series presented by COMP Cams- Results Race 2



Courtesy of Pam Kendrick



MILLINGTON, Tenn. --
The Summit Bracket Racing Series Presented by: COMP Cams race two of a 14 race series was held this past Saturday Night and what a race it was. The pits filled with competitors looking to make their bid at 2014 Track Champion.
MIR looking to get one of two races in on the weekend, started a little early on the day before threatening weather moved into the area. The Winter Storm of 2014 did bring racing to a close on Saturday night by causing the cancellation of Sunday's event, but Saturday's race was filled with steep competition making the points chase that much more intense. As the night came to a close, the racing heated up and the competition was at its best, last week's winners battling to get back to the top and competitors looking to bump them off the top spot!
"It was another great day of racing at Memphis International Raceway", said Paul Cartwright, Director of Race & Facility Operations. Cartwright continued, "We were looking to host a doubleheader weekend, but the Winter Storm of 2014 put a stop to that."
RT Turbines Jr. Dragsters
Kicking off the second race of the season, there were a few upsets in the early rounds but two familiar faces pulled alongside each other in the final round of RT Turbines Jr. Dragsters. Justin and Tyler Poindexter moved through the competition again this week to have another Brother vs. Brother shootout in the finals. Justin got some payback from last week, taking the event win over brother, Tyler, with a .030 reaction time and running dead on his dial-in with a 7.927 @ 79.18mph. Tyler slows to an 8.018 @ 78.01mph off his 7.98 dial-in. Drew Mann Tracey, based out of Millington, TN, from the Motorvation Motorsports team was the lone semi-finalist of the evening, rounding out the RT Turbines Jr. Dragsters category.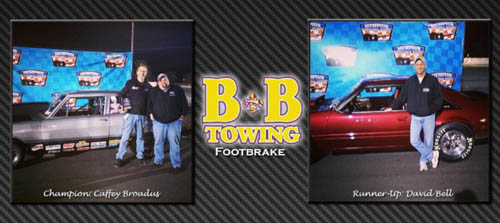 B&B Towing Footbrake
As eliminations started, the theme of the night was already setting its pace; the action in B&B Towing Footbrake was going to be competitive all night long. Round after round, packages were being thrown down with exceptional reaction times and skill on display. As the final round came to the staging lanes, two of the area's toughest racers were competing for all the marbles. Caffey Broadus from Olive Branch, MS came out victorious over Blytheville, AR's David Bell. As the drivers left the starting line, both recorded .028 reaction times. Broadus runs a 5.888 @ 116.08mph on a dial-in of 5.88, putting a .036 package on the table. Bell, tapping the brakes goes a 6.411 @ 107.27mph on his 6.40 dial-in to give the event win to Caffey Broadus with a margin of victory of .003 of a second at the finish line. Troy Poindexter from Millington, TN finished in the semi-finalist position and Steve Wilson and David Ciarloni were the quarter-finalists.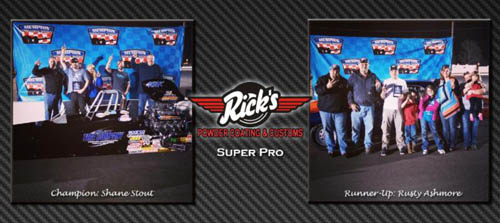 Rick's Powder Coating Super Pro
The Super Pro category is one of the most competitive classes in bracket racing and that was put on display on Saturday evening. From the very first matchup in Round 1, incredible runs were being posted and some were not good enough to earn a round win. As the quarter-finals came to the staging lanes, there were seven competitors left standing - four dragsters and three door cars. Eliminations continued on and the final round pitted 2013 Track Champion, Rusty Ashmore from Southaven, MS in his '69 Firebird against Shane Stout's Hub City Tire Company '11 Mullis dragster based out of Jackson, TN. Stout took the win in the dragster leaving the starting line with a .005 reaction time and stopping the clocks at a 4.799 @ 137.98mph off his 4.78 dial-in. Ashmore turns in a .018 reaction time and a 6.672 elapsed time at 101.94mph off his 6.66 dial-in handing the win to Shane Stout. Shane dedicated this victory to his engine builder, Tracy Dennis, owner of Sunset Racecraft Racing Engines, who tragically lost his life the day before this event. Rounding out the money winners in Rick's Powder Coating Super Pro were semi-finalists Tyler Roach and Derrick Hubbard with quarter-finalists Cody Graham, race 1 winner; Jerry Posey and Mark Meadows.
RT Turbines D.O.T. Street
Our only ? mile class in our Summit Bracket Racing Series, presented by: COMP Cams - RT Turbines D.O.T. Street is a fun-filled category that anybody can enter. With a mixture of vehicles to begin the day, two old school muscle cars faced off in the final round. Improving on his race one runner-up finish, Jimmy Ray, from Atoka, TN took the event win in a double breakout finish with a ..064 reaction time and a 10.515 @ 122.97mph run off his 10.55 dial-in. Covington, TN's David Elam came up just a little short with a .056 reaction time and a 9.259 @ 144.50mph run that was just a little too quick for his 9.30 dial-in. Billy LaRue, Jr. was the semi-finalist in RT Turbines D.O.T. Street to round out the money earners.
"With racing like this, the year is shaping up to be a close battle; it's exciting, said Tyler Crossnoe, Drag Strip Manager. Crossnoe continued, "Looking forward to our next event."
As we have an action packed schedule make your plans now to come out and feel the excitement building at Memphis International Raceway. The next MIR points meet for the Summit Bracket Racing Series presented by: COMP Cams is scheduled for a doubleheader weekend: Saturday, March 15, 2014 and Sunday, March 16, 2014. On Saturday, March 15, 2014, the gates are scheduled to open at 4:00 and time trials will be underway at 5:00 p.m.; on Sunday, March 16, 2014, the gates will open at 9:00 a.m., followed by Church Service at 9:30 a.m. and time trials beginning at 11:00 a.m.
Don't miss a minute of action at Memphis International Raceway in 2014! To stay up to date with all the racing excitement be sure and check out our website at www.racemir.com, like us on Facebook at www.facebook.com/RaceMIR, or follow us on Twitter at www.twitter.com/RaceMIR.
The entire MIR team looks forward to seeing you at the track in 2014!




IHRA: 10 Most Recent Entries [ top ]

May 15- IHRA Summit SuperSeries Championship is Underway at Member Tracks
May 15- Xtreme Raceway Park Ready to Host IHRA Summit Sportsman Spectacular
May 15- Cordova International Raceway Summit SuperSeries Champions Honored
May 15- Saskatchewan International Raceway Joins IHRA
May 15- IRG Sports + Entertainment Expands Leadership Team
Apr 24- Racers Receive Prizes at IHRA Summit Sportsman Spectacular Opener
Apr 24- Comeaux, Hughes Make History at IHRA Summit Sportsman Spectacular
Mar 21- 2018 IHRA Summit Sportsman Spectacular Series on April 20-22
Feb 26- Weather-Related Construction Delays Postpone IHRA Xtreme Raceway Park Opener
Feb 16- IHRA Summit Sportsman Spectacular Schedule Announced