Wed, 19 Feb 2014, 15:50 PM



IHRA to Debut Rebranded and Redesigned Drag Review Magazine in 2014



Courtesy of IHRA Communications



NORWALK, Ohio --
Featuring an all-new look, a brand new, modern style and more coverage than ever before, the International Hot Rod Association™ (IHRA) is excited to unveil a rebranded and redesigned Drag Review Magazine later this month.
The new Drag Review Magazine will help better serve the appetite of IHRA fans, sponsors and racers with enhanced race coverage, more action, in-depth content, and an exciting new mix of professional and sportsman coverage - all in 12 exciting, monthly double issues.
"This is certainly an exciting time to be a part of the IHRA. In addition to a brand new look for our professional series and a continued commitment to our sportsman racers, we now have a publication that we can proudly show the world - and give our racers the proper coverage they deserve, in a magazine they are excited to receive," said Scott Gardner, President of IHRA Motorsports. "The new Drag Review Magazine is sleek, it is exciting, and above all else, it is distinctly and proudly IHRA. I think fans, racers and sponsors will look forward to receiving Drag Review each month."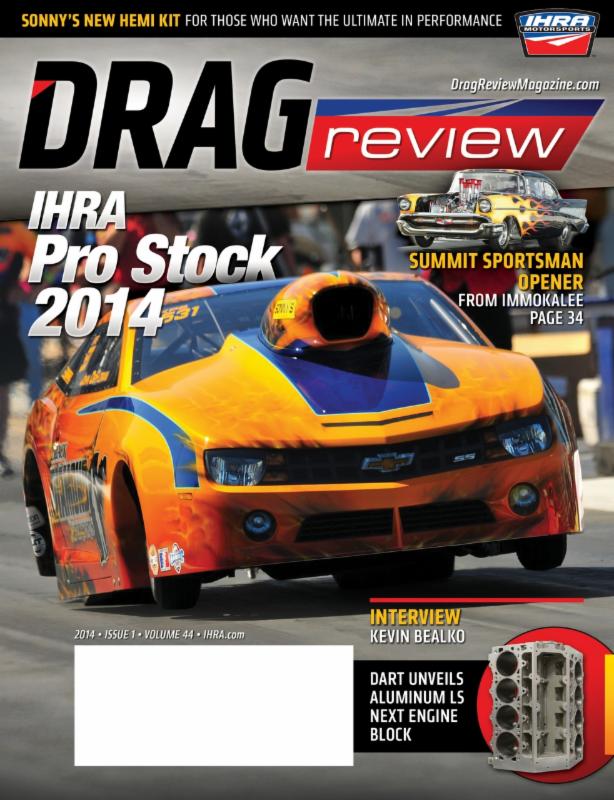 The all-new Drag Review will feature an exciting mix of pro and sportsman coverage
The first issue of the all-new Drag Review Magazine will be in the hands of IHRA members in late February and will be followed by 11 more monthly installments in 2014. IHRA members will enjoy enhanced coverage of select events on the IHRA Summit Racing Equipment Pro-Am Tour presented by AMSOIL, in addition to in-depth professional and sportsman coverage of each of the events on the 2014 Nitro Jam Drag Racing Series North American Tour.
Each issue will also include more photos, features, interviews and news from the entire world of drag racing in a newsstand-worthy publication rivaling many of the top motorsports publications in print today.
IHRA members can look for their first issue of the new Drag Review Magazine later this month, or fans can view an online version of the magazine at www.DragReviewMagazine.com.




IHRA: 10 Most Recent Entries [ top ]

Apr 24- Racers Receive Prizes at IHRA Summit Sportsman Spectacular Opener
Apr 24- Comeaux, Hughes Make History at IHRA Summit Sportsman Spectacular
Mar 21- 2018 IHRA Summit Sportsman Spectacular Series on April 20-22
Feb 26- Weather-Related Construction Delays Postpone IHRA Xtreme Raceway Park Opener
Feb 16- IHRA Summit Sportsman Spectacular Schedule Announced
Feb 15- New York Track Finds Value for Racers with IHRA Agreement
Feb 15- IHRA Summit Sportsman Spectacular Debut Only One Month Away Now is the Time to Pre-Enter
Feb 15- Summit Texas Location is a Racers' Paradise
Feb 15- Canadian Track Makes Large Commitment to IHRA Drag Racing
Jan 27- Mid-Michigan Destination Joins IHRA Family