Wed, 19 Feb 2014, 10:34 AM



Big Money Kick-off Classic @ San Antonio Raceway



By J M Hallas



MARION, Texas --
After a great day of racing Saturday, Sunday saw another complete show for San Antonio Raceway's Annual Kick-off Classic. Drivers in the Electronics, Foot brake and Jr. Dragsters again faced off in side by side competition on the 1/8 mile looking for that pay check at the end of the day.
Early morning weather was a bit foggy, with a bit of drizzle, but in the 60's as time trials kicked off. Once the fog burned off weather was nearly ideal with only some scattered clouds keeping it from being a perfect day, and temperatures approaching 80. Track temps. held in the low 70's through qualifying and early rounds. When the sun finally broke through around the middle of eliminations it quickly raised the track temperatures to the 90's.
For a ' full moon' weekend of racing things were relatively calm with only one major oil down Saturday when a torque convertor broke spraying oil nearly the entire length of the track. Sunday's only delay was a power outage in the area that took out all the timing and scoring systems for a while.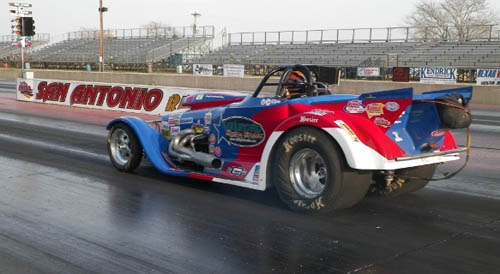 Ryan McDonnell takes green on a run for the 'dialing for dollars win
McDonnell Nearly on the Money in 'Dialing for Dollars'
As was the case Saturday, Ruben Gallegos led the way early in the 'Dialing for Dollars jackpot session on his Suzuki Hayabusa with a .0124. Jeff Dempsey driving his 68 Pontiac Firebird thought he the money in the bag after his run of .0006 off his number. But in the end of the Foot brake runs it was Ryan McDonnell, in the San Antonio Hydro Graffix, '27 Altered Roadster stealing the jackpot with a near perfect .0001 run, or a mere 1/10,000th from perfection.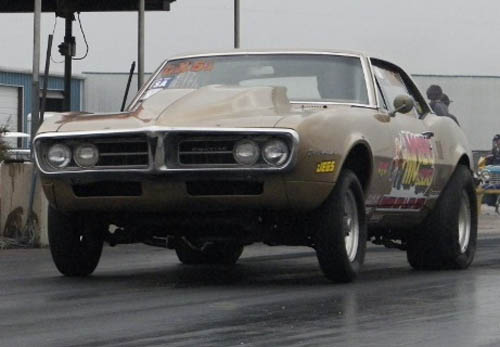 Carlos Carrasco gets the nose of his Pontiac Firebird up coming off the line
Carrasco Cashes in Electronics
San Antonio's Carlos Carrasco sr. scored the winners share of the Electronics(Box) finals over Bulverde's Mike Pearson in a rematch from the opposite bracket. Carrasco, in his Moreno & Sons Auto, 69 Pontiac Firebird, used a .006 light, then ran a 6.978 on a 6.97 dial in to get the victory over Pearson driving the Rehrer & Morrison powered, 2004 Undercover Chassis, who ran a limited schedule last year.
Carlos Carrasco sr., 6.978 @ 102.62 defeats Mike Pearson, 4.892 @ 136.32
In eliminations Carrasco ran near consistent numbers(.95-.99) and never more than 2/100 off his dial putting Michael Keylich, Chris Keylich, D. Cain, Russell Fields, P. Pennington, and Aaron Cole on the trailer. Pearson, who got a bye run in the semis, took out Carrasco in a double red light race on his side of the two brackets, a long with P. Pennington, Russell Fields, Kevin Picha and Cassie Pennington.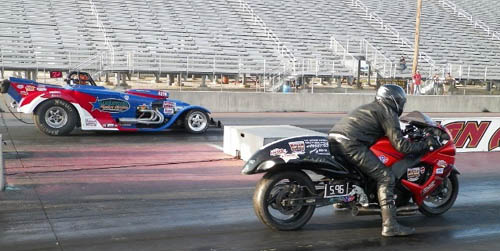 Ryan McDonnell(far side) squares off against Ruben Gallegos in finals
McDonnell Doubles up with Foot brake Win
After pocketing the 'Dialing for Dollars' jackpot, Ryan McDonnell doubled up for the day taking the Foot brake(No-box) finals over Motorcycle Champion, Ruben Gallegos. Gallegos had 3/100th advantage on the start, but ran too fast on the top end breaking out by .0051 giving the win to McDonnell.
Ryan McDonnell, 5.584 @114.77 defeats Ruben Gallegos, 5.954 @ 118.45
McDonnell, who on his game throughout the day, took out M. Thomas, Art Morales, Dave Patton, Josh Gaspard and Mike Roup, before a bye in the semi's. R. Gallegos lost in round, but rebounded to best Todd Zampese, Robert Cantwell, Jeff Dempsey sr., and Dustin Bradford.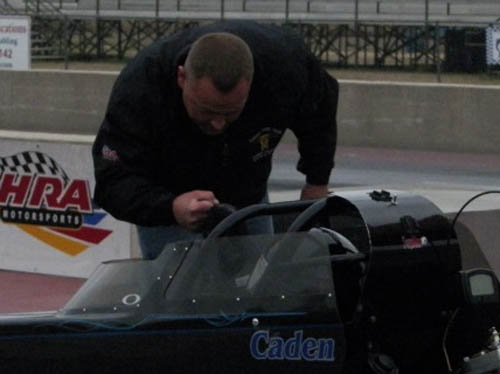 Caden Meuth gets fist pump from his dad, Greg,
a fellow drag and former area circle track racer
Meuth Takes Home Moolah in Jr Dragster
Two different young gun paired off in the finals for Jr. Dragster with Caden Meuth going up against Matthew Keylich. Meuth(Boerne), in the Quality Auto Care Jr Dragster, got an early gift when Keylich, in the Keylich Motorsports, 2004 PRC Chassis, went red handing the victory to Meuth, who would have broken out.
Caden Meuth, 9.180 @ 68.85 defeats Matthew Keylich, 8.6345 @ 72.89
Meuth defeated Katherine Keylich, Aaron Philpot and Haily Ball to make the finals. M. Keylich got by his cousin, K. Keylich and defending track champ, Emily Ball after buying back following a round 1 loss.
San Antonio Raceway continues it weekly programs, plus the Texas Truck Nationals at the end of the month(2-28/3-1) and the first Summit Super Series points race scheduled for March 8th. A complete schedule can be found at the track website, www.sanantonioraceway.com




IHRA: 10 Most Recent Entries [ top ]

Apr 24- Racers Receive Prizes at IHRA Summit Sportsman Spectacular Opener
Apr 24- Comeaux, Hughes Make History at IHRA Summit Sportsman Spectacular
Mar 21- 2018 IHRA Summit Sportsman Spectacular Series on April 20-22
Feb 26- Weather-Related Construction Delays Postpone IHRA Xtreme Raceway Park Opener
Feb 16- IHRA Summit Sportsman Spectacular Schedule Announced
Feb 15- New York Track Finds Value for Racers with IHRA Agreement
Feb 15- IHRA Summit Sportsman Spectacular Debut Only One Month Away Now is the Time to Pre-Enter
Feb 15- Summit Texas Location is a Racers' Paradise
Feb 15- Canadian Track Makes Large Commitment to IHRA Drag Racing
Jan 27- Mid-Michigan Destination Joins IHRA Family