Wed, 19 Feb 2014, 10:16 AM



Big Money Kick-off Classic @ San Antonio Raceway



By J M Hallas



MARION, Texas --
San Antonio Raceway held its annual Big Money Kick-off Classic as the unofficial(non-points) start to the bracket racing season. Drivers in the Electronics class looked to pick a potential, based on car count, $3,000 to win each day, while the Footbrakers had a possible $700 payday on the line and the Jr. Dragsters vying for up to $350.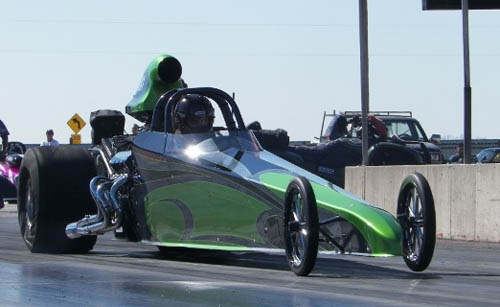 Brett Zampese on launch taking the Dialing for Dollars jackpot
Action this for this years version of the Kick-off Classic was run on the 1/8 mile in an effort to limit strain on parts and racers budgets. The Kick-off classic features a special format, that I've dubbed 'the red fish, blue fish game', where drivers have the opportunity to enter in two sides of a ladder bracket giving them double the chances of making it to the finals. Different color tech cards keep the brackets straight and gave me the idea for the Dr. Seuss name reference.
Mother Nature was kind to racers, teams and fans, after the miserable, cold, wet conditions for the previous weeks. Sunny, warm temperatures(70's) during the day helped bring track temperatures up to the mid 80's when eliminations began. As the sun set, and the full moon rose temperatures cooled a bit, but track conditions remained good.
Zampese Zips to Dialing for Dollars Dough
Brett Zampese went home with the jackpot in the 'Dialing for Dollars' shootout, basically a third time trial but with a buy-in jackpot. At the start, Ruben Gallegos was first out on his Suzuki Hayabusa setting the standard only missing his dial in by .0044. After lasting through nearly the entire group Gallegos lost to Zampese in his dragster who ran off number by only .0017.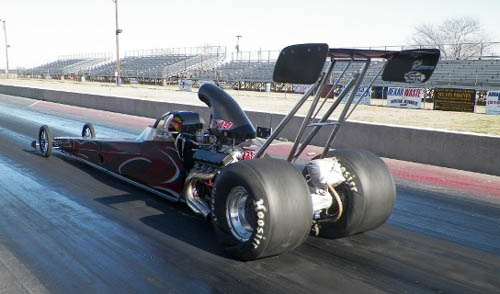 Brandon Bass co-winner of Electronics(Box) wrinkling the slicks on take off
Bass/Hinojosa Split Electronic Payday
Half of the Electronics(Box) money stayed in San Antonio with Brandon Bass and the other half went to the valley with Victor Hinojosa(Laredo). Both drivers choose the split option for the finals and saved their equipment by not making a pass.
Brandon Bass/Victor Hinojosa-No pass/Split purse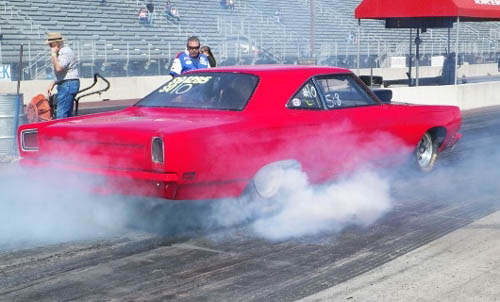 Victor Hinojosa co-winner of Electronics(Box) finals doing burnout
Hinojosa, in his 69 Plymouth Road Runner, almost made it through both sides of the bracket going 5 rounds in each. He faced some tough local competition along the way, including the Pennington group, Carlos Carrasco sr., Bobby Mendez, Leroy O'Bryant and Jeff Rabedeau returning after a year off. Bass, in his Brando Custom Paint Dragster, had a similar road to hoe, facing off against Aaron Cole, B. Zampese, P. Pennington, Carrasco and making his debut in a big dragster, Austin Philpot who went .0003(3/10,000th) red in semi's against Bass.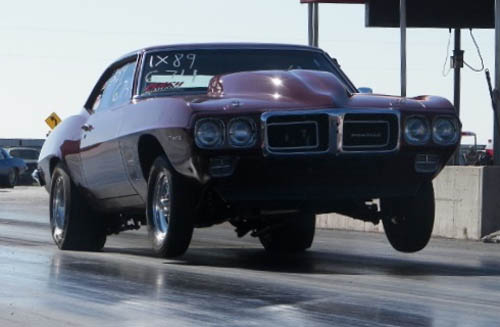 Walter Dyrenfurth, Footbrake(No-box winner) gets the front wheels up
Dyrenfurth Dashes to Footbrake Dollars
Laurie Vontour(San Antonio) and Walter Dyrenfurth(Austin) made their way to the finals in Footbrake(No-box) in a Chevy versus Pontiac match up for the win. Dyrenfurth nailed the tree with a ..008 light leaving Vontour standing at the line. Vontour tried to make up the lost time, but broke out in the process assuring Dyrenfurth of the victory.
Walter Dyrenfurth, 6.815 @ 89.16 defeats Laurie Vontour, 6.640 @ 103.64
Dyrenfurth, in his Austin Mobile Mechanics, 69 Pontiac Firebird, took out D. Brinkketer, R.Trevino, C. Fuller, Dennis Soefje, Ruben Gallegos and W. Dockery before facing Vontour in the finals. Vontour, driving her Nogalitos Gear, Longs Racing Engine, 66 Chevy II, trailered Dave Patton, Lutzenberger, B. Grudle, Sherman Davis and Art Morales, plus a bye on her trip to the finals.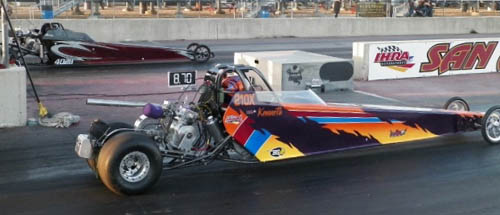 Kenneth Hillin(near) readies for finals with Aaron Philpot in Jr Dragster
Hillin out hustles Philpot in Jr Dragsters
A pair of young guns, destined to graduate to the big cars soon, squared off in the Jr. Dragster finals. Multi-time event winner, Kenneth Hillin(San Antonio) went home with the money taking out Aaron Philpot(Boerne) in a close one. Both left with close reaction times, but Hillin ran an 8.727 on an 8.70 while Philpot clocked in at 7.993 on a 7.92 dial in.
Kenneth Hillin, 8.727 @ 74.98 defeats, Aaron Philpot, 7.993 @ 80.82
Hillin bested defending track champ, Emily Ball twice and got a bye to make the finals. Philpot rebought after a first round red light, then got by Haily Ball and Caden Meuth on his way to the finals
For more info you can visit www.sanantonioraceway.com or their facebook page, www.facebook.com/SARaceway




IHRA: 10 Most Recent Entries [ top ]

Apr 24- Racers Receive Prizes at IHRA Summit Sportsman Spectacular Opener
Apr 24- Comeaux, Hughes Make History at IHRA Summit Sportsman Spectacular
Mar 21- 2018 IHRA Summit Sportsman Spectacular Series on April 20-22
Feb 26- Weather-Related Construction Delays Postpone IHRA Xtreme Raceway Park Opener
Feb 16- IHRA Summit Sportsman Spectacular Schedule Announced
Feb 15- New York Track Finds Value for Racers with IHRA Agreement
Feb 15- IHRA Summit Sportsman Spectacular Debut Only One Month Away Now is the Time to Pre-Enter
Feb 15- Summit Texas Location is a Racers' Paradise
Feb 15- Canadian Track Makes Large Commitment to IHRA Drag Racing
Jan 27- Mid-Michigan Destination Joins IHRA Family