Wed, 19 Feb 2014, 09:32 AM



HeadsUpRacer.com Returns for 3rd Season with New Quick 16 Program



Courtesy of Andrew Stirk



Quick 16 Points Champion to walk away with over $2600 in Cash/Prizes



OAKVILLE, Ontario --
Championship Fast Bracket Racing is one of the most rapidly expanding categories in Drag Racing, and in 2014 it will have a new home within the DSE Automotive Sportsman Racing Series courtesy of Ian Rae and HeadsUpRacer.com, as they return to create a new Quick 16 Championship Points Program for Ontario and New York Racers.
The 2014 HeadsUpRacer.com Quick 16 program will feature an Open Field of the fastest 16 vehicles with no Dial in restrictions or vehicle restrictions (other than NHRA Safety Rules). A full race will be contested each day allowing competitors a chance at two races each DSE weekend for the price of only one tow to the track. Entry fee will be $150 per day; however, Non-Qualifiers will receive a $100 refund and a $50 credit towards their next Quick 16 Entry or a Super Pro Entry. Points for the Quick 16 will be claimed by taking a racers best 9 Events out of 12.
"When we first created the DSE Automotive Sportsman Racing Series we knew we needed to include a Fast Bracket Class in our Series; however we also knew we needed to walk before we ran, so for the first two seasons we ran it as a Non-Points Exhibition class." Noted Series Director Andrew Stirk. "However, after seeing the steady growth and participation in the class we felt the time was right to now include it in our points program and officially crown a Fast Bracket Champion within our Series."
Rae commented, "I've been involved with the DSE Automotive Sportsman Racing Series since day one. I have seen it grow with healthy fields in all the classes, the move to a Quick 16 just takes it to another level. Andrew has done an amazing job of promoting the series to racetracks, fans and marketing partners alike, I am sure 2014 will be another banner year for the series.
HeadsUpRacer.com (HUR) is owned and operated by Ian Rae, who is an authorized dealer of MSD Ignition Products, RePlay XD cameras and Racepak Data Acquisitions systems. HUR is also available for at track support for the Racepak systems as well as one on one tuition.
The first Event in the DSE Automotive Sportsman Racing Series is the 3rd Annual Season Opener, which takes place June 7th-8th at Cayuga Dragway of Toronto Motorsports Park. The DSE Sportsman Racing Series boasts a (to date) $20,500 Year end points fund, and features a point's structure where racers claim their best 8 out of 12 point's races during the season. For more information on the Series and its Marketing Partners, please visit www.SportsmanRacingSeries.ca .
About HeadsUpRacer.com & Racepak Data Acquisition systems HeadsUpRacer.com was formally an Internet magazine that covered fast door slammer racing. It no longer operates the magazine but has moved into providing racers with the best data logging systems in drag racing. HUR has been an authorized RacePak data acquisition system dealer and offers sales and track support. Additionally HUR is a dealer for RePlay XD action cameras and accessories. More information can be found on a soon to be updated website at www.headsupracer.com or on Facebook at www.facebook.com/HeadsUpRacer
About the DSE Automotive Sportsman Racing Series The DSE Sportsman Racing series was created at the end of the 2011 racing season as a way to promote grassroots level sportsman drag racing in Southern Ontario. The series will run 12 events with six Championship Sportsman classes ranging from Super/Pro and Modified, to Super/Bike & Sled, Street Eliminator, Jr. Dragster and the newly added Quick 16 Program. Sponsored by DSE Automotive LTD which is managed by David and Andrew Stirk in Brampton Ontario, DSE Sportsman Racing Series is dedicated to creating a competitive series for sportsman level drag racers to participate in which is fun and cost effective, while still providing an excellent racing program for fans and spectators to enjoy.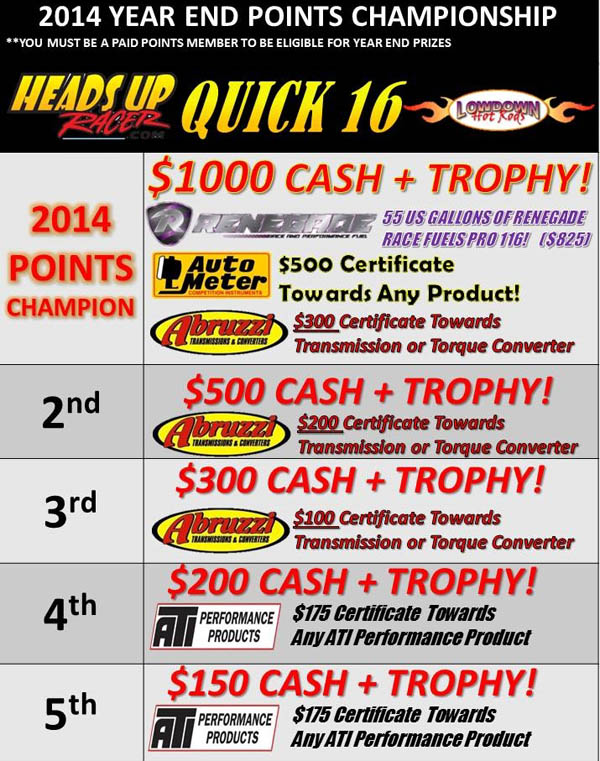 Drag News: 10 Most Recent Entries [ top ]

Apr 20- K&N Spring Fling Million- Thursday Results
Apr 19- K&N Spring Fling Million- Wednesday Results
Apr 18- Buckeye S/SS @ National Trail April 28th
Apr 18- Don "the Snake" Prudhomme Returns To Baja Competition After 50 Years
Apr 18- K&N Spring Fling Million Tuesday Results
Apr 17- K&N Spring Fling Million Pre-Race
Apr 12- Summit Racing Equipment is Newest Sponsor of Midwest Junior Super Series
Apr 12- Summit Racing Named Official MWPMS Sponsor and Event Title Rights Holder
Apr 11- NMCA All-Star Nationals Chevrolet Performance Challenge Series Final Results
Apr 11- Dragstrip Memories Returns in Presenting Canada's Drag Racing History