Wed, 19 Feb 2014, 09:32 AM



Maple Grove Honors Champions at Money Trail Banquet



Courtesy of Evan Jones


Photo Credit- Don Carrick/Studio 413





WYOMISSING, Pa. -
Dozens of Maple Grove Raceway's best racers crowded the ballroom at the Crowne Plaza Reading Hotel Saturday night for the 51st annual Money Trail Awards Banquet.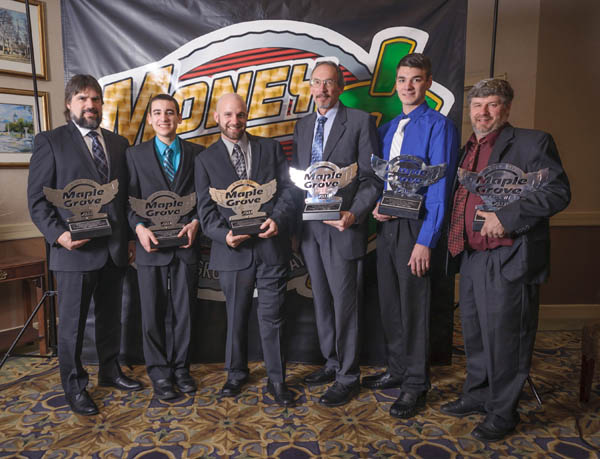 Maple Grove Raceway honors its 2013 Sunoco Race Fuels Money Trail champions
at its annual banquet held Saturday night at the Crowne Plaza Reading hotel.
From left, Lee Risser (Stock-Super Stock), Vincent Branca (Jr. Dragster), Brock Moshier (Pro),
Paul Werner (Street), Cory Stuebner (Top Bike), and Lanny Werley (Super).
Over $30,000 in cash, trophies and contingency awards was handed out during the ceremony to the top 48 drivers in the five Sunoco Race Fuels Money Trail E.T. Series, Jr. Dragsters and the ATI Stock-Super Stock Shootout.
Dozens of racers, whether or not they were in the money, were on hand with friends and family. It's a great tradition that Maple Grove management is looking to continue far into the future.
The season champions for the Money Trail Series had their turn in the spotlight as Lanny Werley (Gold Rush Trailers Super), Brock Moshier (Ciccarone Racing Products Pro), Paul Werner (P.C. Richard & Son Street), Cory Stuebner (Ray's Yamaha Top Bike), Vincent Branca (Jr. Dragster) and Lee Risser (ATI Stock-Super Stock) were recognized in their respective classes.
Werley, of Leesport, Pa., didn't win any races during the season, but had a runner-up finish and two quarterfinal finishes to put him on top of a very competitive Super field. He amassed 468 points in his 1992 Camaro and beat runner-up Don Mattson (Mohnton, Pa.) by 16 points. It was his first championship.
Moshier, of Lititz, Pa., dominated Pro. Besides four wins and one runner-up finish, Moshier and his '71 Vega had one semifinal finish and was knocked out in the first round only twice. He beat runner-up, and teammate, Marty Flegal (Ephrata, Pa.) by 117 points. This was his second championship and first since 2011.
Werner, from Sinking Spring, Pa., has become a familiar sight on the banquet stage, as this was his 11th championship and second in a row. His 1980 Malibu wagon visited PPC Lubricants Victory Lane five times along with a single runner-up finish. Werner made his move toward the top during the middle of the season with a win followed by a semifinal finish, a third-round finish and a quarterfinal finish. He beat runner-up Scott Smith (Birdsboro, Pa.) by 40 points.
Another first-time champion was Stuebner, from Hamburg, Pa. Son of another track champion, Joe Stuebner, Cory and his '89 Kawasaki, padded his lead by winning two races in each of the first two sessions and then helped his cause by winning his fifth race on Aug. 24 as runner-up Danny Boyer (York, Pa.) was rallying. He ended up beating Boyer by 68 points.
In his second season as a racer, Branca of Norristown, Pa., held off a late charge by runner-up Kyle Robb (Denver, Pa.) by keeping his first-round losses to a minimum and finishing in the final eight at least six times. His margin of victory was 43 points.
Risser, of Denver, Pa., won the final two Stock-Super Stock in his '65 Nova races to claim the championship, beating runner-up Dan Walleigh (Reading, Pa.) by 35 points.
Team Maple Grove, which won its 13th NHRA Northeast Division Summit E.T. Finals championship, was recognized along with team captain Stacey Sauder.
The 2013 MGR Walk of Fame class of "Humble Bob" Donnelly, Vince Hamm, Al Wimmer, Don Wimmer and John Johnson were introduced by former track manager Mike Lewis. They were formally inducted during the Geezers Reunion at The Grove last August.
It was announced that Gold Rush Trailers (Super), Ciccarone Racing Products (Pro) P.C. Richard and Son (Street), Ray's Yamaha-Polaris-Victory (Top Bike), Universal Technical Institute (Juniors) and ATI Performance (Stock-Super Stock) would be coming back in 2014 as series sponsors. Also, NAPA Auto Parts will be coming aboard as a major Maple Grove sponsor.
D&G Golf Carts, Potty Queen, Awesome Vinyl and P.C. Richard & Son will once again sponsor the Money Trail E.T. Shootout at the NHRA Nationals in October. The champion wins a golf cart and the runner-up a 32-inch TV.
Appreciation awards were presented to Randy Kaylor for helping organize the successful debut of Keystone Diesel Nationals; Denny Parisan for his work on the Ronald McDonald House charity race; and Gene Ulrich for rebuilding the VW June Bug Classic. Also recognized was NHRA Northeast Division chaplain Dan Laterza, who is retiring.
Track sponsors for the 2013 season were also recognized. The list included Advanced Control Devices, ASR Street Machines, ATI, Auto Locator, Auto-Plus, Awesome Vinyl, The Beer Mart, Boninfante Performance Clutches, Bortek, Bricker's Famous French Fries, Ciccarone Racing Products, Clark Industrial/Profile Trailers, Coca-Cola, Competition Tire East, Conestoga Buildings, Courtyard by Marriott-Wyomissing, D&G Golf Carts, D&W Motorsports, Dennis Ridgeway Enterprises, Duracell Batteries, E&G Food Concessions, Eisenhauer Nissan, Fire and Rescue Products, Galfand Berger, Glass & Sons Collision, Gold Rush Trailers, Holiday Inn Morgantown, Insinger Performance, Jerry's Concessions, Jesel, Joey's Lemonade, Johnny's Pizza, Lucas Oil, Mack Trucks, Nickerson Performance, NitroFish, P.C. Richard & Son, Paintin Place, Penske Truck Leasing, Potty Queen, PPC Lubricants, Precision Chassis, Pypes Performance Exhaust, Ray's Yamaha-Polaris-Victory, Reading Health System, Renninger's Service, Rita's Water Ice, Rob's Rod Shop, S&W Race Cars, Safety Kleen, Scott's Transmission, Stoner Products, Styer Insurance Agency, Sunoco Race Fuels, The Pig Pit, Transmission Specialties, Triangle Communications, Turkey Hill Minit Markets, U.S. Air Force, Universal Technical Institute, VP Racing Fuels, Van Bennett Food Co. and Walker's Mowers & Equipment.




Drag News: 10 Most Recent Entries [ top ]

Apr 24- NHRA Heritage Series Heads To Wild Horse Pass
Apr 22- K&N Spring Fling Million Final Day Results
Apr 21- K&N Spring Fling Million Friday Results
Apr 20- K&N Spring Fling Million– Thursday Results
Apr 19- K&N Spring Fling Million- Wednesday Results
Apr 18- Buckeye S/SS @ National Trail April 28th
Apr 18- Don "the Snake" Prudhomme Returns To Baja Competition After 50 Years
Apr 18- K&N Spring Fling Million Tuesday Results
Apr 17- K&N Spring Fling Million Pre-Race
Apr 12- Summit Racing Equipment is Newest Sponsor of Midwest Junior Super Series