Thu, 13 Feb 2014, 10:29 AM



NHRA Teams Anxious to Return to Phoenix and Wild Horse Pass Motorsports Park



Courtesy of NHRA Communications


Photo copyright 2014 Auto Imagery, Inc.





For Carquest Auto Parts NHRA Nationals



CHANDLER, Ariz. --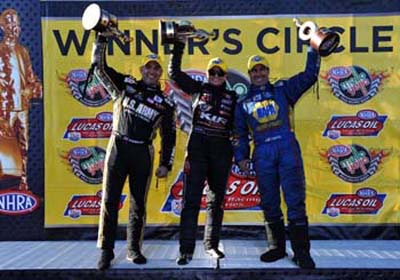 Schumacher, Enders-Stevens and Capps
celebrate win last year.
The NHRA Mello Yello Drag Racing Series returns to the Valley of the Sun for the CARQUEST Auto Parts NHRA Nationals and the drivers of the world's fastest motorsport are eager to return to Wild Horse Pass Motorsports Park Feb. 21-23.
Fans attending the event will witness new CompuLink timing, public-address systems, new scoreboards and a new concrete surface has been added to replace portions of the all-important 700-foot launch pad.
"Anytime a facility sinks money back into a track it makes the racers happy," said Funny Car racer Matt Hagan, who raced to a runner-up finish at the event in 2013. "We run on a lot of great tracks, but it is great when the owners of the facility put money back into the track to make it better. I'm looking for good things here, I've never won here and I would like to put a win on the board here."
Defending event winners at the event are Tony Schumacher (Top Fuel), Ron Capps (Funny Car), and Erica Enders-Stevens (Pro Stock). It is the second of 24 NHRA Mello Yello Drag Racing Series events on the 2014 schedule and the race will be televised nationally on ESPN2.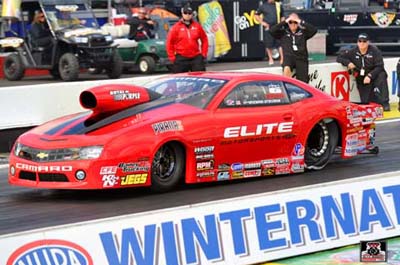 Erica Enders-Stevens at Pomona
in her new ride.
Enders-Stevens races into the 2014 season with a new team and will join Elite Motorsports behind the wheel of her Chevy Camaro at the famed facility. Enders-Stevens, won two races in 2013, feels energized to race at Wild Horse Pass Motorsports Park, a facility located near many of her family members who reside in the Phoenix area.
"It is like a second home track for me as my dad is from there and I have a lot of aunts, cousins, uncles, nieces and my brother lives there," Enders-Stevens said. "Definitely a hometown crowd in a sense to come back after the success we had last year; we have a good team and we are working on jelling and getting a routine down and we are very excited."
Defending Pro Stock world champion Jeg Coughlin was among more than 10 Pro Stock teams who recently tested at the track making runs on the new racing surface. Coughlin has two career wins at the track (2000, 2009) and is energized to compete at the refurbished track.
"We saw Mike Edwards throw an arrow down through there, last season which was amazing," Coughlin said of Edwards' track record setting pass of 6.498 seconds. "If we can have a track as good as we had last year we will be in good shape. If we get nice cool dry air, have 60 degree temps, and a good track, we can fly here."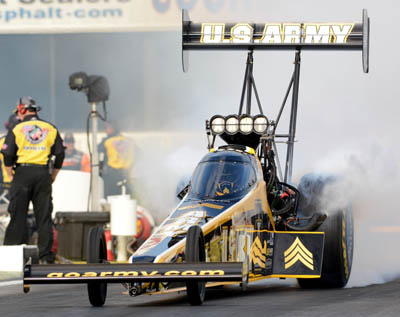 Tony Schumacher at Pomona.
Enders-Stevens also tested at the track while Hagan was able to watch the cars take to the new surface.
"The track will be nice and tight and the crew chiefs won't be afraid to pour the coals to it," Hagan said. "A lot of times with a new surface and new conditions after you get some runs under it just gets better and better each lap."
"I'm really excited to be out here; it is a great facility and the fact that they have put a lot of money into the facility and the changes that were necessary is really exciting for our entire industry," Enders-Stevens continued. "We are excited coming here and the new changes should make it a really good event."
Schumacher who leads the Top Fuel category with four wins at the facility will be among the top racers in the 8,000 horsepower nitro category. Winternationals winner Khalid alBalooshi, Pomona runner-up and top qualifier Doug Kalitta, Antron Brown, Spencer Massey, Steve Torrence and Clay Millican will look to start the season with a strong event to get an early jump on the points.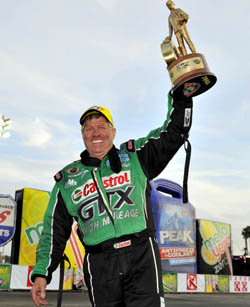 John Force celebrates win in Pomona
John Force, the 16-time Funny Car world champion, started this year where he left off when he set both ends of the national record en route to winning the season-opening Winternationals. Force will have tough competition as 2011 Funny Car world champion Hagan, who finished second last year with five wins and five runner-up finishes and was the runner-up at Pomona, figures to be a major candidate to win the 2014 title. Others to watch include Courtney Force, Del Worsham, Bob Tasca, Robert Hight, Tommy Johnson Jr., and Alexis DeJoria. Ron Capps, a past winner of this event who made national headlines at the Winternationals following a spectacular engine explosion during Friday qualifying, also will be looking to grab a victory at this event.
In Pro Stock, Coughlin wants to win his sixth Pro Stock crown, but to do so he will have to outlast a tough field of racers in the factory hot-rod category, including teammates Allen Johnson and fellow Pro Stock competitors Jason Line, Shane Gray, V. Gaines among others to defend his NHRA Mello Yello title.
As always, fans will have the opportunity to interact with their favorite drivers as they're granted an exclusive pit pass to the most powerful and sensory-filled motorsports attraction on the planet. This unique opportunity in motorsports gives fans direct access to the teams, allowing them to see firsthand the highly skilled mechanics service their hot rods between rounds, and enjoy some cherished face time with their favorite NHRA drivers.
Fans also will want to visit NHRA's popular Nitro Alley and Manufacturers Midway, where sponsors and race vendors create a carnival atmosphere, with interactive displays, simulated competitions, merchandise, food and fun for the entire family.
Mello Yello Series qualifying begins on Friday, Feb. 21 with the first session beginning at 1:30 p.m. and a second session beginning at 4 p.m. The final two qualifying sessions will take place Saturday, Feb. 22 at 1:30 p.m. and 4 p.m. Final eliminations begin at 11 a.m. on Sunday, Feb. 23.
The NHRA Lucas Oil Drag Racing Series will be showcased during the event, featuring exciting side-by-side racing action.
For tickets for the CARQUEST Auto Parts NHRA Nationals, call 800-884-NHRA (6472) or log on to www.NHRAtix.com.




NHRA: 10 Most Recent Entries [ top ]

Mar 20- Strong Stable of Contending Pro Stock Racers Vie for Final Starting Position for K&N Horsepower Challenge
Mar 20- GAINESVILLE - Special Awards
Mar 20- GAINESVILLE - Lucas Oil Drag Racing Series Wrap Up
Mar 19- GAINESVILLE - Sunday Video
Mar 18- GAINESVILLE - Pro Mod Sunday Wrap Up
Mar 18- GAINESVILLE - Sunday Wrap Up
Mar 18- GAINESVILLE - Pro Mod Championship Points
Mar 18- GAINESVILLE - Bonus Points
Mar 18- GAINESVILLE - Championship Points
Mar 18- GAINESVILLE - Mickey Thompson Top Fuel Harley Series Championship Points