Mon, 10 Feb 2014, 19:25 PM



Demke, Hough Win Season Opener



Courtesy of NHRA Communications


Photo copyright 2014 NHRA





Cannan, Meziere Score First National Event Victories



POMONA, Calif. --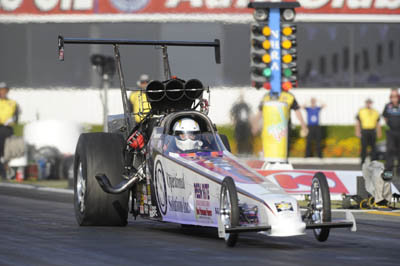 Chris Demke
Chris Demke and Brian Hough took home big wins to kick off the 2014 NHRA Lucas Oil Drag Racing Series at Auto Club Raceway at Pomona and the Circle K NHRA Winternationals. Demke defeated Don St. Arnaud for the Top Alcohol Dragster title and Hough ran down Sean Bellemeur in Top Alcohol Funny Car.
Demke, Tujunga, Calif., qualified No. 1 with a 5.218 second pass at 276.46 mph then clicked off runs of 5.220 in a first round bye, and 5.230 and 5.276 to knock out Megan McKernan, Sierra Madre, Calif., and Casey Grisel, Orangevale, Calif., on his way to the final with Arnaud. Arnaud, Edmonton, Alb. CAN., came out of the No. 3 position and beat Bruce Litton and Duane Shields in rounds 1 and 2, and had a bye in to the final when Larry Miersch hurt the car in round 2 and was unable to make the call for the semifinals.
Demke got the early lead in the money round with a .029 second reaction time and never looked back posting a pass of 5.251, 275 mph to Arnaud's 5.328, 276.46.
Hough was looking for his seventh NHRA national event win while Bellemeur was in search of his first. The Anaheim, Calif., resident Bellemeur was off the line first with a great .007 reaction time but was not enough as Hough, Junction City, Ore., powered by for the win in 5.571 seconds at 257.83 mph to Bellemeur's 5.646, 257.78.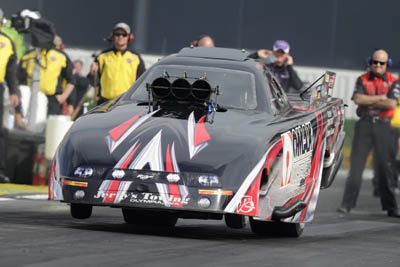 Brian Hough
Hough defeated Greg Hunter, No. 2 qualifier John Lombardo Jr. and Ulf Leanders to earn his spot in the final.
Paul Cannon and Don Meziere each picked up their first NHRA national event win as Cannan, Devore, Calif., took out east coast hitter Michael Iacono, Wading River, N.Y., in Stock Eliminator and Meziere, Escondido, Calif., ended Steve Casner's day in Super Comp. Cannon, who also took out former world champion Peter Biondo in his semifinal match up, went 10.099, 129.27 for his win as Meziere took the holeshot and the win in 8.921 seconds.
The Comp trophy went to Mike DePalma out of Glendale, Ariz., who held off the hard charging current NHRA Lucas Oil World Champion Alan Ellis, Mapleton, Utah. DePalma went 8.062 seconds at 166.09 mph for the win in his '00 S-10.
Rounding out the winners were Val Torres and Don Keen who pocketed their 3rd and 4th national event wins respectively. Torres, Valinda, Calif., drove his '63 Corvette to the Super Gas win over Thomas Bayer, Fontana, Calif., driving the '57 Corvette, owned by Tom Bogner, with a lap of 9.905 on the 9.900 index. Bayer was a thousandth of a second too quick breaking out at 8.899. Keen, Palmdale, Calif., lead from start to finish over Dave Bridgewater, Devore, Calif., clocking in at 10.355, 127.47 mph in his '65 Mustang for the Super Stock trophy.
The following are the final results from the 54th annual Circle K NHRA Winternationals at Auto Club Raceway at Pomona.
Top Alcohol Dragster -- Chris Demke, 5.251, 275.00 def. Don St. Arnaud, 5.328, 276.46.
Top Alcohol Funny Car -- Brian Hough, Ford Mustang, 5.571, 257.83 def. Sean Bellemeur, Chevy Camaro, 5.646, 257.78.
Comp Eliminator -- Mike DePalma, Chevy S-10, 8.062, 166.09 def. Alan Ellis, '23-T Ford, 6.572, 205.54.
Super Stock -- Don Keen, Ford Mustang, 10.355, 127.47 def. Dave Bridgewater, Chevy Camaro, 9.506, 139.29.
Stock Eliminator -- Paul Cannan, Chevy Camaro, 10.099, 129.27 def. Michael Iacono, Camaro, 10.972, 119.32.
Super Comp -- Don Meziere, Dragster, 8.921, 158.37 def. Steve Casner, Dragster, 8.922, 185.36.
Super Gas -- Val Torres, Chevy Corvette, 9.905, 163.06 def. Thomas Bayer, Corvette, 9.899, 151.82.




NHRA: 10 Most Recent Entries [ top ]

Mar 21- LAS VEGAS 1 - Event Preview
Mar 20- Strong Stable of Contending Pro Stock Racers Vie for Final Starting Position for K&N Horsepower Challenge
Mar 20- GAINESVILLE - Special Awards
Mar 20- GAINESVILLE - Lucas Oil Drag Racing Series Wrap Up
Mar 19- GAINESVILLE - Sunday Video
Mar 18- GAINESVILLE - Pro Mod Sunday Wrap Up
Mar 18- GAINESVILLE - Sunday Wrap Up
Mar 18- GAINESVILLE - Pro Mod Championship Points
Mar 18- GAINESVILLE - Bonus Points
Mar 18- GAINESVILLE - Championship Points