Sun, 09 Feb 2014, 21:41 PM



Force, Albalooshi and Line Race to Victories



Courtesy of NHRA Communications


Photo copyright 2014 NHRA





At Circle K NHRA Winternationals in Pomona



POMONA, Calif. --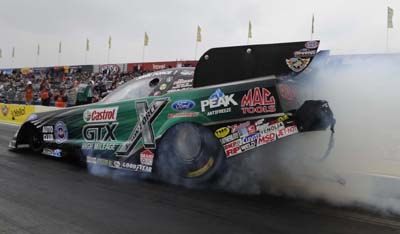 John Force
John Force opened his pursuit of a 17th Funny Car world championship title in record-setting fashion when he raced to victory Sunday at the Circle K NHRA Winternationals.
Khalid alBalooshi (Top Fuel) and Jason Line (Pro Stock) also were winners of the season-opening NHRA Mello Yello Drag Racing Series event at historic Auto Club Raceway at Pomona near Los Angeles.
Force outran his most recent arch-rival, Matt Hagan, in the final round of the tradition-rich event. Force powered his Castrol GTX High Mileage Ford Mustang to a national record time of 3.965 seconds at 323.58 mph to take the win over Hagan's Mopar Express Lane/Rocky Boots Dodge Charger, which lost traction early in the race and finished in 6.613 at 117.88.
It was Force's sixth consecutive final round appearance dating back to last season and an NHRA record 139th victory. Force, who earned a 20-point bonus for setting the national E.T. record, now holds a 50-point lead over Hagan.
Force, 64, who raced past Paul Lee, Tommy Johnson Jr. and Bob Tasca in earlier rounds, won from the No. 1 qualifying position and also set the Funny Car national speed record at 324.12 mph.
"We had a good race car. It's amazing," said Force, of his 16th win at his home track and his seventh Winternationals trophy. "We're trying to build our sport and come out here and run good for you all and the fans, and it's hard sometimes. Jimmy Prock and that whole brain trust did a great job. We're back in the game. Everything's just going right. I don't get it. I ain't that good of a guy. I'm just excited. There's a lot going on (with sponsors), and man, what a good time to flex your muscles."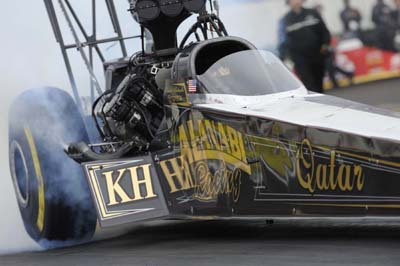 Khalid alBalooshi
In Top Fuel, alBalooshi claimed his third career victory by holding off event top qualifier Doug Kalitta in the final round. The Dubai native who now lives in Los Angeles finished in 3.974 at 324.36 in his Al-Anabi Racing dragster, while Kalitta's Mac Tools dragster lost traction at mid-track and slowed to a 5.368 at 143.40.
To take the victory, alBalooshi also raced past Tony Schumacher, teammate Shawn Langdon and Steve Torrence in earlier rounds.
"We had a strong day today," said alBalooshi. "It's a good win, especially when you have Tony Schumacher first round, Shawn Langdon second round, and 'Steve-O' (Torrence), who's been doing a good job. Doug's car was the best car all weekend, so it made it a very big day for us to take him down in the final and get the trophy."
It is a great start to the season for alBalooshi, who finished 11th in his rookie season in 2012 and eighth overall last year. It is the first time alBalooshi has led the Top Fuel points standings.
"Last year, our car started to get better and better," alBalooshi said. "I felt like our car was better down in Florida (in preseason testing), and I've been telling people, 'I think we have a hot rod to start the season with.' I feel like our car got better and better and better each round. When I won the first round against Tony, I felt like my day was open."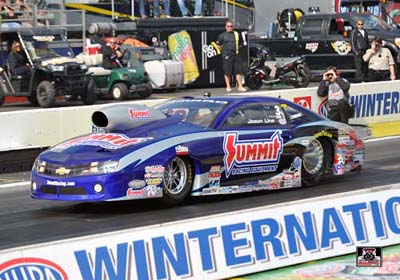 Jason Line
Photo copyright 2014 Auto Imagery, Inc.
Line outran V. Gaines in the Pro Stock final. Line powered his Summit Racing Chevy Camaro to a performance of 6.526 at 212.06 to hold off Gaines, whose Kendall Oil Dodge Avenger trailed with a 6.533 at 212.56.
Line defeated Matt Hartford, Dave Connolly and Shane Gray to advance to the final round. It is Line's 32nd career victory and his third at the Winternationals.
"My day was great," Line said. "It's a huge deal to start the season off with a win. It's a big deal. The last few years we've struggled and wasn't what we had hoped for. We worked really hard over the winter and I think we improved. This sport is just crazy hard right now. It's tough to separate yourself out here it's so competitive."
Line said he will give his Wally trophy from the weekend to his longtime teammate Greg Anderson, who is at home recovering from surgery and will miss the first three months of the season.
"I'm forever indebted to him," Line said. "He gave me an opportunity that nobody else would."
The NHRA Mello Yello Drag Racing Series continues Feb. 21-23 with the CARQUEST Auto Parts NHRA Nationals at Wild Horse Pass Motorsports Park near Phoenix.
Sunday's final results from the 54th annual Circle K NHRA Winternationals at Auto Club Raceway at Pomona. The race is the first of 24 in the NHRA Mello Yello Drag Racing Series-
Top Fuel -- Khalid alBalooshi, 3.974 seconds, 324.36 mph def. Doug Kalitta, 5.368 seconds, 143.40 mph.
Funny Car -- John Force, Ford Mustang, 3.965, 323.58 def. Matt Hagan, Dodge Charger, 6.613, 117.88.
Pro Stock -- Jason Line, Chevy Camaro, 6.526, 212.06 def. V. Gaines, Dodge Avenger, 6.533, 212.56.
Top Alcohol Dragster -- Chris Demke, 5.251, 275.00 def. Don St. Arnaud, 5.328, 276.46.
Top Alcohol Funny Car -- Brian Hough, Ford Mustang, 5.571, 257.83 def. Sean Bellemeur, Chevy Camaro, 5.646, 257.78.
Competition Eliminator -- Mike DePalma, Chevy S-10, 8.062, 166.09 def. Alan Ellis, '23-T Ford, 6.572, 205.54.
Super Stock -- Don Keen, Ford Mustang, 10.355, 127.47 def. Dave Bridgewater, Chevy Camaro, 9.506, 139.29.
Stock Eliminator -- Paul Cannan, Chevy Camaro, 10.099, 129.27 def. Michael Iacono, Camaro, 10.972, 119.32.
Super Comp -- Don Meziere, Dragster, 8.921, 158.37 def. Steve Casner, Dragster, 8.922, 185.36.
Super Gas -- Val Torres, Chevy Corvette, 9.905, 163.06 def. Thomas Bayer, Corvette, 9.899, 151.82.




NHRA: 10 Most Recent Entries [ top ]

Apr 24- CHARLOTTE 1 - Fact Sheet
Apr 24- Kalitta Motorsports Welcomes NASCAR Stars to the SealMaster Track Walk in Charlotte
Apr 24- zMAX Dragway Celebrates 10th Anniversary
Apr 24- CHARLOTTE 1 - NGK Spark Plugs NHRA Four-Wide Nationals Brings 40,000 Horsepower Thrill Show to zMAX Dragway
Apr 23- HOUSTON - Lucas Oil Drag Racing Series Wrap Up The NHRA Lucas Oil Drag Racing Series Wrap Up
Apr 23- CHARLOTTE 1 - J.R. Todd Aiming for Two Four-Wide Racing Wins in 2018
Apr 23- Mid America Dragway Joins NHRA Member Track Network
Apr 23- HOUSTON - Special Awards
Apr 23- HOUSTON - Sunday Video
Apr 22- HOUSTON - Sunday Pro Mod Wrap Up