Thu, 06 Feb 2014, 20:39 PM



Edwards Ready To Write New Chapter In 2014



Courtesy of John Miller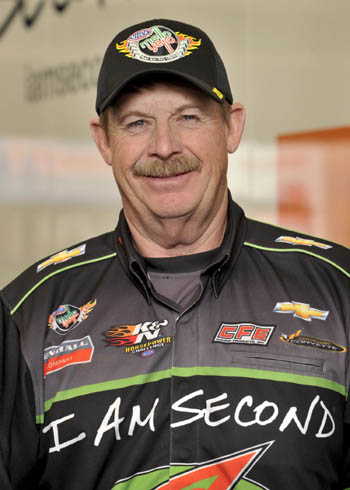 Mike Edwards
With the 2014 NHRA Mello Yello Drag Racing season kicking into full gear this weekend; one name will not be on the qualifying sheet in Pro Stock. This will be the first time Mike Edwards will be missing the event as a driver or crew chief in more than 20 years.
One thing is for sure, for 2014, Edwards will be starting a new chapter, and is excited to begin that new direction. The only thing he truly knows at this point is he will not be letting out the clutch in Pomona this weekend. Beyond that, Edwards does not know where that new path will take him.
Edwards has always chosen to fly under the radar and take his own path. The soft-spoken Oklahoma native has never raced to be the person that wanted the media attention, notoriety, applause, farewell tours or goodbyes. Edwards just wanted to race and let that be his legacy, which includes two NHRA championships, 42 career victories (40 in Pro Stock, two in Modified), 56-time No. 1 Qualifier, and 13 career top 10 finishes, along with holding the current E.T. record in Pro Stock at 6.471.
"While we may not know what the future holds, we are confident in who holds our future," Edwards said. "Lisa and I are blessed to have made many great friendships and worked with some of the best sponsors in the sport and will cherish those relationships as we move forward. We are not certain how our drag racing family will be a part of that, but we put our faith in God that he will guide us in the direction we need to go."
Edwards is not making any current or future plans as it comes to his racing career, but is keeping his options open to what he might do. His main priority at the moment is returning to good health after his shoulder surgery on December 10, 2013, when the doctors reconnected his torn rotator cuff, and reconstructed his left bicep.
"Rehabilitation is moving forward," he said. "It is not fun, but it is what I am focusing on at the moment. I am on-track with the program my doctors and therapist have put me on, so that is encouraging."
He said, "The part that has made it a bit easier to fight through the pain has been the well wishes from other drivers and fans.
"All of you do not know how much that really does help," Edwards added. "I would like to thank everyone for the many prayers and support over the last few months. It has not been an easy process to learn to lean on people just to do simple things. While I still have a long way to go in rehab, I'm making progress.
"Over the last 25 years Lisa and I have lived our dream," he continued. "We have been so very blessed to have had the opportunity to compete in drag racing and especially in Pro Stock. But, the most important part is we have had the opportunity to share our faith and that has always been the reason we have gone to the track to help kids and adults strengthen their faith."




NHRA: 10 Most Recent Entries [ top ]

Mar 17- GAINESVILLE - Pro Modified Qualifying Notes, Final Session
Mar 17- GAINESVILLE - Funny Car Eliminations Ladder
Mar 17- GAINESVILLE - Funny Car Final Qualifying, Session #4 Order
Mar 17- GAINESVILLE - Funny Car Qualifying Notes, Final Session
Mar 17- GAINESVILLE - Top Fuel Eliminations Ladder
Mar 17- GAINESVILLE - Top Fuel Qualifying Notes, Final Session
Mar 17- GAINESVILLE - Top Fuel Final Qualifying, Session #4 Order
Mar 17- GAINESVILLE - Pro Stock Eliminations Ladder
Mar 17- GAINESVILLE - Pro Stock Final Qualifying, Session #4 Order
Mar 17- GAINESVILLE - Pro Stock Motorcycle Eliminations Ladder