Wed, 05 Feb 2014, 13:06 PM



Past Funny Car World Champs Hagan and Beckman Seeking Return to Championship Glory in 2014



Courtesy of NHRA Communications



POMONA, Calif. --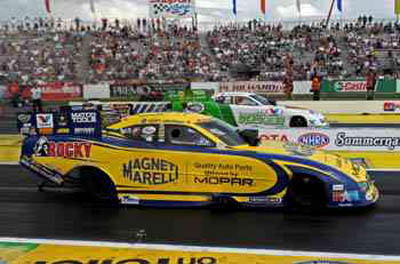 Hagan defeated Beckman
at Englishtown last year.
Photo copyright 2014 Auto Imagery, Inc.
Matt Hagan and Jack Beckman have tasted the sweet success that is an NHRA Mello Yello Drag Racing Series Funny Car world championship title and both are ready to cement their legacies in the sport by racing to a second championship crown in 2014.
Hagan and Beckman, teammates at Don Schumacher Racing, arrive at the Circle K NHRA Winternationals, Feb. 6-9 at historic Auto Club Raceway at Pomona for the tradition-rich NHRA Mello Yello Series season-opener fresh off top three finishes during the 2013 season. Having previously won series titles, both drivers know they have what it takes to do it again.
Hagan finished second in points with five wins in 2013, the most of anyone in Funny Car. The Mopar Express Lane/Rocky Boots Dodge Charger driver has a good record at the fabled Southern California dragstrip, winning two races at the track including the finale during his 2011 Funny Car title run and the finale last season.
Despite his second place finish, Hagan considered 2013 a very successful season. He hopes that 2014 will be just as rewarding.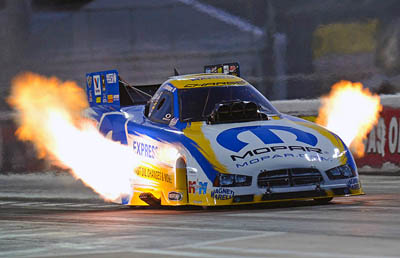 Matt Hagan testing at West Palm.
Photo copyright 2014 Gary Nastase Photography
"The camaraderie on the team is tremendous," said Hagan, who moonlights as a cattle rancher in southwestern Virginia when he's not sitting at the controls of his 8,000 horsepower Dodge. "I'm really looking forward to 2014. We basically have the same team together as we did in 2013, so I'm pretty fired up and excited about the season."
Hagan's 2013 season was strong. Hagan was the top seed going into the Mello Yello Countdown to the Championship playoffs. Six races later, Hagan finished second to Funny Car champ John Force, but sent a notice to the field for next year with his dramatic win at the Auto Club NHRA Finals, where he defeated Force in the money round.
"We finished really strong with the win at Pomona," Hagan said. "We won more than anyone in the class, but it's just the way the cards fell in the Countdown and the way John ran there at the end."
Hagan tested in South Florida during the offseason but took a step back to appreciate the downtime and the chance to spend time with family. For him it was well-worth it.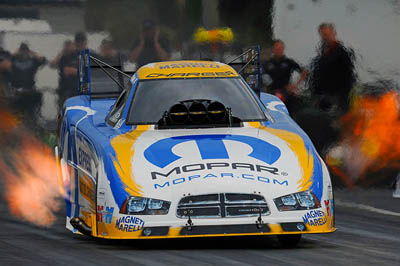 Photo copyright 2014 Gary Nastase Photography
"I've been doing some hunting and spending time with my kids," Hagan said. "They grow up so quick. You don't get that time back so every little moment that you get with them is precious. You just enjoy the time that you are home. The offseason has been good."
The 2012 Funny Car world champion, Beckman, raced hard to defend his title during the 2013 season. The Southern California native was in the thick of the championship hunt down the stretch, but settled for a third place finish.
"I think everybody always likes to imagine and strive for the best possible outcome," Beckman said. "Coming off a championship season, I don't think there was anyone on the team that didn't think we would win at least two races and be a contender for the championship. The reality is that basically until the second to last race of the year, we actually still were in contention for the championship."
Beckman was disappointed that his team did not pick up a points win last season but was pleased with his overall points finish and the win at the Traxxas Nitro Shootout, his first win at the non-points all-star race held during the Chevrolet Performance U.S. Nationals weekend in Indianapolis.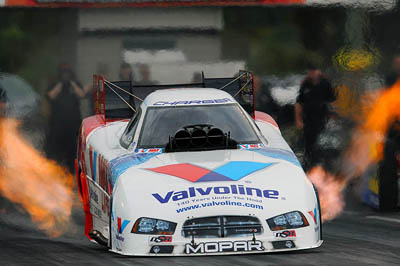 Jack Beckman testing at West Palm.
Photo copyright 2014 Gary Nastase Photography
"The disappointment was we made it to three finals but we never won an NHRA race," Beckman said in regards to his 2013 season. "We did win the Traxxas Shootout, which was very cool as I love those specialty races. But really the only disappointment was not being able to lift a Wally."
Beckman, who will pilot the Valvoline Max Life Dodge Charger in 2014, and his team will be tested early. With a new look group, Beckman knows there could be growing pains but he has the utmost confidence and is ready to show he can be a leader for his guys.
"This is the first time in my career that I feel I have the opportunity to help build and foster the team's personality," Beckman said of his new look team that features new crew chief Rob Flynn and eight of 10 new crew members from last year. "That part I am totally excited about. That was by far the coolest part of preseason testing in South Florida, getting to know the new folks and watching them work together for the first time."
Like Hagan, Beckman understands the importance of the Countdown and how it can change the complexion of running for the championship. He hopes that it will be even more rewarding with his new group.
"I guess you could say we get 18 races to get our act together," Beckman said. "I want to start winning races soon with this group though. Let me tell you, when we bag our first win together it's going to be a fun deal to be in our pits after that."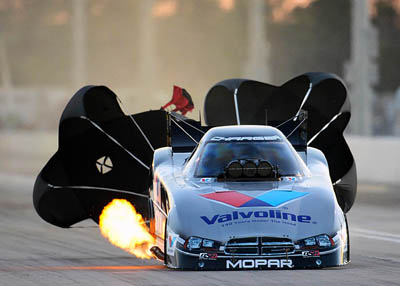 Photo copyright 2014 Gary Nastase Photography
With their championship pedigrees, both Hagan and Beckman will be major factors during the 2014 campaign. While one championship is an accomplishment in its own, both drivers are ready to rise to the next level and take a second Funny Car title.
In addition to Hagan, Beckman and 16-time champ Force, others to watch in Funny Car include Robert Hight, Courtney Force, Cruz Pedregon, Ron Capps, Del Worsham, Alexis DeJoria, Tim Wilkerson and Tommy Johnson Jr., who is returning to the sport after a brief absence.
In Top Fuel, Shawn Langdon is primed to defend his world championship title in the Al-Anabi Racing dragster, while his teammate, Khalid alBalooshi, is also looking for a strong finish in 2014. Past world champs Tony Schumacher and Antron Brown, will be joined by a group of talented drivers looking to break through with a title of their own, including Doug Kalitta, Spencer Massey, Clay Millican, Bob Vandergriff, Steve Torrence, Leah Pritchett and rookie Richie Crampton, among others.
Defending Pro Stock world champ Jeg Coughlin will try to pick up where he left off last season at the controls of his JEGS.com/Mopar Dodge Avenger. His 2012 world champion teammate, Allen Johnson, is looking to stay at the top of his game, while Summit Racing's Jason Line will be aided by a new teammate, defending event winner Nobile. While four-time world champ Greg Anderson sits out the first part of the season to address a health issue, European Pro Stock champ Jimmy Alund will fill in for him in the second Summit Racing Camaro. New Elite Motorsports driver Erica Enders-Stevens joins a team that won the last race of the 2013 season and she is also looking to be a title contender this year. Other top challengers in the 200-mph category include Shane Gray, Dave Connolly, V Gaines and Chris McGaha.
As always, fans will have the opportunity to interact with their favorite drivers as they're granted an exclusive pit pass to the most powerful motorsports attraction on the planet. While visiting the pits, interactive NHRA Nitro Alley and the NHRA Manufacturers Midway, fans will also want to check out NHRA's popular Hot Rod Junction presented by the Wally Parks NHRA Motorsports Museum that offers a spectacular display of many nostalgic dragsters, race cars and hot rods on display.
Fans also will want to take advantage of the popular Championship Sunday Track Walk featuring reigning Pro Stock world champion Jeg Coughlin, which is free to all Sunday ticket holders. This popular event gives fans the opportunity to walk down the legendary drag strip alongside some of the NHRA's biggest stars.
On Friday at the track, fans will have the rare opportunity to attend a special Nitro Pit Party and Press Conference to kick-off the 2014 NHRA Mello Yello Drag Racing Series season in the pro pits prior to the first qualifying session of the season. Many of the top stars in the NHRA Mello Yello Drag Racing Series will be featured during the Press Conference, which starts at 11 a.m., including Shawn Langdon, Antron Brown, Jeg Coughlin, Leah Pritchett, and Tommy Johnson Jr.
After a fun day at the track on Friday, fans can jump on a free tram to the NHRA Museum and check out the bi-annual Night of Champions featuring the popular Auto Club Q&A with a panel of various NHRA's racing celebs starting a 6 p.m. Admission is free and open to all. In addition, admission is free to stroll through the museum's halls full of hot rodding and NHRA's 60-plus years of memorabilia during race weekend, Feb 6-9.
The NHRA Lucas Oil Drag Racing Series also will be showcased during the event, featuring exciting side-by-side racing action at more than 250 mph.
Mello Yello Series qualifying begins on Friday, Feb. 7 with the first session beginning at 12:30 p.m. and a second session beginning at 3:30 p.m. The final two qualifying sessions will take place Saturday, Feb. 8 at 12:30 p.m. and 3:30 p.m. Final eliminations begin at 11 a.m. on Sunday, Feb. 9.
NHRA is offering free general admission for children 12 and under with a paying adult. Tickets are available online at www.NHRAtix.com or by calling the NHRA Ticket Sales Center at (800) 884-NHRA (6472).




NHRA: 10 Most Recent Entries [ top ]

Mar 22- NHRA Northwest Nationals Tickets on Sale Now
Mar 21- LAS VEGAS 1 - Fact Sheet
Mar 21- LAS VEGAS 1 - Event Preview
Mar 20- Strong Stable of Contending Pro Stock Racers Vie for Final Starting Position for K&N Horsepower Challenge
Mar 20- GAINESVILLE - Special Awards
Mar 20- GAINESVILLE - Lucas Oil Drag Racing Series Wrap Up
Mar 19- GAINESVILLE - Sunday Video
Mar 18- GAINESVILLE - Pro Mod Sunday Wrap Up
Mar 18- GAINESVILLE - Sunday Wrap Up
Mar 18- GAINESVILLE - Pro Mod Championship Points