Tue, 04 Feb 2014, 11:12 AM



New Challenges Await Several Drivers As 2014 NHRA Mello Yello Series Season



Courtesy of NHRA Communications



Opens With Circle K NHRA Winternationals At Pomona



POMONA, Calif. -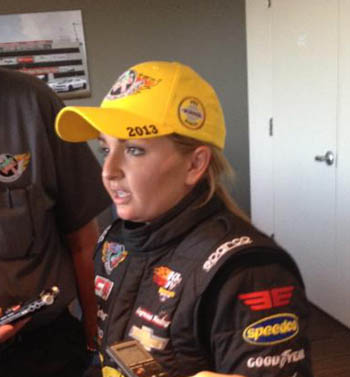 Erica Enders-Stevens
The offseason in motorsports is always a time for personnel changes, and the start of the 2014 NHRA Mello Drag Racing Series season will again see drivers and team members in new roles with new teams. For Erica Enders-Stevens (Pro Stock), Richie Crampton (Top Fuel) and Tommy Johnson Jr. (Funny Car), change has been a good thing.
The trio will try to grab a season-opening victory at the Circle K NHRA Winternationals, Feb. 6-9 at historic Auto Club Raceway at Pomona. Shawn Langdon (Top Fuel), Courtney Force (Funny Car) and Vincent Nobile (Pro Stock) are the defending winners of the NHRA Mello Yello Drag Racing Series event which will be televised on ESPN (eliminations, Sunday at 8 p.m. ET) and ESPN2 (qualifying, Saturday at 11 p.m. ET).
Enders-Stevens, the first female to win a Pro Stock race in NHRA history, is ready for the new opportunities in her new surroundings. The Texas native joins forces with team owner Richard Freeman and Rick and Rickie Jones as crew chiefs to pilot the Elite Motorsports Chevy Camaro for the coming season.
"I'm really excited," Enders-Stevens said. "I think it's a great opportunity and a really positive step for the next chapter of my career. Richard and I have been friends for a long time. I'm glad to have seen their program come together from last year."
Elite Motorsports flexed its muscle towards the end of last season, when they assisted Shane Gray with his victory in Las Vegas and gave the younger Jones a car strong enough to claim his first career Pro Stock win at the season finale in Pomona.
"They certainly have the horsepower," Enders-Stevens said. "We're about to leave in a couple of days to go test in Phoenix and head out to Pomona. So time will tell."
With her move, Enders-Stevens has found one of the best full-time opportunities in Pro Stock and is ready to take the next step against one of the most competitive Pro Stock fields ever.
"There are going to be eight to ten cars that are truly going to be capable of contending for the championship," Enders-Stevens said. "You start with Allen Johnson and Jeg (Coughlin) who are the two previous year's world champions, then obviously the KB guys are always contenders, and they've got Vincent Nobile on their team this year. I think it's going to be the most competitive year yet."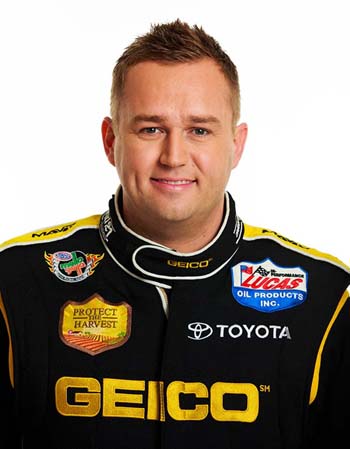 Richie Crampton
Crampton, a native of Adelaide, South Australia, will make his Top Fuel debut this year driving the GEICO/Lucas Oil dragster for Morgan Lucas Racing. He earned his Top Fuel license in August but got his first heavy dose of an 8,000 horsepower Top Fuel dragster during winter testing and felt confident about his progress.
"Testing in South Florida was a little challenging for us as it was for most of the teams that went down there to run," Crampton said. "The weather was so cool that it made the race cars pretty prone to shaking and all that kind of stuff. But nonetheless, I was able to get 24 more runs under my belt and got some very valuable seat time."
Crampton's opportunity came after driver Morgan Lucas stepped out from behind the wheel to focus more on the family business, Lucas Oil. Crampton, a former crew member for Lucas and a racer in his native Australia, was selected to take over the seat and feels his experience working on the machines will go a long way to helping with the growing pains that can accompany a rookie season.
"Honestly, I think one of the biggest things I have up my sleeve is the fact that I've worked with this team for so long," Crampton said. "The team chemistry is there right away. I've seen the way this team operates and I paid close attention to how Morgan goes about handling things during the race weekend as a driver."
Lucas piloted the Morgan Lucas Racing entry to two wins, two runner-up finishes, three No. 1 qualifying positions and a fourth place points finish last season so Crampton should have top notch equipment as he runs for the Automobile Club of Southern California Road to the Future Award, NHRA's rookie of the year honor. With Lucas' help, Crampton is ready for his opportunity.
"The fact that he's driven at the top level for so long, he's able to put it into words," Crampton said of Lucas' feedback. "There is definitely an art to it. I'm going to be relying on Morgan throughout the season to help me get better. I just hope that I can fill his shoes."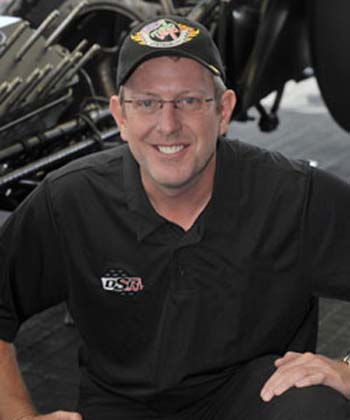 Tommy Johnson Jr.
Don Schumacher Racing lost a top notch racer when Johnny Gray decided to retire from full-time competition but secured a proven winner with the addition of Johnson Jr. Johnson Jr. has experience in pro competition having won seven races in Funny Car and two in Top Fuel, making him just one of 15 drivers to have won events in both categories.
Johnson Jr.'s last full Funny Car season was in 2008, but the racer stayed heavily involved in the sport and was a constant fixture in the pits and a trackside at each national event. Johnson Jr.'s determination paid off as he will pilot the Make-A-Wish Dodge Charger R/T for DSR with support from Terry Chandler. With Gray winning four races in 2013, Johnson Jr. knows he has the car and team to compete for an NHRA Mello Yello Drag Racing Series Funny Car world championship.
"It's a very good team," Johnson Jr. said. "Getting back full time is one thing, but to get back with an organization like Don Schumacher Racing and to know that you have the cars and the resources and the people there that are capable of winning, it gives you a great opportunity."
As always, fans will have the opportunity to interact with their favorite drivers as they're granted an exclusive pit pass to the most powerful and sensory-filled motorsports attraction on the planet. This unique opportunity in motorsports gives fans direct access to the teams, allowing them to see firsthand the highly skilled mechanics service their hot rods between rounds, and enjoy some cherished face time with their favorite NHRA drivers.
Fans also will want to visit NHRA's popular Nitro Alley and Manufacturers Midway, where sponsors and race vendors create a carnival atmosphere, with interactive displays, simulated competitions, merchandise, food and fun for the entire family.
Mello Yello Series qualifying begins on Friday, Feb. 7 with the first session beginning at 12:30 p.m. and a second session at 3:30 p.m. The final two qualifying sessions will take place Saturday, Feb. 8 at 12:30 p.m. and 3:30 p.m. Final eliminations begin at 11 a.m. on Sunday, Feb. 9.
The NHRA Lucas Oil Drag Racing Series also will be showcased during the event, featuring exciting side-by-side racing action at more than 250 mph.
For tickets for the Circle K NHRA Winternationals, call 800-884-NHRA (6472) or log on to www.NHRAtix.com.




NHRA: 10 Most Recent Entries [ top ]

Apr 22- HOUSTON - Top Fuel Round 1 Eliminations
Apr 21- HOUSTON - Sunday Schedule
Apr 21- HOUSTON - Saturday Video
Apr 21- HOUSTON - Saturday Wrap Up
Apr 21- HOUSTON - Super Stock Class Eliminations Finals
Apr 21- HOUSTON - Funny Car Qualifying, Session #4 Bonus Points
Apr 21- HOUSTON - Total Qualifying Bonus Points
Apr 21- HOUSTON - Funny Car Eliminations Ladder
Apr 21- HOUSTON - Funny Car Final Qualifying, Session #4 Order
Apr 21- HOUSTON - Top Fuel Qualifying, Session #4 Bonus Points