Mon, 03 Feb 2014, 09:28 AM



One-on-one with John Force



Courtesy of NHRA Communications


Photo copyright 2014 Gary Nastase Photography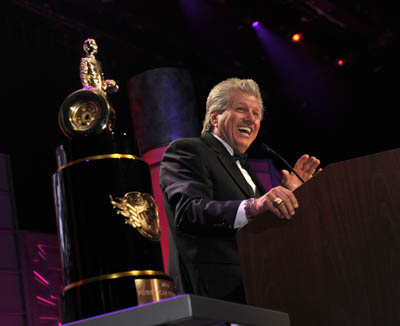 John Force at the Awards Ceremony
Photo copyright 2014 NHRA
THE MODERATOR:
Thank you for joining us on our conference call to kick off the start of the 2014 NHRA Mello Yello Drag Racing Series. The season kicks off February 6-9 at the Circle K NHRA Winternationals at the famed Auto Club Raceway at Pomona. In a very short and brief off season, our teams have been busy preparing testing, refining, and working on their machines leading up to the start of the season. We have John Force who won his 16th Funny Car World Championship last season with four wins, five runner up finishes and six No. 1 qualifying positions. John, with all the champions talking about their season last year and you know more than anybody how hard it is to repeat as champion going forward. What have you told your crew guys to make sure that they stay hungry going into this 2014 season?
JOHN FORCE: First, I'd like to congratulate Jeg Coughlin for winning the championship in Pro Stock, and naturally Shawn Langdon. Getting to know the kid, he's a lot of fun. He worked really hard for the Al-Anabi team, and he took that win home. So just congratulations to them.
John Force Racing, we do it the same. We evaluate over the winter. If we've lost any people, especially key people, clutch men, engine builders, we evaluate the crew chiefs, if anybody's leaving, we go through a lot just to make sure that we're stable in our approach. Then the approach is give everybody a couple of weeks to rest. Let's not talk racing, even though Robert (Hight) and I, we've been on the road all over the country and we're beat up and tired. We just got back from testing a week, like everybody, but we were gone two weeks. We live on the road. That's what we do. There's not much downtime, a little downtime at Christmas. But the mindset is the same. If you don't focus, if you take winning for granted, you go back to the same process and mindset you had last year and go after it. Only difference is now because of the economy and where we're looking at the future of chasing corporate America, we've got to find some major sponsorship, and that's why we've been living on the road, working with Just Marketing and trying to replace sponsorships that are going to be leaving.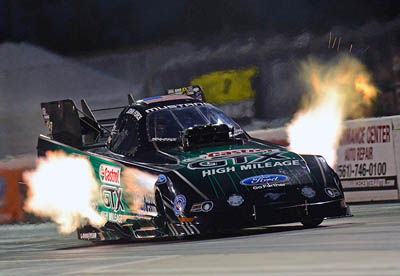 Force at West Palm testing.
Q. John, NASCAR's Jimmie Johnson mentioned that he lost a lot when he was racing motorcycles and off road cars when he first started. I told him you lost a lot at first too. He acted a little surprised. But he said John has more championships than I've got and I want to chase him down. My question to you is do you feel that fellow champions always go into the next season, any season, with a special attitude and confidence like that that lifts them up to the top again?
JOHN FORCE: I think he's being respectful. It would be like me saying I'm chasing Richard Petty and he's chasing me. NASCAR is a different animal. They run 42 races and we run 25, hard to make a comparison. But you always want to set your goals, and Jimmie Johnson is obviously a winner. You know what I mean? To accomplish what he's done in NASCAR as well as me in drag racing. But if you ever just, I still set my goals after Don 'The Snake' Prudhomme, and he doesn't even race anymore. I do it because that keeps you motivated. Every day you get out of bed, every meal you eat. You know, I put on some weight over the winter and I dropped ten pounds in the last four weeks trying to get back to where I was. I got a little lazy. Still in the gym, but not where I needed to be. So you do want to set goals. I set my goals to continue to win. Hardest thing for me is I have drivers like Robert Hight with Auto Club, and my girls Courtney and Brittany with Traxxas, they want to win too. But if I'm going to sell myself, I've got to continue to win to dominate. At my age, I'm no spring chicken. If I'm going to stay in the fight with these guys and that's what I do. So God bless him, if he said he was chasing me, I thought that's what he said. I don't think he is. I think he's got enough guys to chase over there.
Q. When I look at your 16 championships, from my standpoint I can say this one was hard, this one was easy, whatever. Where does last year's championship rate in difficulty to achieve versus all that came before it?
JOHN FORCE: First let me say I know I'm wound up here. I've been in with Hot Rod Magazine next door for two hours on topics of a lot of things. The sport, where is it going? What is good? What is bad? What are we doing wrong? Everybody's trying. NHRA is trying, PRO is trying. So I'm a little wound up, so I'm trying to stay on track. But John Force is trying. That's why I'm doing all this other stuff that I'm doing to try to bring my TV show back. Working the John Force Road Show. My car is over at Anaheim Stadium right now at a big music convention. The Elvis car is over there. I'm going over there with my daughter, Adria who is part of that. I'm continually trying to grow the sport. Continually trying to grow the JFR brand as well as NHRA. Last year, the first one was the toughest when you win your first championship because you don't know how to do it and you learn. But I read a letter from a man named Jim Jannard, and he said you've got to continue to reinvent yourself. That is true. That's what I'm trying to do with my business as well as myself. Something new out there to stay up with the Olympics and the X Games, and all the new opportunities that the fan has a chance to go somewhere else instead of NHRA. I'm fighting that just like NHRA in the pro organization. But this last championship we were struggling. We brought in the chassis years ago for safety. They were heavy. We still were able to win with Robert in '09. But we couldn't stay up with them. We made some changes, the new chassis came at the right time. It started with me in the Countdown. And Jimmy (Prock) got hot. And you know, Austin Coil who I believe is still the greatest of all time. Look how many championships he had. Frank Hawley, me, you know what I mean? Add them all up and nobody's even close to Austin Coil. But at the end of the day when you look at it, they're all hard to win. But Jimmy Prock got hot at the right time. Working with the brain trust with Mike Neff, with Dean Antonelli, the whole bunch of guys. John Medlen and Ron Douglas, all the guys. My son in law, and they got together, focused on the car, and we all learned from each other. I don't know how Schumacher runs his operation. Doesn't matter, he wins too, but so do we. But to us it's really camaraderie. Working together. The studies from the engineers at Ford, our motor programs that we build in house. We got hot and it worked. Lucky. Luck's a big part of it in the Countdown. I used to have the championship locked up before we even got there. By the time we left it was done. At Indy one year I won it with a bunch of races left to go. Countdown gives everybody a chance, and it puts fans in the seats, like Langdon said. Lot of people don't like it, some do. I don't make the rules. I just figure out how to win based on the rules they've got out there.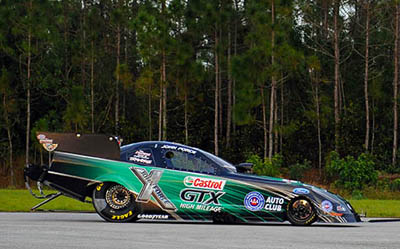 Q. If you look at most other forms of racing, I would be talking to a retired driver. What is the single thing you think was in you that says, you know what, I'm not interested in retiring. I just want to keep on racing?
JOHN FORCE: I thought about Bernstein and Prudhomme. I've talked to them and why they did what they did. For me, like Prudhomme said, you've got all those girls out there. You stay there to be with them. I guess I do. Kenny Bernstein had his reasons. I don't know their reasons. They won't tell me. But I respect those guys so much because they're the ones that really like (Don) Garlits and Shirley (Muldowney), they opened the doors. Snake and the Mongoose, hell, they've got a movie about him. You look at Kenny Bernstein, and he's the one that went to the Budweiser bottlers and that's why I went to the Coca-Cola bottlers. To get a deal with Wendy's, I learned from the guys that were the best. Why they did what they did. I'd love to have them here today, we're losing too many of our stars. You know, it's sad. We've got to get Brandon Bernstein back to keep that name in here. Great driver, great talent, we've got to get him back. He's out because of a lack of a ride. Things happen. Nobody likes the multi car teams in the beginning. It gave them too much of an advantage. Now that they look at Don Schumacher Racing and us, if they didn't have us, we'd be an eight car field. NHRA would have to go from 16 car to 18 car. I know I'm wound up here today. There are a lot of things I'd like to talk about, can't. But I love this sport with a passion. Different from NASCAR and IndyCar, don't have to drive around for three hours. You know what I mean? If I get tired during the day, my days are just as long. I start at 6:00 a.m., and come out of the hotel and go back in at 8:00 at night. That's every day. NASCAR and IndyCar don't spend any more hours, but the time in the seat. And you know one of those football players said that Jimmie Johnson wasn't an athlete. I don't know who the player was. Don't really care. But he's wrong in my opinion, my opinion. He's wrong because you've got to be in shape, and I know because when I was young and running down the road. I could party all night and go out there with three hours of sleep and drive the race car. But now I've got to have my eight hours every day. I've got to be in the gym. I was in the gym at 6 a.m. every other day I'm in the gym where there is no way I can compete and win a championship. It wouldn't have happened. We are athletes. At my age, I do it. A guy said if you quit racing, what would you do? I'd go get a race car and go racing, because I used to drive a truck. I worked all week, did my 40, 50 hour week, when I was done I got in my race car and went to the racetrack. Cars are all I know. I love them. I've got a romance with the highway, trucks and cars. It's just what I do. I have no reason to quit. Health may take me some day, and I'm going to race as long as I can do the job, and when I can't do the job, I'm going to figure out how to get in the race car, test them, and at least learn how to make them safer. The sport that made me financially stable in life that I could send my kids to college and I can retire right now, I owe the sport of NHRA. I owe the fans, and I owe it to protect these kids. I lived through a crash. I witnessed it. I saw firsthand what happens to a race car. For me to walk away, I ain't saying I'm a smart guy, but I can get with these engineers, manufacturers and talk to them and tell them what I know what happened, and they can figure out along with my team how to build a better race car, and that's what we do. I've got to say while the media is here, my Christmas presents haven't gone out yet. I was in Indy. They were there. Every year I send a present to 40 media people, they're going out. They should be going out in the week. There are some we're waiting on that we had custom built for you. Nothing spectacular, just to say thank you to all of you.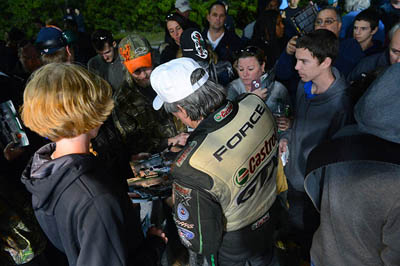 Force signs autographs at West Palm test.
Q. I wanted to touch on your racing against Brittany down in Florida there and remembering that you won the big Funny Car versus Top Fuel thing at Bristol a few years back, so I guess you've got the most experience right now of any current driver racing dragster with the Funny Car. What was that like? You just mentioned NHRA is in danger of losing cars do you think we'll ever see the day that these two kinds of cars could race together or is it just they're too different to get on the track together in a competitive way?
JOHN FORCE: If I remember, and I've done this over the years. I raced Blaine Johnson and Alan Johnson up there at Stanton, Michigan. A dragster against a Funny Car. It was so exciting just because it was different. The fans like it. I think when we did the No Bull for a quarter of a million dollars that I won against (Bob) Vandergriff, it was a pedal fest. He was driving his tail end off and so was I. Luck plays a part and I got the win. But I think they gave us an advantage on the starting line because the dragsters are faster. Try to give the fan a race. I don't know if that's right or not. If I was in junior high and I had to race a guy in high school that was a senior, if I was going to want to beat him, I'd want to prove that I could just outrun him. I wouldn't want them to give me a head start. What do you accomplish if you do beat him, you know what I mean? You know what I'm saying? I'd rather be head's up. What happened down there, we had a lot of teams in there testing. We were trying to put on a race in South Florida for the fans, the PRO organization, all these guarantees to give a show for those two days. Some teams might mess around. Maybe a car wasn't there. But when we went up, because I was so excited they had a great crowd there. PRO did a really good job and they did a good job promoting it. But they said they didn't have enough cars, and I was going to make a single and my daughter was going to make a single. I said this is Saturday night racing. How can you make a single in the final? Let me race my kid? They even said, can you do that? Yeah, she stays in her lane; I stay in mine. So we went up there and put on a race. But, man, it was cool. I saw the video. We both left about the same time. My car did run 4.01. I was low of the day. Robert ran 4.00. I think (Del) Worsham was second with a 4.01, and Robert was a 4.01. He was third. Courtney had run 4.06. Everybody was making pretty good. Track prep was good, conditions were excellent. Pretty cold down there though, the dragsters were flying. To give credit, Ron Capps was really the quickest of the weekend. He ran double O's on Friday. He ran 4.00, that was the quickest, and that's how we evaluate. Nobody really wins. There is no purse, but Ron Capps in the NAPA car was the fastest, so it was exciting. But I got to race my kid. Boy, she was bubbling over because she always watches me race Courtney in the Funny Car at the races, and she may never get an opportunity. So it was a chance for us. The crew chiefs said we don't care. We're going to run our car to learn. We made a good number. She got 150 feet and smoked the tires. Got a brand new dragster chassis. Todd Smith has joined Dean Antonelli running that car, so the dragster was struggling. We even stayed over for her to run on Sunday. And, anyway, it was a ball. The fans loved it. The people on the starting line said they went crazy because you never see it. Maybe we can address that in the future sometime of every now and then like a four wide race at Charlotte. Maybe they create another race like the No Bull. I don't know. That's not what I do. I drag race, and all we were doing was entertaining the night to make sure the fans got to see side by side racing. It was really kind of weird because I looked over and I couldn't see her, and she looked over and said I couldn't see you because they have this box on the start line and she's real low. She didn't know if I was going on and the bulbs come on, sometimes it can be somebody in the beam. But it was like running Charlotte. It was something different. I know my race cars, and we both agreed, anything goes wrong let's don't get in a big pedal fest and run over each other. But, no, it was great for the fans and always fun. Always proud to race my daughter. She got out at the other end all giggly and laughing I finally got to race dad. So it meant something to me personally.
Q. You mentioned Bernstein being out there and you having to chase sponsors all over the place. How concerned are you about the future of your sport?
JOHN FORCE: Well, I've been sick for months, okay? But sick is what motivates me. The fear of not getting to drive a race car or my daughter not getting to race. I've always said if somebody's got to sit out 2015, it will be me. My daughter, I've set her on fire; I've crashed her. I'm not going to tell Brittany you can't race that dragster. I may have to move her into a Funny Car. That's why we switched around the crew chiefs last year. Jimmy was struggling when I went over there. I didn't think the car was going to get hot. I did it to team up with Jimmy in case I had to go to Top Fuel. Like I said before, to drive a race car, I don't care if it's Pro Stock, Pro Bike, I don't care what it is, a Fuel Dragster, I want to be able to race and be with my family and be with the fans. If corporate America says here's where we want to, I find a way to go there. I moved Jimmy in case we had to go to Top Fuel. He was one of the guys that had run Top Fuel a few years ago and had a lot of experience. So put Robert over with Mike Neff. What I'm looking at now is I hired Just Marketing. We're even working with other agencies. We're chasing manufacturers, we're entertaining them. We're looking at not just trying to find a major sponsor that will buy a whole team, we're going NASCAR has rewritten how it's done. They might have four or five sponsors during the year. You look over at NASCAR and there are only two teams over there that are funded, Jimmie Johnson with Lowe's for the whole season, 24 races, even Jeff Gordon has different sponsors for different races. It used to be Dupont. It's all changed. So they've rewritten the way to go to business, and I'm following it. That's why I'm bringing back the TV show. I want to offer a little more TV than just what ESPN's got. I've got my traveling Road Show that will go around the country. I've got my own show car program that goes around to the national events, my midway. It took a hundred years to get to where we are today. This is a few years ago. It will take us another hundred years to get back. When they all went to the White House over budgets and companies were failing in Detroit. So why would we expect drag racing and the crowds and the economy to be the way it used to be? We're hoping. We're trying. We're sure going to go that way. But, I ain't taking no chances. I'm going to go back and start match racing. I addressed a group out of Canada that want to utilize me. I've got to make money so I can afford to get to those national events. That's what I've got to do. NHRA is my home. It's where I want to race. I know they work hard. They can only do so much, and the rest of us got to work. And buddy, I've been on the road. I took a few days off at Christmas, but Robert and I have been living on the road and meeting with people. We're not going to fail. I will not fail because I've got nowhere to go. This is what I love, and I won't fail my kids. I put them in this business. NHRA has a great product, and we'll fight our way out of this hole. Compton said he's fighting the Pro group. They're fighting, and all we can hope is that everybody does their job, because I'm doing mine.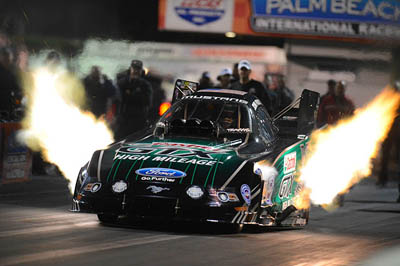 Q. To make sure I got this right. Are you saying that if you don't have a corporate sponsor next year for yourself, you would sit out so that Brittany could run a Funny Car? Is that what you're saying?
JOHN FORCE: Or a dragster. Look, John Force Racing, the problem you have is if you lose a major sponsor, you can drop a team. You don't lose nothing. A little G&A for overhead. But when you lose two sponsors, you've got to replace two cars and let two teams fall, then you lose the manufacturer. That hurts because I've got shops at Indy with a hundred employees. So we're working hard. We're having meetings. I've got to bring a manufacturer back. But I've got to look can I ever get my funding back where it was? I was a $24 million program, $24 million. I can't count on the world to come save me. Right now my guys in the room next door are budgeting. I said very simple, if my budget has been cut 45%, let's pretend I don't get any of it back. Go back to when my budget was at that amount of money, how did I make it? Well, they went back to that budget, and I had less than half of the employees that I've got now. That was 15 years, 16 years ago I had a budget like that. So if I don't get it all back, I go out of business, and I will not go out of business. I have too much invested. Just purchased all of Prudhomme's land in Indy. Thank God I have renters. I'm growing. You've got to spend to make money, but you can't spend it foolishly and spend it all and go broke. I don't gamble. Everything I do is around racing. I have opportunities to go other places. I am addressing, if I take my motor program, and I sell to Funny Car teams and I sell to dragster teams, that's a no brainer. I can stay in business. But then they all come back and beat me with my technology. So I have to be careful who I sell to. I look at IndyCar and NASCAR, is there anywhere I can do any business over there to float my machine at Indy? I own the buildings; I own the equipment. I did it by doing shows and entertaining to get it up to where it is. The only I have there is payroll and buying materials. But it's still a nut, and I'm looking to find it. I'm going to make money in TV and in racing and with my endorsements, I can afford to pay for one car. I can spend $3.5 to $4 million for my daughter's car. But I have to find a sponsor for me. I've got money in the bank, but in three years, I'd be flat broke. So, nope. I'm chasing it. That's why I met with the group out of Canada because Corporate America Global says do you race in Canada? Do you race in Mexico? Do you race in England? Do you race in Dubai? Well, I will, if that's what it takes. I'm setting up to build cars. The trouble with flying cars back and forth. We've got NHRA tracks in those countries. It's the cost of getting them there. The cost of getting them back where you can get them back and run Pomona. Yeah, you give up your Christmas and Thanksgiving. You can do it. I can put cars in those countries and leave them. I know they want me. They've been trying to get me back for years. So going to have to stay in business. If I'm going to race NHRA, and that's who I race for, then I've got to do a lot of work to make it happen. Then throw in a TV show, it's a heart attack in the making. But I've got no choice. It's where I'm going.
Q. Is there any chance are you looking at corporate or manufacturers like Kia and Hyundai as possible first timers in NHRA with Funny Car?
JOHN FORCE: I'm talking to companies that are global companies. I stood at the PRI show, and I had a group of fans and a guy in the audience said, you know, you're one of the good old boys, John Force. You know NASCAR did it. They brought in these other brands, and I said, wait a minute, sir. I know where you're going. I said let me clarify something. Number one, if I bring in a company, a manufacturer, or any company, I support the men and women in our military, our police and fire department, our American flag. That is what I believe in. I don't try to get into politics, because I'm not that smart. Okay? I don't get into religion. But I know one thing. Those men come home and we have an unemployment rate that our men in the military deserve jobs. They're going over. They've been injured. That's why I love (Jack) Beckman that goes out there and the Schumacher group that promotes those guys and tries to give them a better life and get mail to them overseas. I believe in that. I believe, and I made this statement, any company that's going to join John Force, I don't care where you're from, who you are, unless you're a real bad guy out there, okay, I'm going to let you come with me, and I'm proud to be with you. But you've got to sell, and you've got to manufacture in the U.S. You've got to give jobs. I'm not going to take a company over here that makes it over there and sends it over here. Now they might make one of their brands and bring it over here, but they better have plants in America that are manufacturing. Because when other companies came over here and went into NASCAR, a lot of people were upset and they didn't realize they were giving jobs to the American people. They had plants around. I'm not talking about any one manufacturer. I know you're thinking I'm going to say Toyota. No. But other manufacturers are going all around the country, and hell, I didn't even know it was going on, giving jobs to the American people. I want to race. I've got to take a sponsor. If he builds products overseas, I'm okay with that, as long as he builds some stuff over here and he gives the American people jobs, I will promote the heck out of him. The fans need to look. We've got to stay in business. Even the Qatar team, the Sheikh gives jobs to our people here in America. You see them at the race team. Every week, those kids or Langdon probably wouldn't have a job. I will support anybody, okay. So when I say anybody, I'm not saying anybody. If there is some guy out there or some country doing bad, well, I'm not going to support it. You know what I mean? Our soldiers fight too hard. Okay. How the heck did I get into that?




NHRA: 10 Most Recent Entries [ top ]

Apr 23- HOUSTON - Sunday Video
Apr 22- HOUSTON - Sunday Pro Mod Wrap Up