Fri, 31 Jan 2014, 12:12 PM



One-on-One with Jeg Coughlin Jr.



Courtesy of NHRA Communications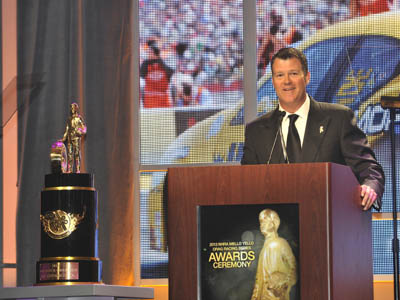 Jeg Coughlin Jr.
THE MODERATOR:
Thank you for joining us today on our conference call to kick off the start of the 2014 NHRA Mello Yello Drag Racing Series. The season kicks off February 6-9 at the Circle K NHRA Winternationals at the famed Auto Club Raceway at Pomona. In a very short and brief off season, our teams have been busy preparing testing, refining, and working on their machines leading up to the start of the season. We're going to be joined by Pro Stock defending champions, Jeg Coughlin. We'll start with our defending and most recent Pro Stock world champion, Jeg Coughlin. Jeg's championship season saw him win four times with four runner-up finishes, two number one qualifying positions and 48-round wins. He also has an impressive 533-round wins in his racing career. Jeg, the off-season is always a short one. I think more than people even realize. Did you and your team have a chance to celebrate this championship or kind of talk us through when you pulled out of Pomona to today?
JEG COUGHLIN: I think when we pulled out of Pomona we definitely were very excited and coming off the heels of quite a celebration there at the famed fair grounds outside Pomona there. Then carrying over into Monday night's festivities at the Mello Yello NHRA championship banquet. So we've celebrated in grand style. Couldn't have been happier to bring home the second championship in a row for Mopar and for J&J Horsepower with Allen and Roy Johnson. So that was probably the pinnacle of it. But for JEGS and everyone here and for everyone on the JEGS Team and everyone here at JEGS for a season long effort like that to come to a conclusion in the fashion it did, it was probably one of the more trying or hard fought battles that we've had in the championship runs in our careers. So, it was very gratifying, very satisfying and very rewarding all wrapped up in one. As you mentioned the off season, it's a term that's used very loosely. Just two weeks after Thanksgiving, mid-December Allen and I and several other teams were down in Bradenton, Florida, doing some testing and really just trying to prove out some things that we learned throughout the 2013 season. When you enter the countdown, you enter a little bit different competitive mode. We've really made some great headway in that first test session, and then we just completed another three days of testing in Bradenton this past week. So for us it was a very short off season. From my understanding, Roy and the engineers at J&J have been working extremely hard on horsepower and have done a great job with that. Based on some of our testing results, even with our testing motors, we were extremely quick. So we look forward to that as we move into the season. We've had some transitions within the team that we look forward to seeing play out as we've gotten our feet on the ground and ready to hit the Winternationals.
Q. Jeg, how does a five time NHRA Pro Stock champion transition into a new season after winning championship and if you could along the way mention a little about the phenomenal year the Coughlin's and Team JEGS had last year too?
JEG COUGHLIN: I think you how you transition into a new season is you look at the past season you just had. In our case we couldn't have been much happier with myself finishing number one and Allen finishing number two. So we do look at our successes. We look how we can capitalize on those a little bit better and strengthen those, but also look at some of the pitfalls that we felt like we struggled with throughout the years, throughout the countdown, and that's what we've worked really hard with in our testing in Bradenton the first session. The second session we kind of picked up where we left off in mid-December and just continued to fine tune on that. I think in our case we've had a couple of transitions within the team with the exit of Vincent Nobile joining forces with the KB Team and Jim Yates no longer with the program. My lead crew chief and car chief, Dave (Yediny) ended up wanting to stay more back on the east coast and racing in the Comp Eliminator ranks, which is great. He was fantastic for our program, but we were able to add Adam Hornberger who came out of Mike Edwards' program, and individually worked with and Mark Ingersoll's worked a lot with over the years as Adam was with Penske Racing Shocks. So I think those were the transitions we were faced with coming out of Pomona and with the personnel changes and the team changes we were able to kind of fine tune some things in testing and really painted one heck of a picture. But I've got to say when you look at the lineup of Pro Stock cars that we're faced with this year it's going to be an exciting year without question. The resurgence with Dave Connolly back behind the wheel and partnered up with Shane Gray in that program, they're going to be tough. KB with three cars, the list just goes on and on. It's not going to be dull to say the least. To your second point, you know, the Coughlin's had one heck of a season in 2013 starting with the youngest member, Clay Coughlin. I call him Cecil. He won his first championship in the Junior Dragster ranks here at our home track of National Trail Raceway. Cody Coughlin, my oldest brother's son won the CRA championship in the asphalt circle track rank, which is something I'd love to hop in and do. It just looks like a ton of fun. Troy Jr., my brother Troy's son, won his first championship in the Division 3 ranks in Super Gas, and my son Jeggy, who has not hit the pavement just yet, but he won the Ohio high school golf championship in boys high school golf. So one heck of a year for us. To add a Pro Stock championship to those four certainly made us a banner year for all of us here.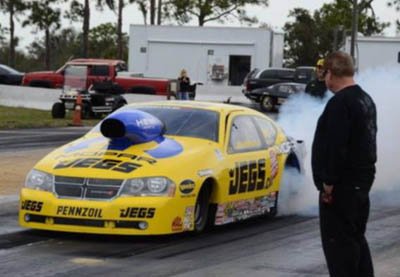 Coughlin Jr. testing in Brandenton
Q. Jeg, I was just wondering this is going to sound like a weird question, but lately where are the biggest gains being made in a Pro Stock drag racer from the standpoint of performance? I know it's always a combination, but where have you noticed where the biggest gains have been made in the last couple years?
JEG COUGHLIN: That's a great question. Thanks for being on the call today, too. I'd say the Pro Stock cars are always looking for horsepower. The engineers are looking for more refinement within the engines. The suppliers we're working with are looking for better tooling, better materials to work with. We're able to be more efficient with the engines, so I'd say that's one area that we're focused on. I think chassis management is a huge area that I don't want to say has been untapped for years in Pro Stock, but we've all been running a very similar platform as far as the chassis design goes. I think we've seen a lot of new ideas coming in on the way we're running the chassis themselves. Then, of course, clutch management is always extremely important in Pro Stock. Unlike the Top Fuel and Funny Cars where they're a one speed we've got five forward gears, so we've got a lot to manage between our gearing packages and the manipulation of our clutch. I think better products within the clutch world and better splits that we can mathematically figure with our gear boxes. That is a big area we've improved on here in the last six or seven days of testing.
Q. You just went over those personnel changes, but it sounded like fairly key personnel. I guess anybody on a drag racing team is a key person. But how do you go about finding those new guys to bring in or upgrade? Is it a major vetting process from the standpoint of you want something new but you also want to carry on what you were doing at the end of the year last year, right?
JEG COUGHLIN: Exactly. When it all boils down, it's a really small world whether you're in professional football or baseball or any of the sports. Drag racing is no different. You always know the key players in all the areas that need to be accomplished on the car or back in the shop. I think when you hear rumblings that teams may be dismantling or transitioning in some fashion, you kind of just work your way through it and see what's going to be the best fit for where you feel your opportunities are. In our case, I think we've added a great person in Adam. Obviously, Mike Edwards, aside from the J&J team of myself, Vincent and Allen, had one heck of a year with all his number one qualifying efforts and race wins. Obviously, just didn't shine in the countdown like he planned on. I think we're going to have one heck of a program.
Q. Pro Stock has been so competitive the last few years, and the rules package really hasn't changed that much. Yet it seems as though every team goes about the car a different way. I know you ran GM products and now you're in Dodge. But how do you come out to the same place to be so competitive with so many different you know, everybody taking a different angle to it?
JEG COUGHLIN: That's a tough question to answer, honestly. But I think you've got a lot of extremely bright, intelligent people behind either running the cars or building the horsepower. There are some commonalities in there too. As I mentioned, the chassis, they're all pretty similar. Horsepower wise though it amazes me that there are probably six or seven main engine builders out there that build all the power for the Pro Stock group. Maybe a few more. On any given day you can send 20 cars down the track and we'll be within four hundredths of a second. And we've seen that window improve over the last couple of years because there's been a couple fewer less engine builders out there. Plus I think we've seen key members of different teams go to this team or go to that team or even on their second or third team in the last say ten years. I think a little cross pollinating of information and tactfulness, if you will, kind of spreads itself out a little bit that way. Like I mentioned earlier, it's going to be a banner year for Pro Stock and something we're looking forward to. We've talked about it as a team what our preparation is, what our mental side of things is going to be going into Pomona, and now it's time to get out and execute. It's that time of year already.
Q. When you're coming off a championship like you are does it make how short the off season is, does it make it shorter? Or is the anticipation killing you to get back into competition?
JEG COUGHLIN: We're always ready to get back at it. You know, driving a Pro Stock car is something I've always enjoyed as much as anything in my life, so it feels right at home. This year we've done a little testing earlier than we typically would, so it didn't feel like I was out of the car very long, and I felt very, very good. I think it just made it sweeter, quite frankly, coming off being a champion in the '13 season. It always makes the off-season feel more special.
Q. My question might be a little complicated, if you will. How much time during the off season did you spend thinking about the 20 losses throughout your season last year, and ascertain how many might have been your issue and how many were the car's issue? What do you do to eliminate the ones that you think were your personal issue?
JEG COUGHLIN: Very interesting way of looking at it. Quite frankly, one that we have scheduled out from the first race of 2013 through the finale in Pomona. We've looked at where we can improve. Me, myself, behind the wheel, I can see where maybe I wasn't as focused as I needed to be and what the distractions were within the team or within my life. You always try to improve on those. The races where we struggled more with set up things and we go back to the drawing board and say how can we do a more efficient job? Our goal has always been, yes, we want to be the fastest car, but if that tips over that edge and puts me, the driver, in a position to not complete a run because it shakes real hard and need to abort the run, then we didn't accomplish anything. We'd much rather have a car that was slower than everybody out there but gets down the racetrack and at least gives me the opportunity to get out and do what I love to do and that is will the machine. But we've looked at all of the positives and all the opportunities from '13 and kind of underscored a few of them that we'll work on both personally and as a group.
Q. How much more confident do you feel as yourself as a person and a leader of your team having looked at those issues?
JEG COUGHLIN: Well, I think any time that you're aware of your issues and you can address them personally and as a group, I think it gives you much more confidence. We approach our businesses here at JEGS much the same way. We do the racing. So for me it feels more like a natural. We've been doing it for many, many years, so it's common practice and something probably we don't need all of our competitors to do.
Q. A lot of times in sports you hear about how hand eye coordination deteriorates over the years as they get older. Yet in drag racing you see where reaction time is so critical. You see guys competitive well into their 60s. John Force being the latest and most obvious example. That kind of flies in the face of logic. How do you explain that in drag racing guys or gals can have careers with such longevity?
JEG COUGHLIN: Well, I think physically it's a sport that doesn't dictate a whole lot of physical nature, so to speak. We can see the Top Fuel and Funny Car guys get out of their car and they're gasping for breath and it is an exhilarating rite. I can only imagine. And same thing on the Pro Stock ride and the bikes. I think as we get older, you know, like I mentioned earlier, the machines are getting more efficient. The pieces we're working with are getting more efficient that helps the driver be more coherent and more alert, and/or allow a slower reacting person to be very competitive because we've been able to improve the cars quite a bit. I think, honestly, that's probably one of the bigger things. Me, personally, I try to stay in somewhat decent shape with running and stretching and exercises and whatnot. Also, I like to play video games and things of that nature that just kind of helped that hand foot eye coordination stay acute. Certainly, like we say here at JEGS, many of the practice devices that simulate the perfect start of an NHRA drag race is something you can find right here on my desk while I'm on the phone or have a few seconds of idle time. You practice on the street for a few hits, doesn't seem like much, but it does keep it fresh in the mind so that under the pressures of drag racing you can perform in that subconscious manner.
Q. As you know, Mike Edwards decided to sell his equipment to Chris McGaha back, I think it was last month. I'm wondering, can a guy like Chris become a player by buying equipment from a World Champion like Mike? Secondly, how will Mike's exit impact the whole class?
JEG COUGHLIN: I think Mike was just a fantastic individual and one that a lot of us looked up to for many years. I recall seeing him race with David Nickens in the late '80s in their GTX Mobile and just killing them in comp. Always enjoyed watching him. He was such a smooth operator. Everywhere he went that I got to watch him after that he was always very successful, and of course he got back behind the wheel after several tens of years off from winning his Modified World Championship earlier in his career to race in Pro Stock again.
He was always a very aggressive driver and very good driver. As he built his latest team, obviously he had the total package and they won a world championship in, I believe, '09 and were a threat each and every year. So Mike will be missed on the track without question. I'd be surprised if we didn't see him surface and be a part of the racing world, because it's been such a big part of his life and career for both he and Lisa. So I guess that is yet to be seen. On the first question with the McGaha's purchasing Mike's transporter and car and engines and spare parts and whatnot, can they be an instant success? I certainly think they can be, yes. I think Mike obviously had pretty much the best of everything. But Mike was very crafty as a crew chief himself. So that is the one thing that didn't completely come with the package from what I read and what I hear. But them adding Jim Yates as their leader and crew chief I think certainly brings that back into a position that would be surprising if they didn't come out in Pomona and be in the top five and challenge to win the race.
Q. You said you analyzed your performance on all your runs in 2013, whether you looked at the car, your performance, every driver seems to have one or more tracks that they don't do well at. Did you look at that at a particular track that may be a problem for you and try to figure out what it is about that track that you can change to improve?
JEG COUGHLIN: Fortunately, we've had great success at just about every track on the circuit. I was beginning to wonder that very thing since the creation of Charlotte there. One of the finest facilities we were able to race on the NHRA Tour and haven't quite had the success there, which is certainly nothing to complain about, but it was one track I really wanted to do well at because it was such the pinnacle. I was fortunate enough it was in 2007-2008 championship era where I had a lot of activity with the track prior to its opening and always held it very closely. I wanted to do well there. To be able to breakthrough and win the first Countdown race there in the fall, I think kind of pushed Charlotte out of the back of my mind as being a problem track for me.
Fortunately, the only new track on the circuit to us was New Hampshire this year, and I think that's going to be a really fun venue to go back to this summer. Because we've had a year under our belt now. When the weather was cool, the track was cooler, and we flew. The atmospheric conditions there can be just right. Then on Sunday as the 90? heat and sun was doing its thing, it challenged us a little differently. I think we'll approach that race just slightly differently given those conditions again. So that's probably looking at the past from a preparation standpoint. Probably one of the more fun opportunities that we look forward to is the New Hampshire race.




NHRA: 10 Most Recent Entries [ top ]

Apr 22- HOUSTON - Pro Modified Round 3 Eliminations
Apr 22- HOUSTON - Pro Stock Round 3 Eliminations
Apr 22- HOUSTON - Funny Car Round 3 Eliminations
Apr 22- HOUSTON - Top Fuel Round 3 Eliminations
Apr 22- HOUSTON - Top Fuel Harley Round 2 Eliminations
Apr 22- HOUSTON - Super Stock Round 5 Eliminations
Apr 22- HOUSTON - Super Gas Round 5 Eliminations
Apr 22- HOUSTON - Super Comp Round 5 Eliminations
Apr 22- HOUSTON - Stock Eliminator Round 5 Eliminations
Apr 22- HOUSTON - Pro Modified Round 2 Eliminations