Mon, 27 Jan 2014, 14:02 PM



One-on-One with Shawn Langdon



Courtesy of NHRA Communications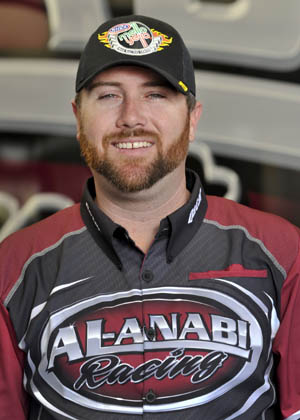 Shawn Langdon
Photo copyright 2014 NHRA
The following are excerpts from a teleconference featuring 2013 Top Fuel world champion Shawn Langdon.
THE MODERATOR: Thank you for joining us today on our conference call to kick off the start of the 2014 NHRA Mello Yello Drag Racing Series. The season kicks off February 6-9 at the Circle K NHRA Winternationals at the famed Auto Club Raceway at Pomona. In a very short and brief off season, our teams have been busy preparing testing, refining, and working on their machines leading up to the start of the season.
We have with us Shawn Langdon, who in his Al-Anabi Racing Top Fuel dragster, rocketed to his first World Championship with seven wins, three runner-up finishes, and seven No. 1 qualifying positions. He book ended the season with wins at Pomona, his home track and secured the championship at Pomona. Shawn, you've had quite a whirlwind experience since the final event, including taking the championship trophy all the way over to the Sheikh. Can you tell us a little bit about that trip going over there?
SHAWN LANGDON: Yeah, it was actually a great experience going over to Qatar for the first time. I've never actually been out of the country, so to take a 14 hour plane ride and to go somewhere, it was a very neat experience. Obviously, Sheikh Khalid and everybody over there took very good care of us. But our main thing not only of presenting the trophy to everybody in Qatar was also to go over there for the Doha Goals. It was a very important event that they were putting on to try to raise awareness for getting kids places to play sports and to have opportunities as a kid to have dreams and to have goals. It was a neat experience to not only go over there and see the country, but also to be a part of the Doha Goals.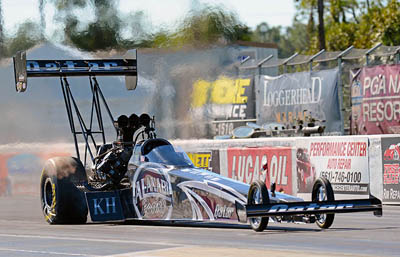 Shawn Langdon testing at West Palm
Photo copyright 2014 Gary Nastase Photography
Q. Shawn, you're on this teleconference with two guys that have 21 championships. What is your take and your first championship and the new season? How will you approach 2014 and what do you expect?
SHAWN LANGDON: Well, obviously, we're going to approach 2014 the same way that we have the last two years. We're just very excited to get back out there and get running again. We feel very confident; the whole Al-Anabi team has done a lot of homework in the off-season. We went testing last week and had a successful test session. I don't think there are going to be too many things that we want to change. We just kind of want to stay in the same attack mode as we have in the last two years. Obviously, the 2012 season we struggled a little bit throughout the year, but we also gained a lot of information that we were able to use this last year with winning the championship. So we're hoping to just further that along for the 2014 season. Just all that more information and data that we have at all the tracks with all the new parts and pieces that we've been using. So we're just very excited to get back out there and get racing at Pomona.
Q. Do you think that second championship is going to be a little tougher?
SHAWN LANGDON: Any championship is going to be tough. The competition level is so tough these days. There's just so many good running cars it's not going to be easy. We know we're going to have to fight for it. We're going to have to dig deep just like we did last year, but we're up for the challenge.
Q. You've kind of touched on my question already. But when you look back at last year was that the easiest or less stressful season you've had and there goes resulting in a championship? How does that affect how you approach this year?
SHAWN LANGDON: Well, I definitely think it was more stressful to me as a driver, in a good way though. You can get yourself stressed out as a driver when you're not performing and your car isn't running well and you're kind of fighting against yourself and your team. The car isn't consistent and you're not consistent as a driver. Just things aren't gelling well together. Last year I think it was just a I think it was a thing where me as a driver, I had a great team, the Al-Anabi team provided me with a great car, and we had a dominant car at times. So it was the pressure of me as a driver to have to perform because basically you're looked at as you're with the best team out there, and if you don't win races, a lot of that comes down to you as the driver. So I think there were a couple races with me as a driver entering the Countdown in the number one spot, losing that first race on the holeshot. I think I put a lot on myself. The team did a great job of calming me down and trying to get my mind off it and motivating me. But I look a lot of that to heart. I have a lot of passion for the sport, and I don't want to be the weak link for the team. So I think it was a lot of pressure on me that I put on myself to perform. I think now having experienced that this last year, I think it's going to help me be better this year because I know what to expect. I know what it's like to be in these huge pressure situations, racing against the best, all eyes on you and you're racing for the championship. I think just being in that position now, this team knows how to do it. They've done it in the past with Alan (Johnson) and Brian Husen as the crew chief. They've done it in the past with a bunch of different drivers, and me, that was my first time being in that position. I think all of us having gone through that, I think we can relax a lot more this year.
Q. So when you look back at your entire season, your entire career, if you will, was last year your hardest year ever?
SHAWN LANGDON: I would say I don't say it would have been my hardest year in the sense of it was tough growing up, having to race to keep food on the table, and that was pretty difficult to me where if you didn't win a race, you didn't have money to pay bills for the next month. So in that situation it was a lot harder on me back then six, seven years ago. Now I think the hardest part about running for a championship is how to separate your time and how to separate time for media and for fans. I've always kind of grown up going to the racetrack to race. I've never been really involved racing in the sports categories with a lot of TV cameras, lot of fans, a lot of attention with everything and a lot of eyes are on you. I think I was exposed to that last year, which takes a little bit of time to just adjust as a fairly new driver.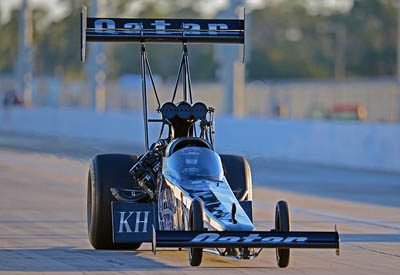 Shawn Langdon
Photo copyright 2014 Gary Nastase Photography
Q. I know you were testing just last week down in Florida, and I was hearing the track there wasn't optimal. I'm sure you guys got some good data and everything. But as a driver is it just good to get back in the car and get the feel for it again? Give you a chance to just get the sensation before you go racing again in Pomona?
SHAWN LANGDON: Oh, absolutely. I love this sport. I love drag racing, so the two months that we have off, it eats at me. It's tough. I'm champing at the bit to get back out there. So I was definitely excited to get back out there to South Florida and we were able to make some good runs. The track was tricky at times. The first day we had to work on it a little bit, but as the weekend progressed, the track progressed as well, and the track got to be really good. So we were able to throw down a 372, which, obviously, it just goes to show that we still have a good handle on the car with even having a couple months off. But, yeah, it's not easy sitting around when you're used to racing 20 weeks in a row during the middle of the summer and then you have two months off in the off season, you kind of get to twiddling your thumbs a lot.
Q. I'm guessing it feels a lot different this year going in as the champion now. You've got the big number one on your back and all that kind of thing and people gunning for you, but how do you feel this year going into it as opposed to last year? Even though you had a good car last year, obviously, but how does this feel?
SHAWN LANGDON: It feels great, obviously. Just to win that Mello Yello Top Fuel Championship was a dream of mine since I was a kid. I'll definitely wear that number one proud on the side of our car. I don't think it's going to be too different. I think last year we had the hopes of contending for a world championship. We knew we had a great car and we still feel that way. So we're just going to basically keep doing what we're doing. We're obviously proud of what this Al-Anabi Team accomplished last year, but we don't want to sit on it for too long. We need to keep progressing. All these other teams are playing pretty good catch up. They're making good runs as well. So we can't sit around and pat ourselves on the back too much or these guys are going to pass us up. So we have to keep working hard, keep at it, and keep trying to keep this team at the top.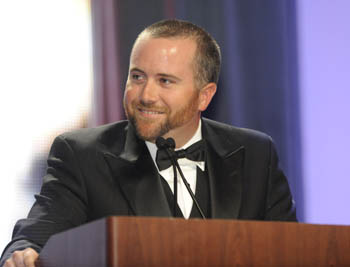 Shawn Langdon at Awards ceremony.
Photo copyright 2014 NHRA
Q. Being a champion, going into the testing and coming out of the testing, how do you feel as a driver and a team after you're testing going into Pomona defending your championship?
SHAWN LANGDON: We feel pretty good about everything, really. We didn't make too many changes in the off season. We had a couple small personnel changes within the crew and adding another crew chief over to (Khalid) alBalooshi car or assistant crew chief, and adding Brandon on as manager out here at our shop in Brownsburg. So we've made a couple small changes only for the betterment of the team, obviously trying to keep Sheikh Khalid happy and proud.
But we're trying to keep progressing. We're excited to get into Pomona. We definitely want to get going being the defending World Champion and also the event champion. Obviously, there are a lot of great memories out at Pomona. Pomona is always a fun race. First race of the year, a track that I grew up at. So we're definitely counting down the minutes to get there.
Q. We've had the countdown format in place for several years now, and as a driver it can help or hurt you. You saw what happened to Antron (Brown) last year. Kind of dug himself a hole with the DNQ. How do you feel about the countdown format now that you've raced it for a few years? Are you happy there is a playoff format or are you a traditionalist that likes to see the whole season go equal points?
SHAWN LANGDON: Well, I definitely think that the Countdown is great for the fans. Obviously when you look at it last year it didn't really change anything in the championship. I think if I calculated the points out correctly we would have won the championship whether there was a Countdown or not. In the years previously, obviously, it helped our cause to gain points back on the leader. But I think it's good for the sport though because that way it doesn't just give somebody obviously, you want to reward someone that has a great season. But it doesn't really bring that much excitement at the last couple races if somebody clinches a championship with six or seven races to go. I think it's great. I think that it's good. The last couple seasons everything has come down to Pomona. It keeps the excitement level up for all the fans, for all the sponsors, for all the drivers and crew guys as well. You know, it definitely is all about bringing excitement over to the Mello Yello Series.




NHRA: 10 Most Recent Entries [ top ]

Apr 21- HOUSTON - Sunday Schedule
Apr 21- HOUSTON - Saturday Video
Apr 21- HOUSTON - Saturday Wrap Up
Apr 21- HOUSTON - Super Stock Class Eliminations Finals
Apr 21- HOUSTON - Funny Car Qualifying, Session #4 Bonus Points
Apr 21- HOUSTON - Total Qualifying Bonus Points
Apr 21- HOUSTON - Funny Car Eliminations Ladder
Apr 21- HOUSTON - Funny Car Final Qualifying, Session #4 Order
Apr 21- HOUSTON - Top Fuel Qualifying, Session #4 Bonus Points
Apr 21- HOUSTON - Pro Stock Qualifying, Session #4 Bonus Points