Fri, 03 Jan 2014, 10:42 AM



2013 TNT Super Series Driver of the Year- Harry Phelps



Courtesy of Lewis Robinson


Photo credit- www.thephotoguys.ca





"First of its kind" award based on Driver Performance!



NEWARK, N.Y. --
Known for the best sportsman payouts in the country, the Joe's Transmission TNT Super Series developed a unique award in 2013 based entirely on driver capability. The Performance Improvements Driver of the Year, lubricated by Royal Purple for 2013 goes to Harry Phelps from Newark, New York.
For his efforts, Phelps will receive a 2014 Royal Purple product sponsorship valued at $2500 and $250 of merchandise along with the one-of-a-kind award.
Designed to showcase "driver performance", the Driver of the Year goes to the TNTSS racer with the best overall winning package throughout the entire 2013 season. For a run to qualify it had to be a win in eliminations, green on the tree for both competitors and not a break-out. And the driver had to meet criteria for minimum number of runs and events. In other words, only rounds the driver genuinely earned are counted.
And while Phelps wasn't the highest points earner in 2013, he put some very impressive runs in the books. His average package was a mere 0.032 through all thirteen TNTSS events. The next closest driver was 0.037 making this an even more impressive performance.
Phelps is no stranger to success in the TNTSS. He's finished fourth in points in both 2011 and 2012. "We came into the year with high hopes for 2013," commented Phelps. "The competition this year was the toughest I've ever seen it."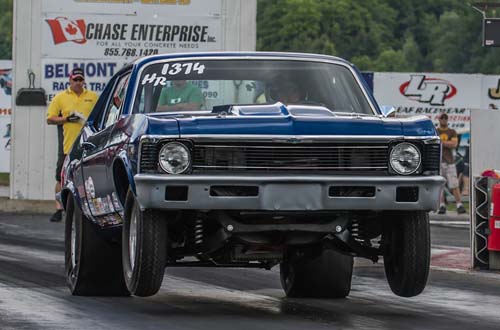 Harry Phelps
The highlights for Phelps in 2013 were two-fold. "First, having my son Harris out here racing with us and then winning this award were the highlights of my year."
"I want to thank Kyle Neal at Royal Purple and Andy McJannett at Performance Improvements for sponsoring this award along with Joe Boniferro and Ted Barnes for all they do setting all these things up and running this series. I'm also thankful that my wife, Audrey, could make it to more races this year as she is as eager to go as I am," he added.
Phelps' 1969 Nova has a 468 engine backed by a powerglide transmission and is capable of elapsed times in the 10.30 range at 130 mph.
2013 Performance Improvements Driver of the Year, Lubricated by Royal Purple (Top Ten)

	 	 	     Average Package
1  Harry Phelps         0.032
2t David Surmatchewski  0.037
2t Gary Saska           0.037
4  Ted Barnes           0.039
5  Chris VanBaalen      0.041
6  Jim Thomson          0.043
7  Ryan Boniferro       0.046
8  Sam LoVetro Jr       0.048
9  JJ Jablonski         0.052
10 Gary Kerl            0.057





Drag News: 10 Most Recent Entries [ top ]

Apr 24- NHRA Heritage Series Heads To Wild Horse Pass
Apr 22- K&N Spring Fling Million Final Day Results
Apr 21- K&N Spring Fling Million Friday Results
Apr 20- K&N Spring Fling Million– Thursday Results
Apr 19- K&N Spring Fling Million- Wednesday Results
Apr 18- Buckeye S/SS @ National Trail April 28th
Apr 18- Don "the Snake" Prudhomme Returns To Baja Competition After 50 Years
Apr 18- K&N Spring Fling Million Tuesday Results
Apr 17- K&N Spring Fling Million Pre-Race
Apr 12- Summit Racing Equipment is Newest Sponsor of Midwest Junior Super Series