Fri, 03 Jan 2014, 10:04 AM



Countdown to a Championship- Sam LoVetro Jr.



Courtesy of Lewis Robinson


Photo credit- www.thephotoguys.ca and Ron Rigby





WEBSTER, N. Y. --
Solid performances all season long and accumulating 756 points earned Sam LoVetro Jr a second place finish in the 2013 Joe's Transmission TNT Super Series.
LoVetro, from Webster New York, was in the battle for the points lead all year, never falling below third place. The story started with a victory at the first race at Empire Dragway (along with a runner-up in Super Pro that same night).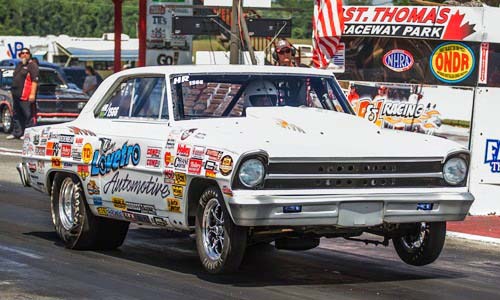 Sam LoVetro Jr
He immediately followed that up with a semi-final finish at Cayuga Dragway and then continued to go rounds at most events including two fourth round efforts at St Thomas Raceway Park in August.
Another semi-final finish late in the season at Empire sealed the deal. Strength at multiple race tracks is what it takes to be a championship contender in the TNT Super Series.
"I would like to thank Joe's Transmission for making it possible to have this series," said LoVetro. "Also Ted Barnes for his part in organizing and making this series run smoothly. And all the sponsors that support these events - Thank you."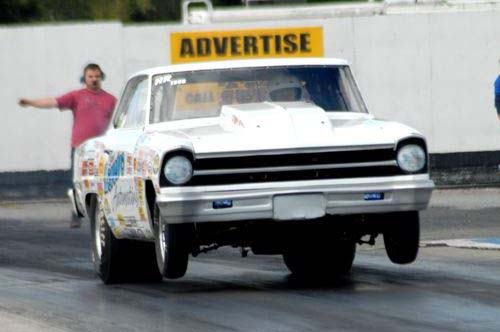 Sam LoVetro Jr
LoVetro mentioned that the competitors in this series create a very tough level of competition. "I'm thankful just to have the ability to have met a great group of people," he added. "A special thanks to Art Jones and Al Bueg for their help and support throughout the racing season, and also thanks to my wife Arline for all of her support."
A 1966 Chevrolet Nova is LoVetro's weapon of choice. "The car performed flawlessly this year thanks to Mike Mastin Race Engines and Carl Ettipio. I am looking forward to another year of great racing in 2014!" LoVetro's 3200 lb car will run the quarter mile in the 9.40 range at over 140 mph powered by a Dart Little M 434 cid small block making almost 800 horsepower.




Drag News: 10 Most Recent Entries [ top ]

Apr 24- NHRA Heritage Series Heads To Wild Horse Pass
Apr 22- K&N Spring Fling Million Final Day Results
Apr 21- K&N Spring Fling Million Friday Results
Apr 20- K&N Spring Fling Million– Thursday Results
Apr 19- K&N Spring Fling Million- Wednesday Results
Apr 18- Buckeye S/SS @ National Trail April 28th
Apr 18- Don "the Snake" Prudhomme Returns To Baja Competition After 50 Years
Apr 18- K&N Spring Fling Million Tuesday Results
Apr 17- K&N Spring Fling Million Pre-Race
Apr 12- Summit Racing Equipment is Newest Sponsor of Midwest Junior Super Series