Fri, 03 Jan 2014, 09:38 AM



Countdown to a Championship- Chris VanBaalen



Courtesy of Lewis Robinson


Photo credit- Mike Seguin





WELLANDPORT, ONTARIO --
The 2013 season was the seventh for the highly popular Joe's Transmission TNT Super Series. The points battle was the tightest it has ever been.
The 10.90 series sees some of the country's most talented sportsman racers battle for the points championship. Earning a fifth place finish in 2013 is Wellandport, Ontario's Chris VanBaalen.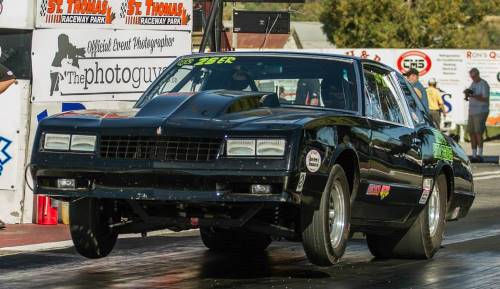 Chris VanBaalen
A contender in the TNTSS for four years now, VanBaalen has finished in the top 10 four times including the top 5 twice. His 2013 season saw him in the quarter-finals five times and runner-up twice, once at St Thomas Raceway Park and the other at Elegant Builders Raceway Park.
"First off I'd like to say thanks to Joe's Transmission for providing a series for us to run in," said VanBaalen. "I'd like to thank my parents for all their support and I got to give a huge thanks to my girlfriend Celina for all her help this year."
VanBaalen also wanted to thank fellow racers Matt and Sherry Devries of Matt's Auto Service in Bismark, Ontario for their help and support. "I also need to thank Carl Ettipio for getting us out of a jam in two days just before the last race. If it was not for him, I would have not been out there," he added.
The all black 1986 Monte Carlo is powered by a 509 ci bbc that runs on 91 octane gasoline built by VanBaalen.




Drag News: 10 Most Recent Entries [ top ]

Apr 24- NHRA Heritage Series Heads To Wild Horse Pass
Apr 22- K&N Spring Fling Million Final Day Results
Apr 21- K&N Spring Fling Million Friday Results
Apr 20- K&N Spring Fling Million– Thursday Results
Apr 19- K&N Spring Fling Million- Wednesday Results
Apr 18- Buckeye S/SS @ National Trail April 28th
Apr 18- Don "the Snake" Prudhomme Returns To Baja Competition After 50 Years
Apr 18- K&N Spring Fling Million Tuesday Results
Apr 17- K&N Spring Fling Million Pre-Race
Apr 12- Summit Racing Equipment is Newest Sponsor of Midwest Junior Super Series