Mon, 30 Dec 2013, 11:40 AM



This One's For You, Dad



By Bob Frey


Photo copyright 2013 Auto Imagery, Inc.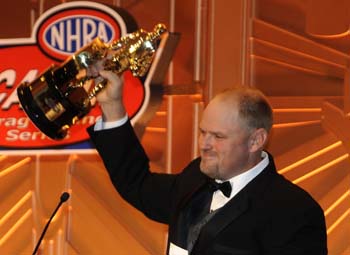 Luke Bogacki celebrates championship.
I've been around the sport of drag racing for a long time, a very long time, and over the course of the years I have seen a lot of other groups, sanctioning bodies and organizations come and go. They have all had their own little spot in the sport and some have contributed more than others, and while some are still around the landscape is littered with groups who had big ideas that never materialized. Over that time there were two constants, NHRA is still around, and racers, fans and other "experts" constantly pointed out all the things that NHRA was doing wrong. With that as a background I will say this, if you ask any racer what the pinnacle of their drag racing career is or would be they would almost all say winning an NHRA national championship. Regardless of what other titles you may have claimed, how many races you won, or how much money you have pocketed, if you are a drag racer and don't have an NHRA championship to your credit there is a void in your life. And while that may not be the case with one hundred percent of the racers it certainly does hold true for most. For example, Luke Bogacki had done a lot in his career prior to the 2013 season but he had never won an NHRA title, and even he says that this was the highlight of his career. Of course he had some other things on his mind besides racing in 2013 so it's amazing that he was able to stay focused on the task at hand and claim the championship.
Luke is thirty-two years old and now the proud owner of an NHRA World Championship, and more importantly the father of a baby boy. "I actually planned my 2013 racing schedule around his birth," Luke said. "He was scheduled to be born in May so I signed up for Division 7 and raced a lot out West early in the year. Winning the championship was great but having my son, Gary, was the best thing that ever happened to me." Well, that and marrying Jessica, who just happens to come from a drag racing family herself. "Yeah, her grandfather raced and so does her father and her sister, and with my racing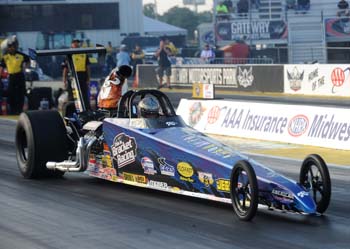 Luke Bogacki
background I guess little Gary will probably be a racer at some point. Obviously we'll support him in whatever turns out to be his passion, but if he's anything like me or Jessica this sport is in his blood." The name, Gary, is a tribute to Luke's father who passed away in 2001. "He was the reason that I race," Luke said. "He raced his whole life and did so in everything from bracket cars to an alcohol Funny Car. He was my inspiration and I really miss him. I'm sure he would have been proud of what we accomplished this year."
Luke's dad started him in the Jr., Dragster ranks and slowly moved him up the ladder. "I raced in the Jr. cars and then did mostly bracket racing," he said. "A couple of years ago I also teamed up with Bryan Robinson, the former Super Gas World Champion, and we fielded a Stock Eliminator car and we had some success with that." That's putting it mildly since the team, with Luke driving, finished sixth in the national points that year. "I enjoyed the racing but I have to tell you that car and that eliminator were very labor intensive. If I ever did it again I would have to make sure that Stock was the only class I was running in because it demands your full attention."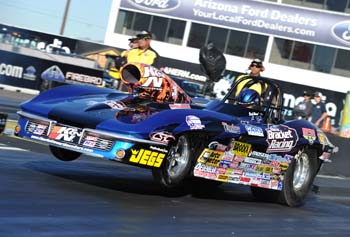 Luke Bogacki
In addition to the strong showing in Stock Eliminator in 2010 Luke also finished second in Super Comp. "I experienced every emotion you could that year," he said. "We went to Reynolds, Georgia, for the final Division 2 race of the year. That was the year that Ray Miller III was on fire and looked like he had the championship wrapped up in May. Well, I had to win the Reynolds race and Ray had to lose in round one for me to pass him and, as unbelievable as it was, both of those things happened. I was on top of the world." But, as the old expression goes, "it ain't over until it's over" and Gary Stinnett went to Las Vegas needing to win six rounds to pass Luke and he did just that. "It was really disheartening at that moment," Luke said. "But looking back on it I have to say that it makes winning the championship this year that much sweeter."
For a man who has bracket raced for almost all of his drag racing career, and for a man who has done so well in the IHRA circuit, winning the NHRA World Championship really is a big thing. "It's absolutely amazing," Luke said. "When I was growing up at Texas Raceway I would see guys like Edmond and Scotty Richardson, Frank Kohutek, Tommy Phillips, the Hefler family and many more competing in Super Comp and I admired what they did and I fell in love with Super Comp. So for me to win the championship is like coming full circle in my career. It's unbelievable to be mentioned in the same sentence as those great champions."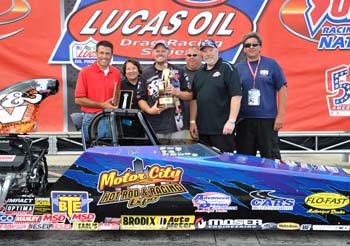 Bogacki celebrates Norwalk win.
This is a championship that almost didn't happen, after all, his early start in the Division 7 area didn't go very well. "I was awful early in the year. I couldn't win anything. In fact, until the Norwalk race I didn't think I had much of a chance to win the championship." Norwalk, which has always been one of Luke's favorite tracks, was the site of his only national event win of 2013. "You've heard racers say that it was their day to win, well that was true for me at Norwalk. I have always enjoyed going there and have had success, both at divisional races and at their big money bracket races, but I had never won until this year." And he almost didn't win in 2013, either. "I had a very lucky round in the fourth round against Nick Willard. I was 'fifty-three' on the tree and missed the number but won when he broke out. Against an opponent of Nick's caliber, that late in the race, I would get beat nine times out of ten with the run that I made. It was a round that changed my season, because if I didn't win that I had no chance at the national points." He followed that up with wins over Greg Kamplain, Leo Zynda and Tom Hunter to get the win and vault into first place.
After the Norwalk race Luke didn't exactly coast to the championship and it wasn't until Landon Stallbaumer, the last guy with a chance to pass him in the points, lost in Las Vegas that the title was secure. "It's great to win this and I just wish my dad was here to share it with me." And now, for the 2014 campaign, what does the champ have in mind. "I'll probably stay closer to home this year. I'd like to be able to spend time with Jessica and Gary and that means I won't travel as much. I'll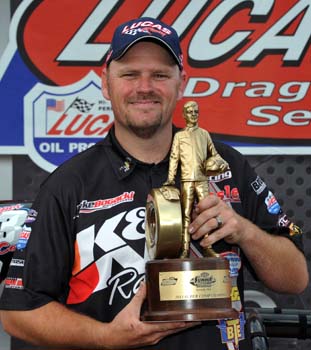 probably claim Division 3 and race the eight divisional and six national races and see where I end up in the points. I'll also do some more bracket racing and go to the race that Peter and Kyle put on because they do such a great job. But for now I'm just going to enjoy looking back on the year because it was such a good one for me." Yeah, that's what a World Championship and a new baby boy will do for you. "To be an NHRA World Champion is every racers dream and it's nice that mine could come true." Now all he has to do is find a car for Gary, although I don't believe there is any real rush for that.




NHRA: 10 Most Recent Entries [ top ]

May 23- CHICAGO - Fact Sheet
May 23- Toyota Continues to "Go Places" as Official Car of NHRA
May 23- CHICAGO - Top Fuel Veteran Terry Mcmillen Believes He's A Win Waiting to Happen
May 22- RICHMOND - Special Awards
May 22- RICHMOND - Lucas Oil Drag Racing Wrap Up
May 21- RICHMOND -Through the Lens of Ron Lewis
May 20- RICHMOND - Pro Mod Wrap Up
May 20- RICHMOND - Sunday Video
May 19- RICHMOND - Sunday Wrap Up
May 19- RICHMOND - Factory Stock Showdown Championship Points