Tue, 24 Dec 2013, 11:25 AM



"Jungle Jim"



By Steve Reyes


Photo copyright 2013 Steve Reyes





Russell James Liberman, now that name evokes great memories for me and many fans of the golden age of funny car racing. Maybe you know him by his racing nickname "Jungle Jim." Our careers in the world of drag racing ran parallel during those early days almost fifty years ago. In 1964, I was a wide-eyed sixteen year old drag race fan and wannabe photographer and Liberman could be found behind the wheel of the Liberman Brothers A/Stock Pontiac in Fremont, California. This nineteen year old Pennsylvania transplant could be found at the drags every weekend with his head girl friend Bobbie by his side and me, well, no girlfriend, just a camera.
Believe it or not, back in those days, Liberman was a pretty quiet and shy guy. He just wanted to race and go very fast. To watch him develop into that swaggering talented funny car icon was very interesting to me. The transition started with his first real funny car ride in 1965 when he took the Hercules Nova A/Fxer down the 1320. The Hercules Nova was a local AMP that had undergone the "Frankenstein" change to a nitro-burning injected A/Fxer. With his brief fling into the new world of funny car racing Liberman got his big break in 1966 when his pal Lew Arrington was preparing a wild GTO Pontiac for the funny car wars. This blown GTO funny car needed a driver and Lew called on Jim to fill the drivers seat. So the San Jose based team raced Lew's Brutus GTO in 1966 and 1967. By late 1967 Lew had taken over the driving chores of his Brutus GTO because Liberman had been quietly building his own Nova funny car and it was ready for action.
In typical Liberman fashion, he debuted his Nova at Fremont in grand style. I was there in 1967 as a plain, unlettered, pale blue, blown Nova pulled out of the Fremont staging area and did a short burnout. It staged and left on the green. I watched the Nova run straight and true through the Fremont quarter mile. Well, since his crew had left the safety pin in the parachute, Liberman got to crash through the end fence at Fremont and chase the cows that lived in the pasture at the end of the race track. Since funny cars are not built to go off-roading, the Nova's front clip was greatly wounded in its foray in the pasture. Liberman dragged his wounded warrior back to the pits. You would have thought Liberman would just put the car on the trailer and call it a night but not Liberman. About three hours later, just before the midnight curfew, there was the pale blue, unlettered Nova sans front clip firing up and heading for the burnout box. A quick blip through the burnout box and the Nova staged. The tree flashed green and Jim headed down the Fremont 1320. This time the chute came out to end an interesting debut of Liberman's first funny car.
During 1967 and 1968 I saw a lot of Jim and Bobbie. They raced out of their home base of San Jose and Goodies Speed Shop. Goodies Speed Shop owner Richard Guess made Liberman part of the Goodies Speed Shop sponsored funny car gang that included: Lew Arrington with his Brutus GTO, Hammons and Williamson's Hairy Canary and Rich Abates's Samson.
I believe the "Jungle Jim" era began in early 1968 with Liberman's big win at the AHRA funny car nationals at Lion's Drag Strip. It seemed like every big name in funny car racing was in attendance that weekend. Liberman and his all-new Nova did wheel stands, smoked the tires and drove a half mile to win quarter mile races and the crowd went crazy every time his win light came on. Yeah, I was there recording the event on film for AHRA's Drag World newspaper. To this day it had to have been the greatest funny car event I have ever attended and I have been to quite a few since.
1968 was a banner year for the Jungle Jim gang with his big win at Lions and then a whirlwind tour of the USA. Jim began the year with a two car team and "Jungle" Clare Sanders driving Jim's No. 2 Nova funny car. Clare Sanders in the No. 2 car started 1969 with a big win at the NHRA Winternationals funny car eliminator. This was the first time funny cars had their own NHRA class and Liberman's Nova took home the gold. The blue deuces charged across the USA in 1969 racing almost every other day during the summer months and posting an impressive 86% win record for match racing. At the end of 1969, the Jungle Jim Nova team was on the Car Craft All Star Drag Team and they were the most sought after bookings in drag racing.
In 1970, Jungle Jim added yet another car to team Liberman when he purchased Marc Susman's Nova funny car and kept Susman on as its driver. If you wanted Liberman at your race track, the void was now filled with three Jungle Jim Nova's in 1970. Unfortunately, I didn't get to see Jungle much in 1970 as he only had brief appearances on the West Coast in Fremont and Sacramento.
Jungle debuted a new Camaro funny car in 1971. The Nova's were history and it was Camaro time. At OCIR and Irwindale I was able to witness and photograph Jungle Jim Liberman's patented funny car fire burnouts. They were incredible, burning and singeing arms and eyebrows all over the starting line and bleach box area. The Jungle Jim show had arrived on the West Coast and the fans loved it. One thing I noticed about Liberman was that he had become brash, arrogant and as always, determined to be the best show in the funny car class. Jungle was now achieving a cult like following because of his wild and crazy antics on and off the race track. Jungle Bobbie was gone and Pennsylvania girl, Pam Hardy had replaced his former wife. Together Pam and Jungle developed one heck of a legend in drag racing. It was sex, drugs and drag racing for Jungle and Pam in the crazy early 1970's funny car racing.
The one thing that I can say about Jungle was that he did not forget his friends. When he relocated back to his original home state of Pennsylvania, his door was always open to touring racers and photographers, like yours truly. Yes, I stayed with Jim and Pam in their Westchester, Pennsylvania crib. He was a good host serving good beer and great steaks. In the morning, I stumbled down to the garage where I found Jungle building an engine for his well traveled race car hauler. Jungle had a special way of building the engine, he would take a hit off his bong and then turn a few wrenches and then take another hit, you get the picture. Jungle asked me if I was busy and no, I was just hanging out at his place for a couple of days. He wanted to know if I would shoot some photos for him. Sure, no big deal, I figured he needed some photos of his Vega's together or something for a press kit, heck, I had done his original press kit five years before in Northern California. No, he didn't want car stuff, he wanted photos of Pam. Not one to turn down a friend needing a favor, I tried not to yell yes at the top of my lungs. A quick call upstairs and Pam came bouncing down the to the garage, Jungle told her what he wanted, she smiled and told me she had the perfect spot so I spent the day in a small wooded area adjoined to Jungle's house photographing Pam. Both Pam and Jungle loved the photos and to this day, Pam and I still giggle about our adventure in those PA woods. After our photo shoot, I didn't get to see Jungle and Pam much as it seemed like he went one way touring and I went the other way.
I believe it was 1974 when I last spoke to or saw Jungle Jim. It was at Irwindale Raceway and he was there to race in one of their big funny car events. He had his red Vega funny car there but I didn't see Pam anywhere. That evening Jungle was too screwed up from a hit of acid he had dropped the evening before the race. At the last minute Russell "Doughboy" Long was called by Jungle to drive the Vega for the evening. After that race, the only contact I had with Jungle was a 4 am phone call by a very drug addled Jungle. He couldn't sleep and needed to talk to anyone that would listen.
During his rather short funny car career of ten years, he was considered to be the Mr. Showmanship in drag racing. A spectacle in funny car match racing with his 1000 feet burnouts and the scantily clad Jungle Pam backing him up in his tracks as the fans screamed for more. Everyone who met him and saw him has a Jungle story, racers and fans alike. But for me I still remember, the curly headed nineteen year old kid from Pennsylvania who loved drag racing and playing his harmonica.
If you wish to purchase prints of the photos below, they may be obtained by contacting us at blrenterprise@cox.net. Other photos may be viewed by following the link at the bottom of the page at www.reyesontour.com.
Liberman first got his funny car fever by piloting an A/MP turned into a nitro gulping injected A/Fxer.
Hercules gave him a taste of nitro funny car racing and he like it.
The debut of Liberman driving his buddy Lew Arrington's GTO funny car Brutus occurred at Fremont, California in 1966.
Complete with brown primer and lettering by Bobbie Liberman, the GTO lumbered down the Fremont quarter mile.
In 1967 Brutus was modified into more of a funny car, lower and with a blown 392 Hemi.
Here Liberman is driving the Arrington owned GTO against Larry Reyes and the Kingfish 'Cuda.
Arrington later took over the driving duties of the GTO when Liberman started running his own blown Chevy powered Nova.
Liberman debuted his "Jungle Jim" Nova funny car at Fremont, California in 1967.
The first day out, the safety pin was left in the parachute and he ran through the fence at the
end of the track and chased some cows in their pasture. The car was crunched in the front clip.
Undaunted Liberman fixed anything that was bent, removed the front clip and ran again the same night.
Here is Jungle Bobbie Liberman giving a hand pushing the Liberman family Nova to the starting line.
In those early days of Liberman's career Bobbie could be found helping work, shine or letter their race car.
Before divorcing, Bobbie and Jim had a son Randy.
This 1967 team Goodie's Speed Shop flyer was handed out at Fremont Drag strip and
other Northern California race tracks. Richard Guess, owner of Goodie's Speed Shop took good care of his
funny car sponsored fleet.
Super Stock Magazine photo editor Leslie Lovett called me in 1967 and wanted me to cover Jungle Jim
and Gas Ronda for their special Match Race Madness section. He was excited about the pairing because of
the Chevy vs. Ford and blower vs. injector aspect of the match. It turned out to be a great afternoon at Fremont.
Ronda won two out of three races but Jungle put on his usual great show for the Northern California fans.
I got a nice piece in Super Stock covering Liberman and Ronda.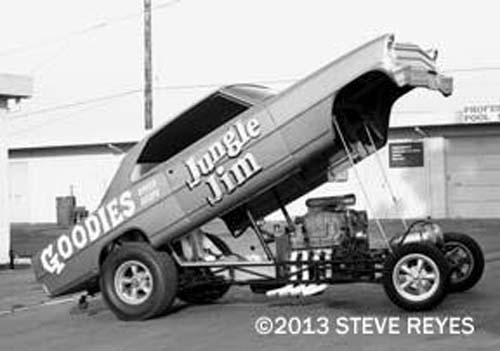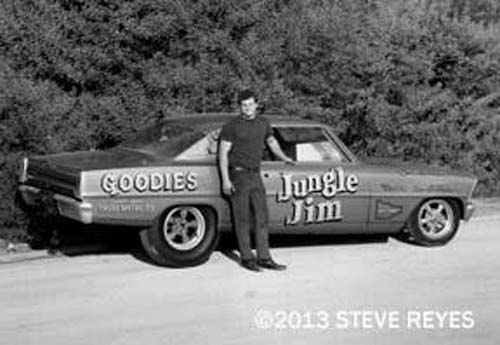 In early 1968, I got a phone call from Jungle. He needed photos of his spankin' new Nova for promoters.
The promoters wanted to see what was new so they could decide whether to book Jungle for the 1968 season.
I grabbed my camera and film and jumped on my motorcycle to make the 25 mile ride from Newark to San Jose.
There it was resting in front of Jungle's shop in San Jose.
A quick roll of film and I was off to process and print for Jungle.
A couple of days later and I received another call to photograph the car.
I quickly saw why, the lettering was different and the promoters wanted to see what he looked like.
Another ten minute shoot and we had the photos for my buddy Mr. Liberman.
Jungle's big time win at the 1968 AHRA Funny Car Nationals proved he was no fluke in the early world of funny car racing.
His wheels up, sideways and tire smoking wins had the crowd at Lions wanting more Jungle!
This was the Jungle Jim Liberman that I remember.
The racer with the boyish grin that loved to drag race and play his harmonica.
The 1969 season opened nicely for the two car Jungle Jim Nova team when Jungle Clare Sanders put one of
Liberman's blue deuces into the 1969 NHRA Winternationals winner circle by winning the first ever
NHRA Funny Car Eliminator. That year also saw the blue deuces of Liberman win 86% of their match races
and the team was placed on the Car Craft Magazine Drag Racing All-Star team. In 1970, Jungle added Marc Susman
and his Nova to the funny car team so there were three Nova's touring around the USA.
Jungle Jim took the West Coast by storm in 1971. His huge fire burnouts left West Coast fans in awe of his
spectacle of funny car racing. He would add yet another funny car to his fleet of Camaro's by purchasing
Bud and Don Kirby's Camaro funny car. Yes, Jungle would sell a car now and then.
The Ohio based Wahley Brothers purchased a slightly used Camaro from Jungle and made it into their Warlord Camaro.
She was eighteen when Jungle spotted her on the street in Westchester, Pennsylvania.
Pam Hardy a.k.a Jungle Pam became a funny car icon with her skimpy outfits and starting line antics.
Promoters wanted Jungle and Pam at their race tracks for the show they would put on at the track.
This is Jungle's base of operations at Westchester, Pennsylvania in 1972.
I always had fun hangin' out with Jungle at his PA home.
One of the last times I saw Jungle was at Irwindale in 1974. He was there at the track but was suffering from
some bad LSD he had dropped the night before the race. A last minute call and twenty year old Russell "Doughboy" Long
appeared with fire suit in hand and ready to drive. Long was no stranger to funny cars, he was a back up driver
for Tom McEwen and drove the Pabst Blue Ribbon Charger.
This is Pete, Pam and jungle in the winners circle at the AHRA Grand American at West Salem, Ohio.
Jungle had just won funny car eliminator and was enjoying a rare national win.
Pam ended up being race queen and posed with Bill Jenkins and his crew in the winners circle.
To be honest, I really don't know if Jungle was driving his Monza at the AHRA race in Tucson in 1977.
This was the last time I saw a real Jungle Jim funny car run.
Later that year Jungle died in a street accident in his Corvette.
A sad ending to a very troubled guy.




NHRA: 10 Most Recent Entries [ top ]

May 27- BOWLING GREEN - Competition Eliminator Final, Round 5 Eliminations
May 27- BOWLING GREEN - Super Stock Final, Round 7 Eliminations
May 27- BOWLING GREEN - Stock Eliminator Final, Round 7 Eliminations
May 27- BOWLING GREEN - Top Sportsman presented by RacingRVs.com Final, Round 5 Eliminations
May 27- BOWLING GREEN - Top Dragster presented by RacingRVs.com Final, Round 5 Eliminations
May 27- BOWLING GREEN - Super Comp Final, Round 6 Eliminations
May 27- BOWLING GREEN - Super Gas Final, Round 6 Eliminations
May 27- BOWLING GREEN - Super Street Final, Round 6 Eliminations
May 27- BOWLING GREEN - Sportsman Motorcycle Final, Round 4 Eliminations
May 27- BOWLING GREEN - Competition Eliminator Round 4 Eliminations