Fri, 20 Dec 2013, 23:05 PM



New Names and New Champions



By Bob Frey


Photo copyright 2013 Auto Imagery, Inc.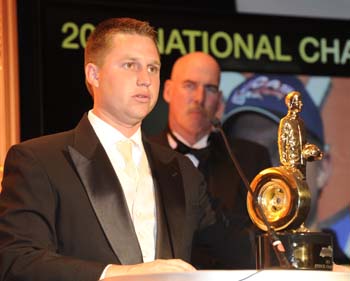 Justin Lamb at the awards ceremony.
As much as I like to think that all racers begin every year with the intention of winning a championship that probably isn't the case. Sure, John Force and Frank Manzo begin every year thinking they will win the title because they usually do. Ok, so that may be a bit of an over simplification but you get the idea, more often than not those two start and end the season thinking about what they will say on stage in California. I can't speak for the other racers although I have asked many champions about that and the answer is usually one of two things. Either they say they had no intention of chasing the points, but just wanted to race and have fun, or they say that they came so close the year before that it motivated them to try harder in the new year. As surprising as it may be those responses come equally from young drivers as well as veterans, racers who are relatively new to the scene and those who have toiled at the tracks for most of their lives. Regardless of how they start the season they all say the same thing when it's over, and that is that this was the best year of their lives. For the 2013 Lucas Oil Stock Eliminator World Champion, Justin Lamb, to say that this is the best year of his life would be an understatement, and not just because of what happened on the track.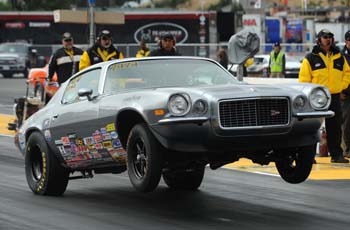 Justin Lamb
I did a story on Justin four years ago and the title of it was "He Still Has A Few Good Years Left." That was in reference to the fact that despite his youth he was already proving to be one of the best racers in the country. I would love to say that that story in 2009 ended up with me predicting that Justin would win a world title, but it didn't. It did, however, mention how versatile he was and how he had won the respect of his fellow racers even at a very early age. Now, four years later, he is the champ and it looks like all of the racing he did in the early days of his career have finally paid off. "I raced some Jr. Dragster stuff and that gave me a good foundation to build on," he said.
Coming into the 2013 season Justin had raced just about everything and had already won national events in four different classes and that prompted some to mention him along with Peter Biondo, Dan Fletcher, David Rampy and others as one of the best drivers out there. "That's very flattering and very far-fetched at the same time," he said. "Those guys, especially Peter, are the best and I don't consider myself in that group." Well you might not, Justin, but others do, and a World Championship won't do anything but add to that perception.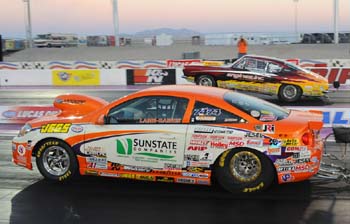 Lamb won Super Stock at the
fall Las Vegas divisional race.
Photo copyright 2013 Bob Johnson Photography
For years, after his days in the Jr. Drag Racing League, Justin has been piling up wins on both the national and divisional levels and he relished the challenge of a new class. "Actually, when I had two dragsters, I tried to talk my wife, Jeanine, into racing one of them but she said she didn't want a dragster she wanted a muscle car to race. So I got this Camaro with the idea of her racing it once in a while and learning." Well, as fate would have it Jeanine got pregnant during the year and just delivered the couple's first baby, Jayce, about four weeks ago, and to say that Justin was happy would be an understatement. "Yeah, now the Stocker is all mine," he said. Wait, what about the baby? "Oh, of course I'm ecstatic about him, he's the best thing that could have happened to me, that goes without saying." And right now mother and son are both doing fine. "I feel so helpless sometimes," Justin says. "He wakes up in the middle of the night for his feeding and there really isn't much I can do to help Jeanine." Well, you could go work on the Stocker. Just a thought.
Like many before him Justin certainly didn't start the season with thoughts of a national championship in his head, in fact his thoughts were much more modest. "I wanted to do well, be respectable and make a run at the division title," he said. "I thought that was a realistic goal." Of course driving a Stock class car is a lot different than the "Super" category cars that he had been used to. "I think I am a much better driver leaving off the bottom bulb. I'm certainly more comfortable and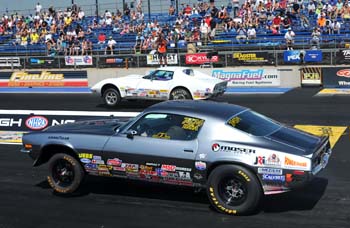 Lamb defeated Jeff Cunninghamin the
Stock final at the Mile-High Nationals.
confident racing that way." That confidence, a good car and some advice from his friends are what propelled him to the title. "Over the years Peter and Kyle (Seipel) have been very helpful. That and the fact that my father has always made sure I had the best equipment went a long way toward anything I have accomplished. And of course I have to thank V. Gaines and the folks at Madcap Engines because we couldn't do this without them. V. and my dad are good friends and that's why we went to the Denver national event this year." That trip East paid off with a big win and it was a pivotal time in his title chase. He followed that up with wins at the Division 6 race in Seattle and the Division 7 race in Utah. "The Seattle win was cool because I beat Brad Burton in the finals, and if you think about the best racer in Stock Eliminator over the past few years you think of him."
Even with those wins under his belt the title wasn't secured until he came to his home track, the Strip at Las Vegas Motor Speedway in November. "I have to admit that everything that could go my way that weekend did. The ladder was out and I knew I had to go to the sixth round and it looked tough. Then one guy got thrown out for the wrong tires or something like that and they issued a new ladder and I saw that I had a bye run if I got past round four." As history shows he did win round four, took the solo run in round five and was declared the champion. "It's still unbelievable. There were so many guys who still had a shot at the title going into that race, but I guess when it's your day it's your day."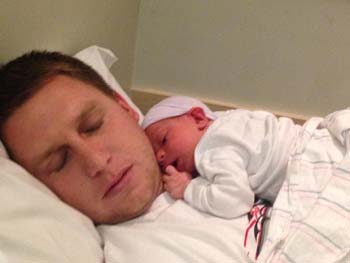 Justin and Jayce Lamb
In addition to his Camaro Justin has a few other cars that baby Jayce may be able to drive someday, and among them are a Chevrolet Cobalt that he runs in Competition Eliminator and a pair of dragsters. "As it turns out Stock is like a mini-Comp class," he said. "Everyone is fast and has a competitive car, so to win heads-up you have to keep up with technology and work very hard. Some of the best racers in the country are in Stock and Super Stock, guys who drag race for a living, like Fletcher, Peter, Brad Plourd and others, and that's what makes it so tough. Fortunately I had help with the stocker from Gary Stinnett and Phil Unruh who guided me in the right direction on how to make the car fast and consistent." One thing that surprised Justin was just how much work the Stock Eliminator class can be. "The stock car is a lot more labor intensive than I thought. Right now it's all apart, on the floor and getting refreshed for next year. But it was a blast to drive and I had a lot of fun and I'm looking forward to doing it again next year."
Speaking of next year Justin says his plans include racing more in Stock and Super Stock. "I'd still like to win a race in Comp, and if I do that I may end my Competition Eliminator career. Right now I'm enjoying doing what I'm doing and I have to say that life is pretty good. My parents are very supportive and they come to all the races, my sister is racing and my wife and son are doing great, so what more could I ask for?" Now if he could just get Jayce to sleep through the night and talk Jeanine into racing Justin wouldn't have a care in the world.




NHRA: 10 Most Recent Entries [ top ]

May 24- BOWLING GREEN - Edmond Richardson Still Finds Major Thrill Racing at JEGS NHRA SPORTSnationals
May 24- NHRA Expands Leadership Team with Two Executive Hires and Two Promotions
May 24- TOPEKA - Lucas Oil Drag Racing Series Wrap Up
May 24- TOPEKA - Special Awards
May 21- TOPEKA - Pro Mod Championship Points
May 21- TOPEKA - Monday Video
May 21- TOPEKA - Monday Pro Mod Wrap Up
May 21- TOPEKA - Monday Wrap Up
May 21- TOPEKA - Championship Points
May 21- TOPEKA - Summary of Eliminations in Top Fuel