Thu, 19 Dec 2013, 08:36 AM



Experience Pays Off



By Bob Frey


Photo copyright 2013 Auto Imagery, Inc.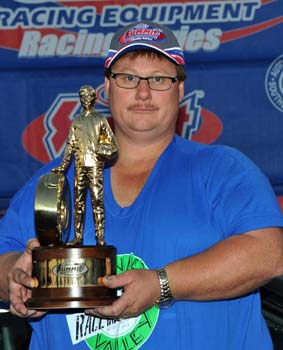 Alvie Merrill celebrates win.
There are thousands of racers across the country who participate in drag races on a weekly basis. For many of them it's the fun of competing, the joy of being with their friends and the opportunity to excel at a sport that keeps them coming back. And while those all may be constants no matter what class you're in there are some variables that separate these racers and that has to do with the class they run in and the length of the track they race on. Some racers love competing on the traditional quarter-mile, you know, that distance that has been the standard since the late 1940's. Others, for a variety of reasons, enjoy the quicker and shorter race of an eighth-mile. They say it saves wear and tear on the car and the parts and that's probably right. Another line of demarcation comes in the classes they choose, that is, do they like racing in a "class" or "category" on a regular basis or are they strictly a bracket type racer. By "bracket type" I mean the kind who spends most of their time at the local track and who tries to win a track championship and, possibly, earn a spot in the Summit ET finals in Pomona. You could sit around and bench-race all day about which is the preferred way to race but in the end it is up to each individual to do what seems best for them. Ironically you will not find a lot of bracket racers who do much class racing and you won't find a lot of eighth-mile racers venturing to the quarter-mile tracks on a regular basis, that is, unless your name is Alvie Merrill, and then you'll race anything, anywhere, any time.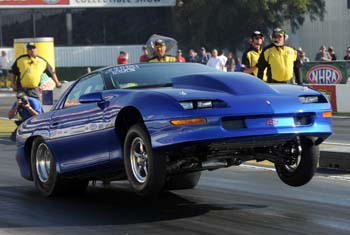 Alvie Merrill
Alvie Merrill is the 2013 Summit Series Pro ET Champion and that comes after he won a Division 4 title in Super Stock in 1995 and an NHRA national event, the 1997 Dallas Lone Star Nationals, in that same category. It also follows up on three divisional crowns in the bracket classes which makes him one of the more decorated racers around, and it puts him in a very exclusive category, a group that includes racers who have been successful in both forms of racing. "I've been very fortunate," he said. "I had some success with the Super Stock car and now I win the championship in the bracket classes. It's a great feeling."
Another thing he was able to do was win at both the quarter-mile distance and the eighth-mile. "I went to Pomona two years ago and until I went back this year I hadn't run a single race on a quarter-mile track," he said. "Around here we do exclusively eighth-mile racing." When he says "around here" he is referring to his home track of Thunder Valley Raceway in Oklahoma, a track that he has called home for a while. "There are some pretty good racers here and they'll get you ready for just about anything." I guess that's true because it got him ready for seven tough rounds at the Division 4 Summit Series ET finals in Dallas and then three more rounds at Pomona. "The people in Pomona are all so good and I guess it was just my day. To be honest with you I think I did a better job of driving the first time I was there but things just didn't work out then." Well, they did this year!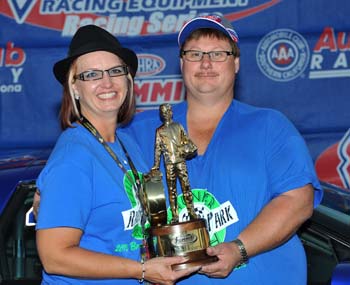 April and Alvie Merrill
A lot of racers will tell tales of adversity and Alvie is no different. Years ago, when racing in the Stock Eliminator class, a fire hit his house and burned it to the ground. "The house burned down and the car burned up," he said. "The car was a total loss, but the far greater loss was my mother-in-law Michelle "Mickey" Jennings." It was a big setback, but like most racers Alvie is very resilient and he came back to racing. "I just really enjoy doing this, and even though I sat out for a while I always knew that I would race again. I really enjoy the bracket racing because everyone is like a big family and it's a great atmosphere." But what he didn't envision was winning a national championship. "Sometimes you just dream about things like that. I was very happy with my division titles and the national event win and I was doing well at Thunder Valley, but you never think you'll win a national championship."
To be good at bracket racing you need to be great at both ends of the track, that is, you need to have a good reaction time and be able to judge the finish line, and while most racers will tell you they are looking for that great "00" reaction time Alvie has a different philosophy. "I figured if I had a "30" light and ran the number I would be ok. Well, I tried that at Dallas in the gambler's race and had a "31" on the tree, ran on the number and lost." After some soul searching about the game plan, he decided not to change the plan of attack. "The next day in the first round of the big race, the guy put a "000"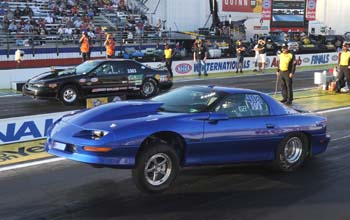 Merrill defeated Kip Norup
against me and somehow I survived." That's when he decided to get a little more aggressive on the tree. "I knew I needed to do two things, push it a little harder on the line and then trust my car more." His car, a 1994 Camaro, which ironically used to be an Indy-class winning Super Stock car before he bought it, is the same one that took him to the ET national finals two years ago and he says that it is a very good car. "It'll do whatever you ask of it," he said. "At Pomona we made a few adjustments for the quarter-mile and it was flawless." The car has been so reliable that once he returned home from Pomona he decided to take the engine out and look at it for the first time in years. "We had over 800 runs on the engine and it never failed. I thought I should look at it, you know, just to make sure everything was good for next year."
In 2011 when he went to Pomona Alvie said that his father and brother were able to join him, but this year it was just him and his wife. "I had a motor home the last time but we sold it, so this year it was just us, the car and the trailer. On the way to Pomona I didn't want to leave my car in some hotel parking lot so we slept at the rest stop." And when I asked him how long a drive it was from Oklahoma City to Pomona he said. "Too long!!" And then he added, "It's funny, when I went to MapQuest and put it in it said that it was exactly 1,320 miles. I thought that was funny for a guy who races on the eighth-mile."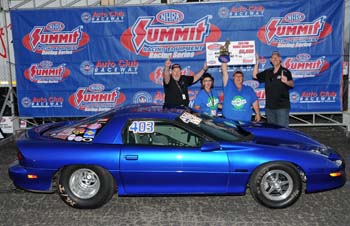 Alvie Merrill celebrates
in the winner circle.
For all he has done in his racing career Alvie says that winning the national championship is, obviously, the best. "I'm very proud of those division titles but winning this is beyond my wildest dreams. It's just a great feeling and I want to thank everyone at Summit and NHRA because they really do this thing up right." And as for 2014, now that he has a fresh engine, he said "winning just makes you want to do more, so I would love to have a chance to go to California again and defend my title." If he does, it will still be 1,320 miles and Alvie Merrill, the eighth-mile specialist, will still be the one to beat.




NHRA: 10 Most Recent Entries [ top ]

May 23- CHICAGO - Fact Sheet
May 23- Toyota Continues to "Go Places" as Official Car of NHRA
May 23- CHICAGO - Top Fuel Veteran Terry Mcmillen Believes He's A Win Waiting to Happen
May 22- RICHMOND - Special Awards
May 22- RICHMOND - Lucas Oil Drag Racing Wrap Up
May 21- RICHMOND -Through the Lens of Ron Lewis
May 20- RICHMOND - Pro Mod Wrap Up
May 20- RICHMOND - Sunday Video
May 19- RICHMOND - Sunday Wrap Up
May 19- RICHMOND - Factory Stock Showdown Championship Points