Fri, 13 Dec 2013, 18:10 PM



Racing is All About Family for the Furr's



Courtesy of Luke Bogacki



GALAX, Va. --
Michelle Furr has quickly earned a reputation as one of the top competitors in the NHRA Lucas Oil Series. Though her racing career extends over three decades, she and her family first ventured into NHRA national and divisional competition just four years ago, and success quickly followed. Driving her Ohio Crankshaft/Quickfuel Technologies entries in Super Comp and Super Street, Furr has already earned a pair of NHRA national event wins and racked up several top tier finishes in the Lucas Oil series points standings.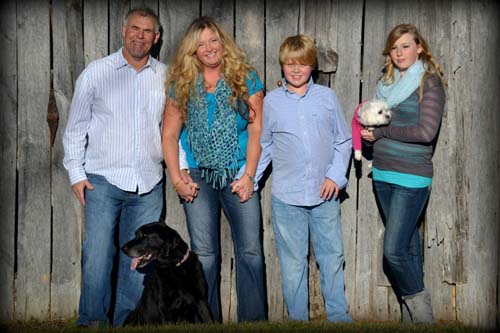 The Furr family
Racing is a family affair for the Furr's: Michelle handles the driving duties behind the wheel of the team's 2002 Undercover dragster S/C entry and recognizable '68 SS Camaro S/St vehicle. Her husband Rick is the backbone of the team, as he handles the tuning and maintenance on all 4 competition vehicles and the team hauler. The Furr children have been involved since day one, and have both become successful racers in their own right. Madi (14) and Adiayn (10) campaign a pair of matching Mike Bos junior dragsters.
While the Furr's admit that racing, maintaining, and servicing four competition vehicles can be a chore in itself, they wouldn't have it any other way.
"We have the best times with our drag racing family," Michelle explained. "Madi and Adiayn can't wait to see their friends at the track. They play from sun up to sun down with no worries about homework or chores; it's the best. Getting together and planning meals, hanging out, having fun, joking around, laughing. It just doesn't get any better."
Of course, the fun meter just increases when the family is having success, and for the Furr's winning has become a family tradition. Michelle's victories carry the most fanfare: she won back-to-back Super Comp titles at the NHRA Charlotte Nationals in 2011 and 2012. Last season, she earned the Super Street victory at one of the most prestigious LODRS events on the NHRA tour; the Division 3 finale at Beech Bend Raceway Park in Bowling Green, KY. Madi and Adiayn are no strangers to the winner circle themselves.
"There is no feeling I will ever get from my own racing that will compare to watching my children win their first round and later their first race; it's unbelievable," said Furr. "Standing behind them on the starting line is the most nerve-wracking thing. You feel like you are literally going to be sick from the nerves before they make their run because you know how much they've put in and how badly they want to succeed; and you just want them to accomplish their dreams!"
Furr Racing is fortunate to partner with some of the most recognizable and reputable manufacturers in the high performance industry. The team depends on quality products from Ohio Crankshaft, Quickfuel Technologies, K&N Engineering, Moser, Autometer, Hooker Headers, Goodyear, JEGS, RCI, Turbo Start Batteries, Smith Brothers Push Rods, Earl's Plumbing, Hawk Performance, Maradyne High Performance Fans, PTC, Starrett Measuring Tools, Aeromotive, Powermaster Performance, Red Eagle, Moroso, Nitroplate, Melling Select Performance, Digital Delay, Jesel, MSD, MotorMile Performance, Undercover Motorsports, Abruzzi Transmissions, Staging Light Graphics, SuperWinch and Wiseco. Michelle finished the 2013 season ranked fourth in the NHRA Division 2 Super Street chase, despite what she called a disappointing season.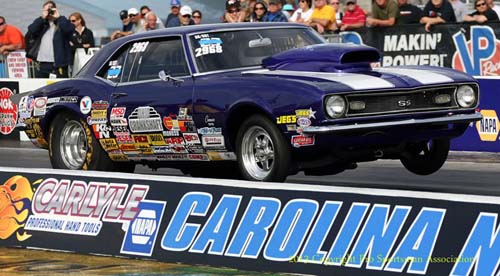 Header Goes Here
"We had a lot of near-misses," Furr explained. "We had a good chance to represent Division 2 in the JEGS All-stars event in both categories and fell short. It seemed as though we lost in the semi-final round a lot; and any racer will tell you that semi-final losses are not fun. And we really struggled in Super Comp, where it seemed like one small gremlin after another plagued us all season. Overall, we had a good season; but it's natural to look back and think through your mistakes. The goal, for all of us, is to have fun racing together and challenge ourselves to improve on the track."
One thing is for sure: The Furr family will be a force on the race track again in 2014, and for many years to come. For more information on the Furr family racing team, visit www.FurrRacing.com.




LODRS: 10 Most Recent Entries [ top ]

Apr 23- LODRS 1-1 - Event Wrap Up
Apr 22- LODRS 1-1 - MXI/Magnaflux Top Dragster presented by Select Performance Final, Round 5 Eliminations
Apr 22- LODRS 1-1 - MXI/Magnaflux Top Sportsman presented by Select Performance Final, Round 5 Eliminations
Apr 22- LODRS 1-1 - Stock Eliminator presented by ATI Final, Round 7 Eliminations
Apr 22- LODRS 1-1 - Super Stock presented by ATI Final, Round 7 Eliminations
Apr 22- LODRS 1-1 - Super Street Final, Round 5 Eliminations
Apr 22- LODRS 1-1 - Competition Eliminator Final, Round 5 Eliminations
Apr 22- LODRS 1-1 - Super Comp Final, Round 6 Eliminations Results of final, round 6 eliminations in Super Comp at the NHRA Lucas Oil
Apr 22- LODRS 1-1 - Super Gas Final, Round 6 Eliminations
Apr 22- LODRS 1-1 - Super Comp Final, Round 6 Eliminations