Thu, 12 Dec 2013, 21:11 PM



If You Can Make It There



By Bob Frey


Photo copyright 2013 Auto Imagery, Inc.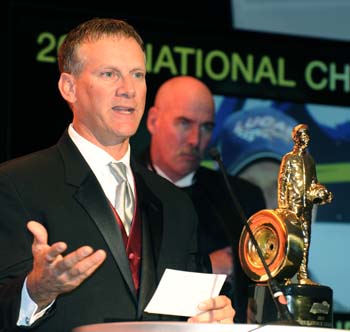 Byron Worner
Over the course of my long, drag racing career, I have had the pleasure of going to over 200 different tracks in all seven NHRA divisions, several IHRA divisions (before there were such things), different countries and even different continents. And while the racing is a little different in Puerto Rico than it is in Redding, California, there is one constant no matter where you go, and that is the fact that every track, division, country or continent thinks they have the best racers around. Believe me, it's true. It's kind of like that classic Frank Sinatra song about the "Big Apple," you know the one, "New York, New York." It says something to the effect of "If you can make it there you can make it anywhere." Well, while that may or may not be true, the 2013 Super Stock champ, Byron Worner, sings a bit of a different tune. Coming from the rugged Division 1 area Byron feels that the racers he competes against on a weekly basis are as good as any in the country, and you know what, he might be right. Fletcher, Biondo, Morehead, Iacono, Santangelo, Hanley, Boucher, Lisa and, well, you get the idea. It's a tough place to make a living or win a race let alone a championship, but as Byron will tell you, if you can make it there you really can make it anywhere. Actually, as tough as the racing is and as good as all of those drivers are Byron had one more thing to contend with during the season and that was the members of his own family, because both his father, Tim, and his twin brother, Brian, race and both have won national events and that puts the Worner family in a very select group. "Yeah, we're all pretty proud of that," Byron said. "And I have to say that my brother and my dad were really excited when I won the championship. It meant a lot to them and the whole family."
Byron is the older of the twins by a full three minutes, and he admits to keeping score in the head-to-head races that he has with his younger sibling. "I don't poke him too much," he said. But then he quickly added, "But I do have a winning record against him and my dad." Nothing like a little inter-family rivalry to fire a guy up, is there? "You really don't need much motivation to get you going if you race around here. After all, with the quality of racers we have in this area if you're not on top of your game they'll send you home." And that's exactly what happened to Byron early in the season. "I went to the first couple of races and lost some really tough rounds," he said. Among them was a second round loss at the Virginia point's race, a race that he lost despite having a perfect reaction time, and that was followed by another second round loss at his next race. "At that one I was .016 on the tree and ran dead-on and still lost. That will show you what the competition is like around here."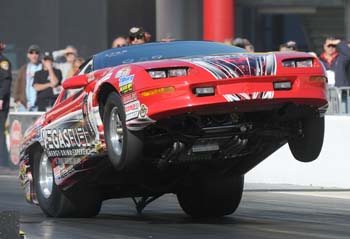 Byron Worner
As a firefighter with the Harrisburg, Pennsylvania fire department Byron is on a pretty strict work schedule and that allows him to make his racing plans early in the year. "I work two long days and then two long night shifts and then I'm off," he said. "I pick my races in January and pretty much stick to that schedule for the rest of the year." As good as that sounds, Byron discovered that even the best plans sometimes need adjusting. "After those early losses I thought, well, here's another year where I will miss the top ten, but I'm going to finish out the schedule as planned." That is until he won the Division 1 race in Epping, New Hampshire. "After that initial slump I went to a few races and started going at least four rounds and adding points, and then when I won Epping I started to think about the national points again and I saw that I had a chance." And when he beat former World Champion Michael Iacono in the final round at Cecil County the forty-six year old Pennsylvania native really began to think about the championship. "I would have to say that winning Cecil was the real turning point of the season. That and the fact that Anthony (Bertozzi) left the door open when he left some points on the table at his last couple of races."
As rigid as his schedule is, the schedule that he makes up early in the year, Byron knew that he needed to add one more date to his calendar in October. "I still had a divisional race to claim so I went to Reynolds, Georgia, and that turned out to be a good move." Now there's an understatement, because when he went south he won the race and finished with a total of 644 points. "At that point there were a couple of guys who could catch me including Dan Fletcher and Jimmy DeFrank, two of the best racers in the country." But when neither of them won at the final division race in Las Vegas the championship was Byron's. Well, almost. "Jeff Dona still had a shot if he went to Pomona and went to the final round. He told me that he thought about it, weighed his options, looked at his chances and, in the end, decided not to go to Pomona. That had to be a tough decision." Undoubtedly it was, but it worked out well for Byron.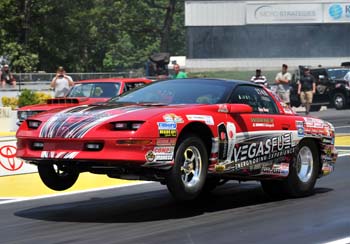 In the past, some racers who had been in the same situation as Byron, that is, they were all out of races but could still go try to block some of their challengers, elected to go to the final few events of the year and see what they could do to increase their odds of winning. Byron thought about doing that but in the end he stayed home in Pennsylvania. "We had a couple of opportunities to go to Vegas and we even tried to get my brother's car out there, too, but in the end it just didn't work out. But I will tell you this, if I'm ever in that situation again I'm going to the races because that staying home thing just about killed me!"
In addition to setting his schedule early in the year Byron also sets his goals, and in 2013 he accomplished a lot of them. "Yeah, I ripped about all of those things off of my 'to do' list," he said with a smile. "My goal was to finish in the top ten, win the division, win a national event and make the All Star team." What, winning the World Championship wasn't on that list? "I had never been in the top ten before so I wanted to do that," he said. "I guess winning the championship counts, doesn't it?" I think so!
When you win a championship it's tough to stay humble, or at least I imagine it is, but Byron is still well grounded. "Just to look at the list and be mentioned in the same breath as Fletcher, DeFrank and those racers is an honor. I'm proud to be the champ and I hope I've earned the respect of those guys because they are the best." Well, Byron, in 2013 you were the best, not only in your family but in the country, too. Congratulations!




NHRA: 10 Most Recent Entries [ top ]

May 23- CHICAGO - Fact Sheet
May 23- Toyota Continues to "Go Places" as Official Car of NHRA
May 23- CHICAGO - Top Fuel Veteran Terry Mcmillen Believes He's A Win Waiting to Happen
May 22- RICHMOND - Special Awards
May 22- RICHMOND - Lucas Oil Drag Racing Wrap Up
May 21- RICHMOND -Through the Lens of Ron Lewis
May 20- RICHMOND - Pro Mod Wrap Up
May 20- RICHMOND - Sunday Video
May 19- RICHMOND - Sunday Wrap Up
May 19- RICHMOND - Factory Stock Showdown Championship Points