Wed, 11 Dec 2013, 08:03 AM



If At First You Don't Succeed



By Bob Frey


Photo copyright 2013 Auto Imagery, Inc.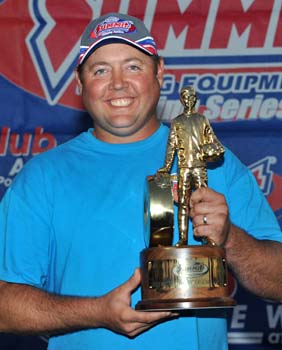 Chad Isley
This year was an exceptional year for the participants in the Summit Racing ET series and for those drivers who were aiming for a national championship in that series. Exceptional because the number of participants in the series is simply amazing, and exceptional because as amazing as those numbers are there were a few familiar faces at Pomona for the championship weekend. I have already reviewed the performances by Jeff Hefler and Edmond Richardson, the Sportsman and Super Pro champs respectively, and later this month I will feature Alvie Merrill, the Pro Champion, but for now I will focus on Chad Isley. If you're not familiar with Chad you should be, after all, this was his third trip to Pomona and the second time that he was there competing in the bike class. He was runner-up to Tom Klemme in 2008 and he was there again in 2010 when he lost in the Sportsman finals to the aforementioned Jeff Hefler. To get to the Summit ET Finals twice is, well, amazing, but to do it three times and to do it in two different classes is almost unheard of and that's what makes Chad Isley so special.
Chad is, if you'll pardon the expression, the quintessential drag racer, and by that I mean that if it has wheels he'll race it, or as he put it, "If it has a steering wheel and a seat I'll race it." I was going to point out to him that a motorcycle doesn't have a steering wheel but I thought better of it, after all, when a man has been to three Summit ET Series finals he must know what he's doing. "I race both of them during the year," he said. I guess it's about sixty percent bike and forty percent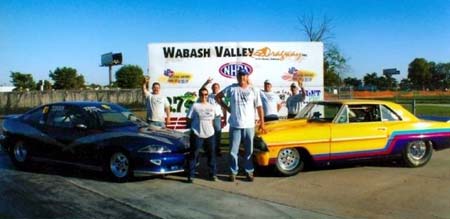 April and Chad Isley
car. I enjoy them both but it's no secret that my first love is the motorcycle." Actually his first love is his wife, April, who also happens to race. "Yeah, she has a '95 Cavalier that she races and she's pretty good at it," he added. And when I asked what the percentages are for wins between them he said very diplomatically "It's about fifty-fifty." Good answer, Chad!
Not only has Chad been to Pomona three times in two different classes but he has also been there representing two different divisions. "Coles County is my home track and that's in Division 3 and it's where I race most of the time. But at the beginning of the year South Georgia Motorsports Park has a big bike race and it's part of their point's program and I always go to that and I also race there at the end of the season." When the folks from Valdosta asked him to be part of their team at the Division 2 finals Chad quickly accepted. "I just enjoy racing and it was nice of them to let me be part of their team."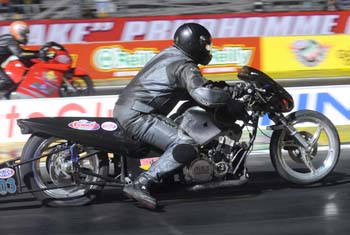 Chad Isley
Before heading to Atlanta for the Division 2 finals Chad made a big change in his racing program. "My bike is a 2000 Suzuki GSXR 1000 with a 2008 Hyabusa motor that has fuel-injection. Before going to the division finals I switched over to carburetors and the bike ran better almost instantly. I went to Indy to test with Steve Klemme. We've been racing together since 2008 and in my mind he is the best bike racer in the country. He is a racer turned crew chief and he allows me to bounce ideas off of him and I think we really make a great team. While we were in Indy Craig Treble came over and helped out and I can honestly say that I was in a good frame of mind when I headed to Atlanta." To make a major change in your machine, car or bike, before a big race is certainly a gutsy move but it paid off for Chad and he beat John Markham in the finals and earned his third trip to California. "The Summit program is great for guys like me," he said. "Before I went there the first time I had never even been to California. They treat you well and it's a lot of fun." It can also be a lot of pressure and that's where the experience he gained from his two previous trips west paid off. "I would have to say that it's an advantage if you've been there before. Little things like adjusting to the time change, understanding that you could make your time trial runs at a completely different time than when you'll race and things like that all come into play." So does the sun, which Chad admits is a big factor at Pomona. "Oh yeah! I really wanted that right lane for the finals because that meant my opponent would be looking into the sun. If you haven't been there before you really don't know what you're getting into in those later hours."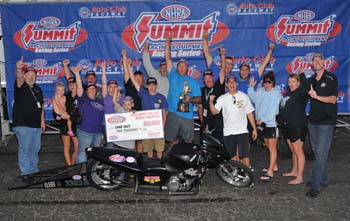 Isley with friends and family
celebrate the win.
Winning the race, obviously, makes the trip to California more special and Chad said he got to share that experience with a lot, and I mean a lot of his friends this year. "In years past it was just me and April or a couple of my buddies," he said. "But this year, for some strange reason, everyone wanted to go." And when he says "everyone" he means everyone. "We had fifteen or sixteen people with us this year and that made winning so much more enjoyable. To be able to race in front of the big crowd at Pomona and to be able to share the winner's circle and all that excitement with your friends is something I hope every racer gets to experience."
One member of that large group was a young man by the name of Steve Klemme, and if that last name sounds familiar, it should. Steve's father, Tom, is a three-time winner at Pomona and one of the best motorcycle riders in the country. "The motorcycle racers are a very close-knit group. Tom is a great racer and so is Craig Adams, the Division 3 champ this year. I raced him in the first round and was lucky enough to get around him." Lucky because the timing system wasn't set up for the "cross-talk" and that resulted in a very unusual reaction time for Chad, a .140. "I saw the tree and knew that I couldn't have been that bad," he said. "Fortunately I was able to get around him and not break-out." That may have been the proverbial "lucky round" that racers talk about, or maybe it was the second round when Dale Hamilton, another excellent racer and the Division 1 champ, put a perfect reaction time on the board against Chad. Or maybe it was the final round when Chad won on a double-break-out against Jon Haney, the Division 5 rep. "I didn't do much right other than be decent on the tree and handle the other end of the track better than my opponents," Chad added. Well, Chad, I've never raced but that sounds like the essence of a winning weekend to me, and apparently it was for you.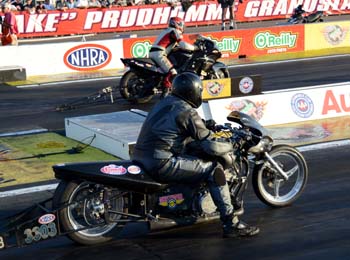 Isley defeated Jon Haney
in the final.
With the season over and the snow on the ground Chad is already focusing on the 2014 season. "I plan on starting off in Georgia again and then I'll run a lot of the same races I did this year. I may go to a few more big money bracket races with my car but I can tell you this, I am already planning of trying to defend my championship next year. I'd love to go back to Pomona as the defending champion." With a track record like his and now with the experience of winning the big one behind him it would be hard to bet against Chad in 2014.




NHRA: 10 Most Recent Entries [ top ]

May 27- BOWLING GREEN - Competition Eliminator Final, Round 5 Eliminations
May 27- BOWLING GREEN - Super Stock Final, Round 7 Eliminations
May 27- BOWLING GREEN - Stock Eliminator Final, Round 7 Eliminations
May 27- BOWLING GREEN - Top Sportsman presented by RacingRVs.com Final, Round 5 Eliminations
May 27- BOWLING GREEN - Top Dragster presented by RacingRVs.com Final, Round 5 Eliminations
May 27- BOWLING GREEN - Super Comp Final, Round 6 Eliminations
May 27- BOWLING GREEN - Super Gas Final, Round 6 Eliminations
May 27- BOWLING GREEN - Super Street Final, Round 6 Eliminations
May 27- BOWLING GREEN - Sportsman Motorcycle Final, Round 4 Eliminations
May 27- BOWLING GREEN - Competition Eliminator Round 4 Eliminations