Sat, 07 Dec 2013, 06:25 AM



Division 6 Driver Sadie Floyd Continues Remarkable Journey, Earns NHRA Top Alcohol



Courtesy of Kelly Wade


Photos courtesy of Paul Grant Photography





PORTLAND, Ore. --
Dragster License Sadie Floyd knew that she wanted to be a racecar driver from the time she was 10 years old. It took only one year before the ambitious youngster was able to venture into a world of quick-and-fast in NHRA's Jr. Drag Racing League, and ever since then she has been enjoying the ride and picking up speed. On Halloween in 2013, the Happy Valley, Ore., native kicked it up a notch and finished the last of three required passes to earn her Top Alcohol Dragster license in Jerry Darien's nitro-infused A/Fueler.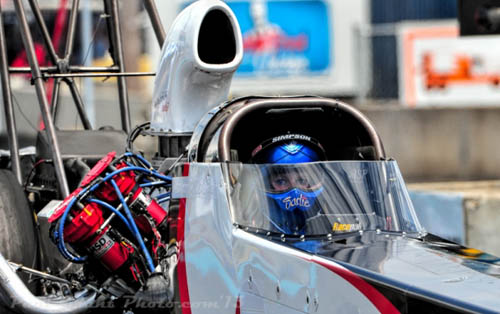 Sadie Floyd
"I had always wanted to license in an alcohol car," said Floyd, whose father, John Floyd, was responsible for her initial interest in drag racing. He brought her along in 2000 as honorary crew chief when he raced a squirrely, short-wheel based Anglia at the local dragstrip, and little Sadie would pitch in wherever and whenever she was allowed.
"I think the defining moment for me, when I really realized I wanted to do this, was when I first saw Joey Severance run. He is one of the owners at Woodburn Dragstrip [Floyd's home track], and I thought it was so cool that someone that I knew from Woodburn could do this. I wanted to do it, too. I never really thought an opportunity like this would come about, so when it did I knew we had to go for it."
At the age of 11, Floyd had already experienced a remarkable life and celebrated five years of being officially cancer-free. That same year, she entered the world of competitive drag racing. The Acute lymphoblasticleukemia (A.L.L.) survivor became a regular winner in the Jr. Drag Racing League, and Floyd has a wall of trophies and plaques to commemorate each accomplishment in those early years. She closed out the first leg of her driving career and graduated from the youth series on a high note as the 2007 Portland International Raceway Jr. Lightning champion.
Floyd moved up to a "big car" and raced Super Pro at Woodburn Dragstrip, and she finished in the top 10 in each season in which she competed. In addition to the Jr. League and the Super Pro category, Floyd has also competed in Pro and Super Comp. Wishing to expand her resume and broaden her education on the dragstrip, she has raced at the division level for the last two seasons behind the wheel of a 190-mph Top Dragster. Floyd finished in the top 10 in both 2012 and 2013 amongst a collection of extremely talented drivers.
In 2012, Floyd met acclaimed driver, crew chief, and mentor Jerry Darien and his wife Debbie at a division race at Woodburn, and an acquaintance was formed. Darien saw potential in Floyd and soon invited her to license in his Top Alcohol Dragster.
"I had already been watching the alcohol cars intensely for a couple of years," said Floyd. "It was no secret that I wanted to become involved in Top Alcohol, and finally, someone said yes. It was just amazing that it happened to be Jerry Darien, who has played such a big role in the careers of so many drivers. The fact that he knows who little ol' Sadie from Happy Valley, Ore., is, it's just crazy to me."
Floyd traveled to Pomona, Calif., and sat in the cockpit of the A/Fueler to make sure it was a good fit. Funding the licensing process out of "rainy day" money that she had been saving for years, Floyd got her first chance to make passes in the dragster in March just after the Las Vegas NHRA national event.
"It was awesome. Top Dragster is completely different than a Top Alcohol car as far as the driving; there is a lot more going on," said Floyd. "In the Top Dragster, I make my racing decisions from the starting line to the finish line. I've been doing this for so long that the burnout, backing up, and staging are all second nature. But the Alcohol car has a handbrake and a clutch, and I'd never driven a racecar with either of those things before. So I took my dad's stick shift Ford Ranger out and drove around to really try to get the feel for the clutch.
"In the alcohol car, there is so much to do before you even make the run. It's injected on nitro methane and I have to adjust the fuel when they switch it over right before my burnout, and then a couple more times after, and then once again right before the run. There is a lot to the process, but the run itself is where you can relax and, hopefully, haul the mail."
Despite rambunctious weather in Las Vegas that included excessive winds as a storm rolled in, Floyd was able to make two of the three necessary passes towards her goal. The first run was moderate yet exceeded any speed she had ever before experienced in a racecar as she hit 212 mph at the 1/8-mile mark. On her second pass, Floyd made her first full pull and clocked a career best 5.54 at 246 mph. With nasty weather pressing from all sides, the group came to the starting line pumped up to give it everything they had and finish on a high note, but their enthusiasm was dimmed as Floyd was up in smoke virtually at the hit of the throttle. They returned to the pit area just as the storm settled in over The Strip at Las Vegas Motor Speedway. The process was put on hold.
Four months later, they tried again at the Woodburn division event, but with time to make only one run before the car was prepared for competition with its regular driver at the wheel, they were thwarted once more. Two months later, though, everything came together; Floyd sealed the deal on October 31, 2013 with the necessary second full pull and clocked a 5.614 at a new career best of 250.60 mph. Her license was signed by Severance, Mike Strasburg, and Jim Whiteley.
"Usually, the process doesn't take that long - but I'm glad that it did because I was able to get a taste of it and evaluate whether or not it's something I really have a passion for. It turns out that it is," said Floyd. "It's a great feeling driving this car. It launches similar to the Top Dragster, but you sink back into the seat and it doesn't stop pulling. When you throw the 'chutes, you're going 250, and then you're not going 250 in a very short amount of time. It's just wicked.
"If any doors open from this opportunity, it will be an absolute blessing. I understand that bringing funding is what will open those doors - that's just the nature of the beast, if you will - but I would love to race Top Alcohol competitively. That's where I see myself, and if it doesn't happen, it certainly won't be for lack of effort."
Floyd thanked her parents, John and Lori Floyd, "for their unconditional support in a very unconventional career choice"; her friends and family; Dallas Glenn and the Glenn family; Moonstruck Chocolate Company; Tualatin Transmission; Tualatin NAPA; Children's Cancer Association; Leukemia & Lymphoma Society; and Gresham Ford.
For more information, please visit SadieFloydRacing.com.




LODRS: 10 Most Recent Entries [ top ]

Apr 22- LODRS 1-1 - MXI/Magnaflux Top Dragster presented by Select Performance Final, Round 5 Eliminations
Apr 22- LODRS 1-1 - MXI/Magnaflux Top Sportsman presented by Select Performance Final, Round 5 Eliminations
Apr 22- LODRS 1-1 - Stock Eliminator presented by ATI Final, Round 7 Eliminations
Apr 22- LODRS 1-1 - Super Stock presented by ATI Final, Round 7 Eliminations
Apr 22- LODRS 1-1 - Super Street Final, Round 5 Eliminations
Apr 22- LODRS 1-1 - Competition Eliminator Final, Round 5 Eliminations
Apr 22- LODRS 1-1 - Super Comp Final, Round 6 Eliminations Results of final, round 6 eliminations in Super Comp at the NHRA Lucas Oil
Apr 22- LODRS 1-1 - Super Gas Final, Round 6 Eliminations
Apr 22- LODRS 1-1 - Super Comp Final, Round 6 Eliminations
Apr 22- LODRS 1-1 - MXI/Magnaflux Top Sportsman presented by Select Performance Round 4 Eliminations Results of round 4 eliminations