Sun, 01 Dec 2013, 13:21 PM



Stop Me If You've Heard This Before



By Bob Frey


Photo copyright 2013 Auto Imagery, Inc.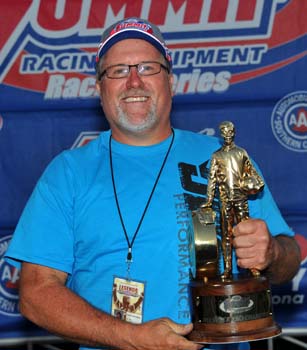 Edmond Richardson celebrates win.
Last week I wrote a story about Jeff Hefler and how much success he has had as a drag racer. I mentioned that with his second win at the 2013 Summit Racing Series ET Finals in Pomona he joined a very select group of racers who have won the prestigious event twice. If my figures are correct, and they aren't always, I see only five racers who have "doubled-up" at the bracket finals. Jeff, Greg Dreher who did it in 2001 and 2007, Michael Nash who won in back-to-back years of 2006 and 2007 and Tom Klemme, the only triple winner, who took top honors in 2008, 2011 and 2012. The fifth member of that elite group is Edmond Richardson, the 2013 winner in Super Pro and the 2011 Sportsman Champion. Like Jeff, there isn't a lot that Edmond hasn't done and it seems that whenever he shows up at a race everyone else is running for second place. Not always, of course, but a lot of times it seems that way, at least to me.
To get all of the numbers out of the way let's start by saying that Edmond is a four-time NHRA World Champion. He was tops in Super Comp in 1989 and again in 1992 and he won the Stock Eliminator crown in 2000 and 2009. Those four championships put him in a group that includes only twelve other racers who have won four or more championships in the Lucas Oil (sportsman) classes. When you count all the racers who have competed at the NHRA events over the years you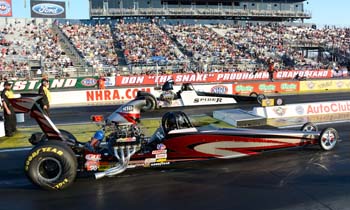 Richardson defeated Mark Simons
in the Super Pro final.
will see that twelve is a very small number. He has also won forty-six NHRA national events and that places him sixteenth on the all-time win list, and when you look at just the sportsman racers on that list Edmond comes in at number six. On the divisional level he has won forty-four of the sixty-nine final rounds that he has been in and those wins have propelled him to a staggering fifteen divisional championships. Throw in the IHRA races and titles and all of the big money bracket races that he has won and it's easy to see why he is considered among the best drag racers of all time. In fact, on the NHRA Top Fifty list from their anniversary season in 2001 Edmond came in at number thirty-seven. Very impressive, wouldn't you say?
Edmond earned his spot at the "Finals" by winning the Division 2 championship in Commerce, Georgia. "I ran a bunch of races early in the year in order to be eligible for the bracket finals. I often get guys saying that I shouldn't be able to run, but if you check it out you'll see that I was completely legal to race at the bracket finals." With that said he took a sleek 2013 dragster that he built for a friend to a winning time of 4.481 in the eighth-mile to stop fellow Tennessee native, Kenneth Bottorff in the final round. As he often does Edmond had the advantage right from the start when his .014 reaction time was better than Bottorff's very respectable .020. Ironically that .014 was Edmond's worst reaction time in the seven rounds of competition at the Division 2 race, rounds that included a .004 early in the program and a perfect .000 in the semi-final round. With that trophy in hand he headed to California where he was hoping to win another Summit Series title. "I look forward to that race," he said. "All of those guys are tough and any of them can beat you."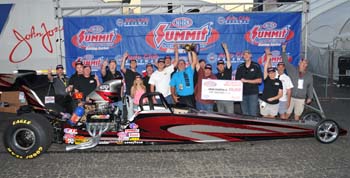 Richardson celebrates with team and friends.
Once he got to Pomona Edmond knew that it would be a tough couple of rounds. "The guys that qualify for that are there for a reason," he said. "Nobody gets lucky and makes the Summit finals, you have to earn it." But luck did play a part in his race on Sunday when each of his opponents broke out. "The semi-final run (against Division 4 champ, Kyle White) was my lucky round. He broke out by one-thousandth, and when you win like that you know you got away with one. Warren Johnson used to say that some guys who had a .001 reaction time just did a bad job of fouling out, well, when you break out by one-thousandths you just did a bad job of picking your dial. Like I said, I was lucky." The final round also featured a break-out by Mark Simmons, the Division 6 winner, who posted a .004 reaction time against Edmond, and even though he didn't get to the finish line first in any of his three rounds, when Mark broke out Edmond was the champ.again.
Those who follow the NHRA national event tour realize that Edmond hasn't been the force that he has been in the past, at least not at the national events, in fact, he hasn't won an NHRA national event since 2011 but there is a reason for that. "I'm spending a lot of time with my kids," he said. The two older ones are probably going to run a lot more NHRA races next year and the youngest, who is fourteen years old, has been doing a lot of racing at some of the outlaw tracks." The oldest of the three, Ryan, had a good year and he made it to a pair of national event final rounds in Atlanta and Norwalk.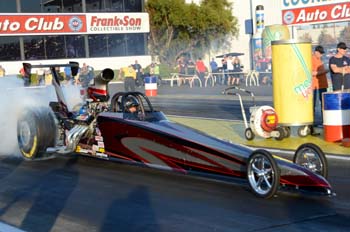 Edmond Richardson
"He's pretty good," Edmond said modestly. "I think that when the boys start driving more I'll race, too, but I'll only get to drive whatever is left after they pick a car. I'll probably be in a pick-up truck or a rental car." And while he will be there helping his boys Edmond did say that he has a goal for himself next year. "I'd like to get a Pro ET car and go to Pomona. I'd like to be the first guy to win the Summit Series in all three classes." Which brings up the question, what about the motorcycle class? "It's funny, because I used to race bikes when I was a kid," he said. "And Chad Isley, who won the bike class this year, actually has a picture of me racing a bike back in the 1970's when I was really young. He keeps saying that I should ride his bike." While that is an intriguing thought Edmond says that, for now at least, he'll stick to four wheels. "I really like racing in the Summit Series and I am going to take a shot at the Pro class, but most of all, in 2014 I'll be at the track with my boys and we'll see how they do." If genetics play any part in drag racing you can expect the boys to do very well, and you can expect to see Edmond Richardson in the winner's circle again in the future, either with his boys or with one of the vehicles that they let him drive.




NHRA: 10 Most Recent Entries [ top ]

May 23- CHICAGO - Fact Sheet
May 23- Toyota Continues to "Go Places" as Official Car of NHRA
May 23- CHICAGO - Top Fuel Veteran Terry Mcmillen Believes He's A Win Waiting to Happen
May 22- RICHMOND - Special Awards
May 22- RICHMOND - Lucas Oil Drag Racing Wrap Up
May 21- RICHMOND -Through the Lens of Ron Lewis
May 20- RICHMOND - Pro Mod Wrap Up
May 20- RICHMOND - Sunday Video
May 19- RICHMOND - Sunday Wrap Up
May 19- RICHMOND - Factory Stock Showdown Championship Points