Mon, 25 Nov 2013, 14:54 PM



Krawiec Sums it Up Perfectly



By David Fuller, On All Cylinders.com



SOUTHWEST ASIA AND BAHRAIN --
"Hey, can we rent camels? "Alright, can I hold that gun in this photo?
"Any chance we can fire off some test rockets?"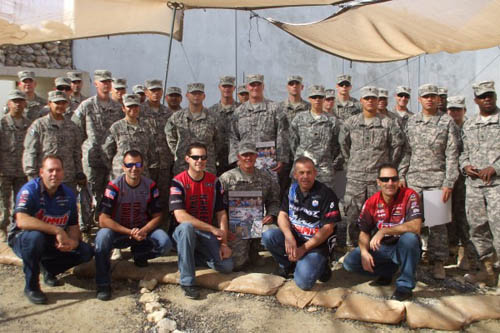 The guys pose with Army personnel at the PAT V missile site.
Based at an undisclosed location in Southwest Asia
, PAT V is home to Patriot missile launchers, which are tasked
with shooting down incoming enemy missiles.
The answers to the questions were no, no, and hell no. But it never stopped Krawiec from asking the questions, even though they weren't serious-not completely serious anyway. The Harley-Davidson/Screamin' Eagle/Vance & Hance driver loves to have a good time, and he had a great time on Operation Appreciation 2013.
He offered the following assessment of day 5 of the tour, which ended with a trip to the island kingdom of Bahrain:
"I can't talk about it. it's highly classified," Krawiec joked.
Upon further thought, he offered this summary of the day as well as the entire week.
For complete story and more photos log on to On All Cylinders




NHRA: 10 Most Recent Entries [ top ]

May 19- TOPEKA - Top Dragster presented by RacingRVs.com Round 1 Eliminations
May 19- TOPEKA - Top Sportsman presented by RacingRVs.com Round 1 Eliminations
May 19- TOPEKA - Top Alcohol Dragster Round 1 Eliminations
May 19- TOPEKA - Top Alcohol Funny Car Round 1 Eliminations
May 19- TOPEKA - Saturday Pro Mod Wrap Up
May 19- TOPEKA - Saturday Wrap Up
May 19- TOPEKA - Top Fuel Harley Eliminations Ladder
May 19- TOPEKA - Top Fuel Harley Final Qualifying, Session #4 Order
May 19- TOPEKA - Top Fuel Harley Qualifying Notes, Final Session
May 19- TOPEKA - Pro Modified Eliminations Ladder