Wed, 20 Nov 2013, 09:12 AM



What A Year



By Bob Frey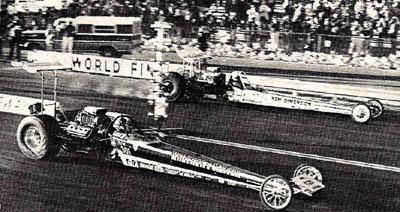 Jim Walther defeated Clayton Harris
for the Top Fuel Championship.
Photo copyright 2013 NHRA
Before the season even started, and several times during the year, I stated that the competition in the Mello Yello (i.e., professional) classes would be exciting and that the battle for the championships would be intense. For the most part I was right, and even though two of the titles were wrapped up before Pomona it is still a far better deal than when someone (i.e., John Force) can lock up the championship by early September. While a lot of folks still clamor for the "good old days" before the "Countdown" I firmly believe that the new format is a better way to determine the champs and keep interest at a higher level than it was before. I also happen to prefer racing the quarter-mile instead of 1,000 feet but that, like my thoughts on the "Countdown," is just my opinion. I realize that NHRA will never please everyone, but personally I like the playoff format and the way the champs are crowned now. Remember, at one time all you had to do to win the championship was qualify to run at the last race of the year and then win that race. Case in point, Hall of Fame member Jim Walther who won one race in his NHRA Top Fuel career, the 1972 NHRA World Finals, and he was the world champ. Anyway, I don't want to get on a soap box but I did want to point out that anytime there is a major change to the way things are done there are people who don't like it. Heck, I can show you letters from folks who thought that the electronic Christmas Tree would be the ruination of the sport. Having said that, I do miss the days when the flag starter would leap off the ground to send the cars on their way, but that's just my opinion.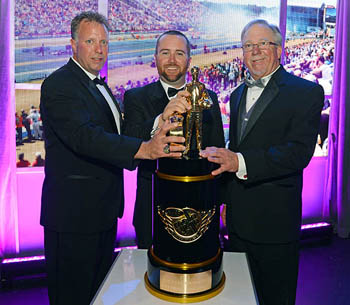 Brian Husen, Shawn Langdon and Alan Johnson
Photo copyright 2013 Gary Nastase Photography
Shawn Langdon won the Top Fuel title this year and that brings another crown to the Alan Johnson camp. The Al Anabi team ran well all year and there was nothing surprising about their win. Shawn, a former Jr. Dragster and Super Comp champ, now has a "big" trophy to go along with all of his others. Did you know that Shawn becomes the 28th driver to win a national championship in the Top Fuel class? And did you know that Jack Williams was the first when he did it in 1964? Often times people refer to the NHRA World Champion as anyone who won from 1974 on (the so-called "Modern Era") but there were champs before that. Of those twenty-eight drivers did you know that ten of them won multiple championships? Now there's a goal for Shawn.....As long as the NHRA Auto Club Finals race has been around you would expect that there would be a lot of winners and you would be right. Did you know that in the forty-nine years of the event Shawn is the 30th driver to win in Top Fuel? Of that group twenty, like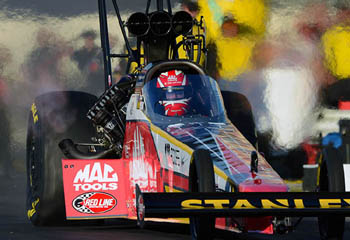 Doug Kalitta
Photo copyright 2013 Gary Nastase Photography
Shawn, have won it just once, and among that group are
Rob Bruins
,
Dennis Baca
and
Gary Ormsby
....2013 saw nine different drivers win in the dragster class and that's a lot.
Did you know
that since 1994 that's the second-most winners in a single season? Both 1996 and 2012 saw ten drivers win while 1993 saw the most when there were eleven winners. Of that class of 2012 only
Brandon Bernstein
and
David Grubnic
didn't win this year while
Doug Kalitta
won in 2013 but not in 2012. Speaking of Doug he passed the 800 round mark this year (803) and that puts him in a very select group.
Did you know
that there are only fourteen drivers in the sport who have competed in that many rounds of racing and only four of them did it in the dragster class?....The fact that Shawn drives well, and by that I mean gets off the starting line first and doesn't make mistakes on the track, is evident in the end results of a world championship, and make no mistake about it the fact that he had a very good car was also a factor.
Did you know
that during the course of the year he made five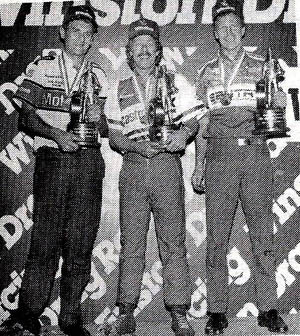 Glidden, Ormsby and Larson
Photo copyright 2013 NHRA
of the ten quickest runs on race day? Among them were a 3.721 and a 3.738 that he made at
Pomona
in February en route to winning the Winternationals. That, of course, means that he punctuated his year by winning both the first and the last race of the season and that doesn't happen very often.
Did you know
that since1970 there have only been seven Top Fuel drivers to win the first and last race in the same season and five of those seven won the championship in the same year? Only
Mike Dunn
in 1999 and
Darrell Gwynn
in 1986 won both races but didn't win the championship...The 1989 season when
Gary Ormsby
won both Top Fuel races at Pomona was special because in that year all three pro champs, Gary,
Bruce Larson
and
Bob Glidden
, all won both Pomona races, all won the championship and all three went wire-to-wire to win the titles.
Did you know
that is the only time in NHRA history that all three champs won the first race and were never out of first place for the rest of the year? The only time
!...
A lot of people talk about how expensive the sport is getting (and has been) and how if affects the number of cars in the pro classes. Well
did you know
that in 2013 there were forty-two drivers who competed in Top Fuel and in 2012 there were forty-one and in 2011 there were forty-two. I don't know if that proves anything (probably not) but I just thought I would point it out.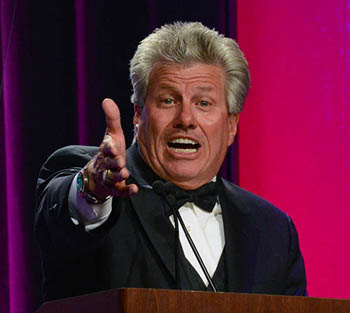 John Force at the award's show.
Photo copyright 2013 Gary Nastase Photography
John Force is amazing! I mean, what can you say when a guy like him continues to do what he does and he does it at such a high level. I wasn't at the award's show and haven't watched it on-line but I imagine John was the hit of the night (isn't he always?). Take nothing away from the other winners who had their moment in the limelight but folks always look forward to hearing what John has to say and how he says it. I just wonder if there were any "bleeps" when it went on-line. But then do you have to bleep anything on-line? Anyway, he had another great year, made wholesale changes to the crews in the middle of the season and emerged as the champion again and that's what makes him special...John won the title by getting hot at the right time of the year, just like his teammate Robert Hight did in 2009. That year Robert started the "Countdown" in tenth place and then won three of the six races in the "Countdown" and won the championship. It wasn't quite as tough for John who entered the "Countdown" this year in fourth place and then went to the final round at five of the six playoff races, won three of them and secured the title in Las Vegas. Not bad for a guy who will turn sixty-five next year, is it?...John won a total of forty-one rounds this year and did you know that is more than the combined total number that he won in the last two seasons? In fact it was the second-best season he had in the last nine years. Only 2010 when he won forty-four rounds was better. John was as low as twelfth in the standings after the Atlanta race and the question at that time wasn't could he win another championship but could he make the top ten for the twenty-ninth straight year. Now we know the answer to that question was yes! Did you know that over the past five years John has finished ninth three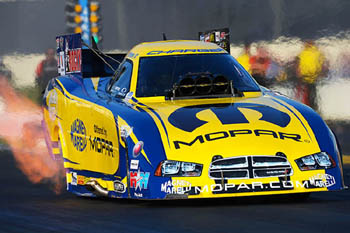 Matt Hagan
Photo copyright 2013 Gary Nastase Photography
times and won the championship twice
?...
John had a pretty good car all year and it showed in the stats. John set low elapsed time at six races this year, and
did you know
that's the most for him since he did it ten times in 2000? And last year, when he finished ninth, he only set low E/T once..As good and evenly balanced as the Funny Car class was in 2013 there were only seven winners in the class. I say "only" because that's the fewest number of winners since 2002.
Did you know
in the years that NHRA has had twenty or more national events, and that's every year since 1997, 2002 is the only year with fewer winners than 2013? And this will probably come as no surprise to anyone but the only driver to win in 2002 and 2013 was, you guessed it, John Force..
Matt Hagan
, who finished second in the points, had a very good year, maybe even a great year by most standards but it still wasn't good enough to stop John. Matt did join a select group of racers when he won his tenth race, and
did you know
that made him just the thirty-ninth professional driver with ten or more wins in the fuel ranks? He also became just the twentieth Funny Car driver with ten or more wins and he joins Mike Dunn and
Mike Neff
as drivers with exactly ten wins in the Funny Car class. And as I always try to do to keep things in perspective,
did you know
that Matt won his ten FC races in 120 events while Mike Dunn won his in ninety-five races. And do you know how many races it took Mike Neff to win ten times? How about ninety-five, just like Dunn? What are the odds
?....
Back to the number of cars competing.
Did you know
that thirty-five drivers earned points in the FC class this year and that thirty-four did so in 2012 and thirty-five in 2011?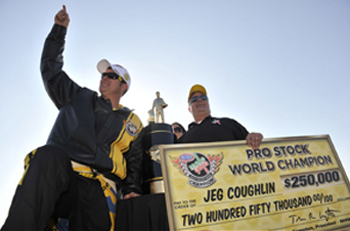 Jeg Coughlin celebrates
fifth Pro Stock Championship.
Photo copyright 2013 NHRA
Jeg Coughlin made it five Pro Stock titles and six overall championships and he did it with a very consistent car and excellent driving along with the fact that none of his chief competitors were able to get hot and stay hot in the "Countdown." His two wins in the "Countdown" were the best in the class and he won a total of fourteen rounds in the six "Countdown" races. In addition to winning the most rounds (by far) in the "Countdown" did you know that ten of those round wins came over other drivers who were in the "Countdown?" Now that's the way to win a championship, isn't it?...Even though he had virtually wrapped up the championship by that time it was strange to see Jeg foul out in round two at the "Finals," especially since he hardly ever red lights. Did you know that in 791 rounds of racing that was just the fourteenth red light for Jeg? He had two red lights this year, both at Pomona, and did you know that equals the most red lights for him in any single season in his career? Amazing, isn't it?..Following Jeg in the standings was Allen Johnson, the defending series champ, and even though he did make it to the second spot his ten round wins in the "Countdown" left him far shy of Jeg's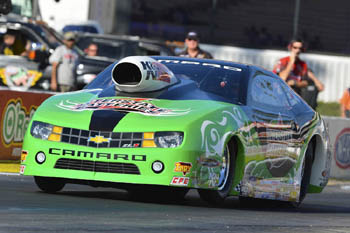 Mike Edwards
Photo copyright 2013 Ron Lewis Photography
number.
Did you know
that it was
Shane Gray
and
Jason Line
with the next best record in the "Countdown" when both picked up eleven round wins? Both of them also won a race and so did
Erica Enders-Stevens
and the surprise of the year,
Rickie Jones
. I say "surprise" because even though he only went to four races in the "Countdown" and wasn't a title contender Rickie still won seven rounds in those four events.
Did you know
that tied him with
V. Gaines
and was one more than
Mike Edwards
won in the "Countdown?".V. Gaines was also a pleasant surprise in 2013 and he had a very competitive car all year long. V. won a total of twenty-three rounds this year and
did you know
that in his twenty years in the class that is the most round wins for V. in a single year? Ok, so in some of his early years he only went to a couple of races but he has been on the full tour since 1997 so he had a wonderful year in 2013, in fact, his best. Also, his seventh place finish tied his best ever (2102 he finished seventh, also) so a big tip of the hat to V. for a job well done...2013 saw thirty-seven drivers earn points in Pro Stock and that compares to thirty-nine last year and forty in 2011.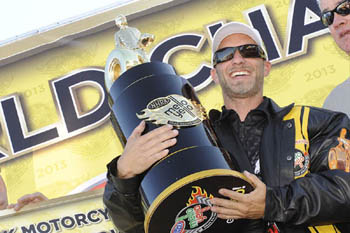 Matt Smith celebrates second Championship.
Photo copyright 2013 David Allio, LVMS
Was it the new rules or something else that resulted in another series championship for Matt Smith? I guess that all depends on who you talk to and what their particular point of view is, doesn't it? Well, whatever it was Matt is now a two-time Pro Stock Motorcycle Champion and he did it in style. Just like John Force, and to a lesser extent Jeg Coughlin, Matt got hot in the "Countdown" where he won an amazing sixteen rounds, went to four final rounds and won three races. After starting the "Countdown" in a very competitive second place Matt went out in the second round at Charlotte before making the final round at four consecutive races. Did you know that was the first time in his career that Matt had ever been to four straight final rounds? Several times in 2007, his other championship year, he went to three finals in a row and that was his best until this year. Matt's thirty-four round wins this year were good but not as good as the thirty-seven he won in '07 or even the thirty-six he won in 2008, but they were good enough to win the title..In addition to the fact that he was smokin' in the playoffs Matt got some help from the other riders, most of whom couldn't put two good races back-to-back. Did you know that Michael Ray, who finished second in the points, won ten rounds in the "Countdown" while Eddie Krawiec won thirteen rounds and Hector Arana Jr., the fourth place rider, won just six rounds? Because of those numbers Eddie, who started the playoffs in seventh pace made a big move and finished third and he has to feel good about the 2014 season, don't you think?...The bike class saw thirty-six riders earn points and that's two more than in 2012 and two less than 2011.
Smith, Coughlin, Langdon and Force
Photo copyright 2013 NHRA
There were so many great things that happened during the season, but in the end it comes down to the fact that the champions thrived in the "Countdown" while their challengers struggled, and regardless of what you think about the format it's here to stay and Shawn, John, Jeg and Matt are the 2013 Mello Yello champs. Congratulations.




NHRA: 10 Most Recent Entries [ top ]

May 21- TOPEKA - Pro Mod Championship Points
May 21- TOPEKA - Monday Video
May 21- TOPEKA - Monday Pro Mod Wrap Up
May 21- TOPEKA - Monday Wrap Up
May 21- TOPEKA - Championship Points
May 21- TOPEKA - Summary of Eliminations in Top Fuel
May 21- TOPEKA - Summary of Eliminations in Funny Car
May 21- TOPEKA - Summary of Eliminations in Pro Stock
May 21- TOPEKA - Summary of Eliminations in Pro Modified
May 21- TOPEKA - Summary of Eliminations in Top Alcohol Funny Car