Tue, 19 Nov 2013, 09:47 AM



Fresh Location Brings Fresh Perspective to Runte



Courtesy of On All Cylinders.com



KUWAIT CITY, Kuwait -
Operation Appreciation, Summit Racing's annual visit to troops stationed overseas, has a whole new look for 2013.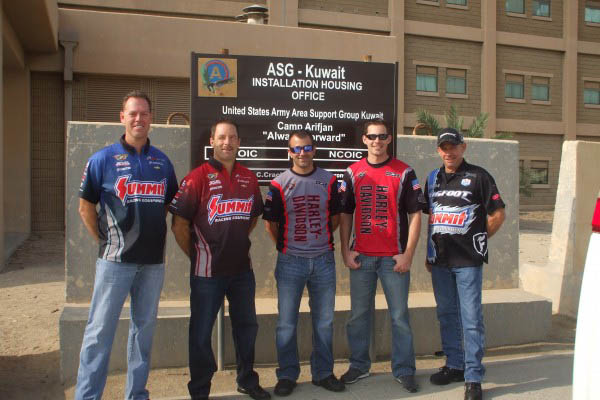 From left: Jason Line, Greg Anderson, Eddie Krawiec, Andrew Hines, and Dan Runte
stand outside the barracks at Camp Arifjan in Kuwait.
The team stayed in the barracks at Camp Arifjan the first night.
The cast remains the same-Greg Anderson, Jason Line, Andrew Hines, Eddie Kraweic, and Dan Runte once again make up the tour's lineup-but this year's trip takes place in the desert of the Middle East.
While past tours have centered around Germany and other European stops, Operation Appreciation 2013 began with visits to two key American military bases in Kuwait: Ali Al Salem Air Force Base and Camp Beuhring, located near the Iraqi border. All told, the 2013 tour will include stops at multiple bases in three different countries in the Persian Gulf region. Summit Racing/BIGFOOT monster truck driver Dan Runte took time to reflect on his first day in the Middle East:
For complete story and more photos log on to On All Cylinders




NHRA: 10 Most Recent Entries [ top ]

Apr 22- HOUSTON - Sunday Pro Mod Wrap Up