Wed, 06 Nov 2013, 21:05 PM



Whiteley Caps Championship Defense with Vegas Win



By Todd Veney/Pro Sportsman Association


Photo copyright 2013 Auto Imagery, Inc.





LAS VEGAS --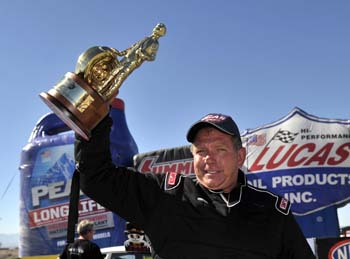 Jim Whiteley celebrates his Championship.
Jim Whiteley said all along that he was done driving Top Alcohol Dragsters at the end of this season, but his championship-clinching victory at Las Vegas, punctuated by low e.t., top speed, and a 5.33-5.34 final-round win over archrival Chris Demke, was such a perfect end that he seriously considered letting it be that - the end.
"It's not going to get any better," Whiteley said. "Why not go out like this and just hang out at Pomona and watch everybody else have fun running their cars. Because, seriously, how much better could Pomona possibly be than Vegas just was?"
At the Toyota Nationals at The Strip at Las Vegas, Whiteley earned his third national event title in a row, including the prestigious U.S. Nationals and the Fall Nationals, with a barrage of low 5.30s and one 5.20, a 5.28 in the first round that held up for low e.t. He set top speed at 271.41 mph a round later in a 5.32 win over Don St. Arnaud that officially clinched a championship that has been all but mathematically wrapped up for some time now.
With a three-race streak to close out a second consecutive national championship and likely his career, Whiteley steps into the background and Mike Strasburg, who drives his family's own Top Fueler and works on Annie Whiteley's Top Alcohol Funny Car (which qualified No. 1 at Las Vegas), will get in Whiteley's dragster for about a half-dozen events next season.
"Joey Severance is going to run my motor stuff next year, and Mike's going to drive my car a few times, maybe six," said Whiteley, who will spend 2014 supporting wife Annie in Top Alcohol Funny Car and son Steven in Pro Mod. "Steve hopefully is going to run all 10 NHRA Pro Mod races, and I might run a couple with an old car we have around, but for me the biggest thing now is just to be there for Annie and Steve."




LODRS: 10 Most Recent Entries [ top ]

Aug 17- LODRS 6-5 - Super Street Shootout Final, Round 4 Eliminations
Aug 17- LODRS 6-5 - Super Street Shootout Round 3 Eliminations
Aug 17- LODRS 6-5 - Super Street Shootout Round 2 Eliminations
Aug 17- LODRS 6-5 - Super Street Shootout Round 1 Eliminations
Aug 17- LODRS 6-5 - Top Alcohol Dragster Qualifying, Friday Order
Aug 17- LODRS 6-5 - Top Alcohol Funny Car Qualifying, Friday Order
Aug 17- LODRS 6-5 - Competition Eliminator Qualifying, Friday Order
Aug 17- LODRS 6-5 - Super Stock Qualifying, Friday Order
Aug 17- LODRS 6-5 - Stock Eliminator Qualifying, Friday Order
Aug 17- LODRS 6-5 - JBS Ltd Top Sportsman Qualifying, Friday Order