Wed, 06 Nov 2013, 20:55 PM



Both Whiteleys Win Vegas Again, Payne Takes West TAFC Title



By Todd Veney/Pro Sportsman Association


Photo copyright 2013 Bob Johnson Photography





LAS VEGAS --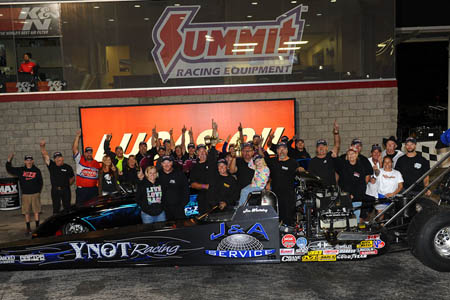 The Whiteleys celebrate the wins.
At the final Lucas Oil Series event anywhere in the country this year, Annie Whiteley, who's undefeated in four career regional starts at Las Vegas, and husband Jim Whiteley swept the alcohol classes for the third time since last year, Annie in Top Alcohol Funny Car and Jim in Top Alcohol Dragster. Both won photo-finish finals, Annie by three-thousandths of a second over Jay Payne, who clinched the West Region championship, and Jim by just one-thousandth over Garrett Bateman.
Jim, who locked up the national championship with his victory at last week's Toyota Nationals at The Strip at Las Vegas, clinched the regional title with his fifth final and fourth win of the season. After a final-round loss to Ray Martin at the Phoenix opener, he won the next four - Denver, Tulsa, and now both the spring and fall Las Vegas races.
Whiteley, who set top speed last week with three 271-mph runs, topped 271 in all three rounds of this race, too, including a 272.34-mph blast (top speed of the meet) in a 5.27 (low e.t.) first-round win over two-time 2013 winner Shawn Cowie's otherwise excellent 5.35 at 266.
Whiteley's 5.28 in the semi's stopped incoming West Region points leader Chris Demke, who finished second to Whiteley in both the regional and national standings this year. Demke was off like a shot with a .030 reaction time and was in it until about the 1,000-foot mark, where a blown engine slowed him to a 5.49 at just 212 mph. He had stayed alive for the regional title with a 5.41 first-round win over Martin, who also was in contention for the regional championship on the final day of the season.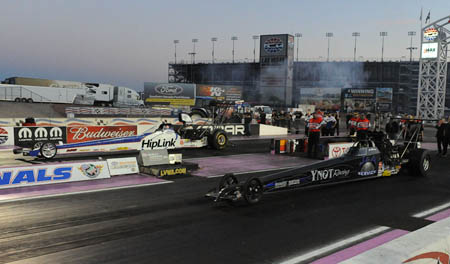 Jim Whiteley defeated Garrett Bateman
Bateman, who got into the field with a last-ditch 5.32, eliminated Johnny Ahten, who was pushed back from the line in round one, and Joey Severance, who qualified No. 1 in his first race with one of Whiteley's engines. Severance reeled off one great run after another, including a 5.28 for the No. 1 spot and another 5.28 to erase Megan McKernan in round one, but smoked the tires at the hit in the semifinals, handing a grateful Bateman a cylinder-dropping 5.51 win.
Bateman, the only A/Fuel driver in the race after round one, got off the line four-thousandths of a second ahead of Whiteley in the final, .049 to .053, but he needed a six-thousandths lead. Whiteley, competing for the second-to-last time in his Alcohol Dragster career, outran him by five-thousandths, 5.317 to 5.322, to get there first by less than a foot.
Nineteen drivers fought for eight qualifying spots, and seven of the qualifiers were at least in the 5.30s. Rookie Ashley Sanford (5.42), former Division 1 champ Dan Mercier (5.43), 2011 world champ Duane Shields (5.44) and Don St. Arnaud (5.46), who was runner-up here last year and at the spring race here, just missed McKernan's 5.42 bump time.
Top Alcohol Funny Car was even tougher, with a 5.66 bump after the first qualifying session and a record 5.62 bump by Clint Thompson when it was all over. Fifteen drivers attempted to qualify, everybody ran at least a 5.76, and three drivers missed the cut despite running 5.60s, including incoming West Region points leader Steve Gasparrelli (5.68), who lost the regional championship by not qualifying.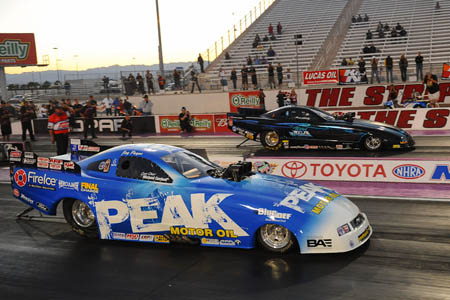 Annie Whiteley defeated Jay Payne
At that point, Gasparrelli and Payne were tied, but instead of winning on the tie-breaker, Payne went all the way to the final, starting with a 5.70 win over Steve Harker's shutoff 9.03. In the semi's, his 5.73 was enough against Thompson, who had run at least a 5.63 in all three sessions and a 5.60 in the first round but didn't make it five feet that time.
Whiteley qualified No. 2 in what has to be the toughest divisional/regional field of all time. Six of the eight qualifiers - Whiteley, Payne, Tony Bartone, Shane Westerfield, John Lombardo, and Thompson - have won national events in the past year, and the other two - Sweden's Ulf Leanders and Australia's Steve Harker - were making their first NHRA appearances of the season. Leanders qualified No. 3 behind Bartone (5.56) and Whiteley (5.57) with a 5.58 at 261.88 mph, top speed to that point. He upped that mark to 263.26 mph in a first-round win over Westerfield, who broke behind the line. Whiteley beat Lombardo in the next pair, 5.63 to 5.77, and Bartone, who ran two 5.57s and a 5.56 in qualifying, slipped to a 5.67 and fell to Thompson.
Whiteley brought Leanders' outstanding weekend to a close with a holeshot win in the semi's, 5.596 to 5.595. In the final, she ran her career record in regional competition at her favorite track to a perfect 12-0 with an even closer win over Payne, who got away first and made by far his best run of eliminations, 5.63, but fell a few feet short of Whiteley's second straight 5.59.




LODRS: 10 Most Recent Entries [ top ]

May 25- LODRS 1-1 - Top Alcohol Dragster Final, Round 3 Eliminations
May 25- LODRS 1-1 - Top Alcohol Funny Car Final, Round 3 Eliminations
May 25- LODRS 1-1 - Pro Stock Snowmobile Final, Round 2 Eliminations
May 25- LODRS 1-1 - Top Alcohol Dragster Round 2 Eliminations
May 25- LODRS 1-1 - Top Alcohol Funny Car Round 2 Eliminations
May 25- LODRS 1-1 - Super Comp Eliminations Ladder
May 25- LODRS 1-1 - Super Comp Qualifying, Saturday Final Order
May 25- LODRS 1-1 - Super Gas Eliminations Ladder
May 25- LODRS 1-1 - Super Gas Qualifying, Saturday Final Order
May 25- LODRS 1-1 - Super Street Eliminations Ladder