Fri, 01 Nov 2013, 09:20 AM



Bogacki Locks Up Super Comp Championship



Courtesy of NHRA Field Marketing



GLENDORA, Calif. -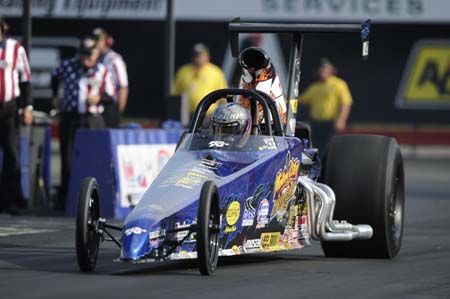 Luke Bogacki
Luke Bogacki locked up the NHRA Lucas Oil Drag Racing Series Super Comp National Championship to join Jim Whiteley and Frank Manzo on the 2013 national champions list.
The Carterville, Ill., racer secured his first national championship when Landon Stallbaumer fell in early rounds of competition in the NHRA Toyota Nationals this past weekend in Las Vegas.
Bogacki, who finished 3rd in the national standings in both Super Comp and Super Gas last year and was the Super Comp runner up in 2010, racked up 676 points that included a pair of wins as he advanced to five final rounds in his eight scored events in the 2013 season. Wins at the Summit Racing Equipment NHRA Nationals in Norwalk, Ohio, and at the Lucas Oil divisional event at Route 66 Raceway outside Chicago highlighted his season along with runner up finishes at divisional events in Phoenix, Cordova, Ill., and Bowling Green, Ky.
Bogacki currently leads the Pacific Division Super Comp points chase with one event remaining at The Strip at Las Vegas Motor Speedway this coming weekend. Thomas Bayer and Matt Constant are both in the chase but need to win the event to overtake him. Bayer could pass Bogacki with a runner-up finish if the field size surpasses the 128 mark, adding an additional round of competition.
Bogacki was a double up division champion in 2010 when he won both the Super Comp and Stock Lucas Oil Championships in the NHRA Southeast Division.




LODRS: 10 Most Recent Entries [ top ]

May 20- LODRS 3-1 - Top Alcohol Funny Car Final, Round 2 Eliminations
May 20- LODRS 7-3 - W.W. Williams Super Comp Shootout Final, Round 3 Eliminations
May 20- LODRS 7-3 - W.W. Williams Super Comp Shootout Round 2 Eliminations
May 20- LODRS 7-3 - W.W. Williams Super Comp Shootout Round 1 Eliminations
May 20- LODRS 7-3 - Competition Eliminator Final, Round 3 Eliminations
May 20- LODRS 7-3 - Super Stock Final, Round 6 Eliminations
May 20- LODRS 7-3 - Stock Eliminator Final, Round 7 Eliminations
May 20- LODRS 7-3 - Super Comp Final, Round 7 Eliminations
May 20- LODRS 7-3 - Super Gas Final, Round 6 Eliminations
May 20- LODRS 7-3 - Super Street Final, Round 5 Eliminations