Tue, 29 Oct 2013, 19:07 PM



Hail To The Champions



By Bob Frey


Photo copyright 2013 Auto Imagery, Inc.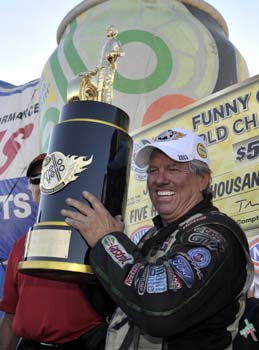 John Force celebrates 16th Championship.
Ok, so the season isn't officially over but there were five championships decided at the
NHRA Toyota Nationals
at the
Strip at Las Vegas Motor Speedway
on Sunday and that means the end is near. At least the end of the drag racing season if nothing else.
John Force
completed an unbelievable comeback or turnaround or whatever you want to call it to win his sixteenth Funny Car title and
Matt Smith
continued to run just as well as John did down the stretch as he wrapped up his second
Mello Yello Championship
. Meanwhile, in the
Lucas Oil
ranks,
Jim Whiteley
and
Frank Manzo
repeated their 2012 championships and even though he wasn't racing in Vegas when his closest rivals didn't earn enough points to pass him
Luke Bogacki
grabbed his first, the Super Comp crown, to run the total to five championships that are already in the books. Four of those drivers punctuated their championships by winning the race with only Luke clinching his by staying home. What a deal!
John Force has done a lot of amazing things in his career and that's a major understatement, but the way he secured his latest championship was impressive even by his standards. Coming into the "Countdown" John was in fourth place and wasn't considered a real threat, or at least not the main threat to the championship. But as we've seen over the years you can never count him out and he put together one of the best streaks of his career, beat his daughter in the final round on Sunday and added another title to his already impressive résumé. John struggled a bit in Charlotte, the first race in the "Countdown," and then went to four consecutive final rounds and won three races in a row to do what nobody thought was possible and that is lock up the championship before Pomona. Did you know that the last time John went to four consecutive final rounds was in 2007? And did you know that the last time he won three consecutive races was all the way back in 2005 and the last time he won back-to-back races from the number one spot was in 2002? He switched crew chiefs around earlier this year, added Jimmy Prock to his team, and the rest, as they say, is history, and history will show that he is now a sixteen-time Funny Car Champion..John served notice that he would be tough to beat when he set the track record in Las Vegas and qualified number one in the field. Did you know that coming on the heels of his top spot in Reading two weeks ago it marked the first time since early in the 2011 season that John had qualified number one at back-to-back races? From that point on he went out and dominated on race day with only a minor glitch in the semi-finals when his tire-smoking 5.86 was good enough to beat Alexis DeJoria. After that he met his daughter, Courtney, in the final round and the two put on a good show with John's 4.062 edging Courtney's 4.085 and, as the expression goes, the crowd went wild..Maybe just as surprising as John's stretch drive was the fact that the teams from Don Schumacher Racing didn't really mount a charge or a threat to John once the "Countdown" began. I know everyone goes into slumps but I don't think anyone expected Don's teams to all slump at the same time. Matt Hagan, Jack Beckman, Ron Capps and Johnny Gray all have good cars and good teams, but in the end it was "The Champ" who had the best of everything and now he has another crown to add to his collection..Even though she lost to her dad in the final Courtney did manage to win three rounds and that gives her twenty-eight for the year. Did you know that she won twenty-five in her rookie season last year? That's progress, isn't it?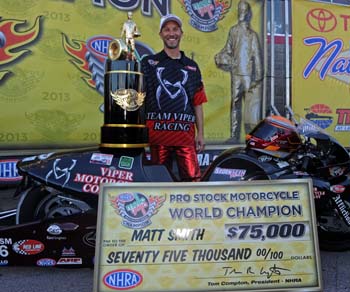 Matt Smith celebrates Championship.
Matt Smith made it two championships for himself in the Pro Stock Motorcycle class and two for the Smith family in 2013 when he won the race and eliminated everyone else from title contention. That means that Matt and his father, Rickie Smith, are both 2013 World Champions. Congratulations!... Just like the Funny Car class Matt got hot when he needed to and none of his main competitors were able to put two good races back-to-back and that combination paved the way for him to win his second Mello Yello championship. Did you know that the last time Matt went to three consecutive final rounds was in 2007 when he did it twice? And did you know that he had never been to four finals in a row like he did this year and he had never won three in a row like he did in the "Countdown" this year? With that as a background it's easy to see why he is the champion, and I'm sure he's glad to get it all over with before Pomona, and so is Angie I'm sure..When Matt won he joined a very select group of racers who have won three consecutive bike races. Did you know that in the history of the class, and that includes 354 races, Matt is just the tenth rider to win three straight? Matt's win was the 17th of his career and that moves him past Antron Brown and into seventh place on the all-time motorcycle win list. For the record did you know that Matt won his seventeen races in 162 events while Antron won his in 146 races?...In that same line of thought did you know that Antron's Top Fuel win was the 25th of his career and that ties him with Gary Scelzi for eighth place on the dragster list? And to keep everything straight did you know that Antron won his in 139 events while Gary won his in 113?...The Arana family ran well all year but they weren't able to get the job done in the "Countdown" for some strange reason. In Las Vegas all three qualified in the top five spots, and did you know that was the first time this year they did that? Still, by the end of round one they were all on the sidelines. Hector Sr. slowed to a time of 9.88, Hector Jr. never got off the starting line and Adam fouled out. I mentioned last week that if they can get off the line in good shape the Arana's can beat anyone, but as we've seen this year that's a very big "if" isn't it?...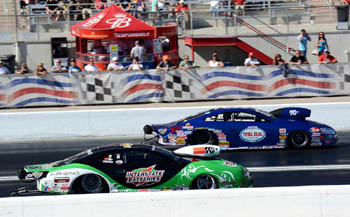 Mike Edwards vs. Kurt Johnson
Photo copyright 2013 Bob Johnson Photography
The Pro Stock title didn't get wrapped up in Las Vegas but it sure did leave us with a point's leader who will be hard to catch in Pomona. Jeg Coughlin went to the semi-final round in Las Vegas while his two closest challengers, Mike Edwards and Jason Line, lost earlier. Mike lost in round one on a holeshot to Kurt Johnson and Jason on a holeshot to Shane Gray in round two. The combination of those circumstances have led to Jeg enjoying a solid seventy-one point lead over Jason with Mike another nine points back. That's more than a three round advantage and while you can make up that many points at a race it's not easy...Shane Gray won the race, his first of the year, and the 190th for Chevrolet in Pro Stock. Did you know that Shane becomes the twenty-third driver to win an NHRA national event in Pro Stock while driving a Chevrolet? Ironically Jeg leads the way with thirty-one wins and Kurt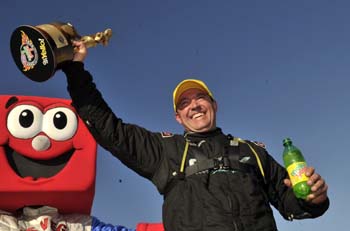 Shane Gray celebrates win.
Johnson is second with twenty-nine. Shane joins a group of six others who have won just one race for the "bowtie brigade" and among that group are
Richie Zul
,
Jerry Eckman
and
Joe Lepone
.With the announcement of the partnership between
Gray Motorsports
and
Cagnazzi Racing
for 2014 I'm pretty sure that Shane will add to that total in the coming season. He has had a good car all year and could have a great one next year..The Gray family made more news this weekend when they announced that
Tommy Johnson Jr.
would drive the "charity car" in 2014. It will be nice to have TJ back behind the wheel and I'll bet it will be the longest off-season in his career as he looks forward to returning to action..When
Vincent Nobile
beat
Greg Anderson
in round one he ran his record against the
Summit Racing
driver to 7-5.
Did you know
that of all the drivers Greg has faced in his career, and there are sixty-seven of them, Vincent is one of just three to have a winning record against him? The other two are
Taylor Lastor
(2-1) and
Jamie Yates
(1-0).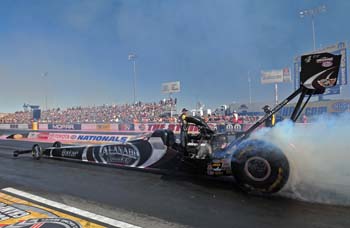 Shawn Langdon
Shawn Langdon is probably going to be the 2014 Top Fuel champ. I say "probably" because he could get lost on the way to Pomona in two weeks, miss the race and Antron Brown could win it and get the championship. Barring that, or any other calamity or unexpected event, Shawn will take his Al Anabi car to the title giving Alan Johnson another championship. As good as John Force is as a driver that's how good Alan Johnson is as a tuner. Plus, he always gets good people and excellent crew chiefs and that is the key to his success. Well, one of the keys. The Al Anabi team has been consistent all year long, making nine final rounds, winning six races and only losing in the first round four times and that's why they will be the champions (unless of course he gets lost). Did you know that Shawn's closest competitors struggled in the early rounds this year? Doug Kalitta has dropped six opening round races, including Sunday, and Antron has lost ten and has a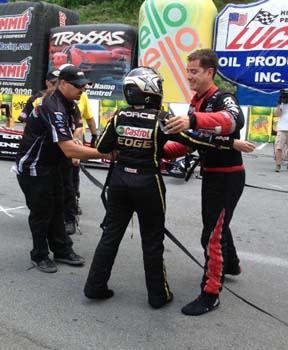 Brittany Force and Spencer Massey
Photo copyright 2013 John Force Racing
DNQ thrown in there? That's a whole pile of points to leave on the table, a whole pile!!....
Brittany Force
checked something off of her "to do" list when she beat
Spencer Massey
in round one and all but eliminated him from title contention.
Did you know
that she had been 0 - 4 against Spencer and that was the most losses for her against any driver in her rookie season?
Jim Whiteley and Frank Manzo have been the class of the field this year in their respective categories. Jim wrapped up his second title by beating his arch-rival, Chris Demke, in the final round. Jim did everything but qualify number one (Demke did that) on his way to the twenty-third win in his career. Did you know that those wins came in just sixty-five races? That means he won over 35% of the races he entered. By comparison John Force won his 138 races in 633 events for a 22% winning number. Hey, any time you can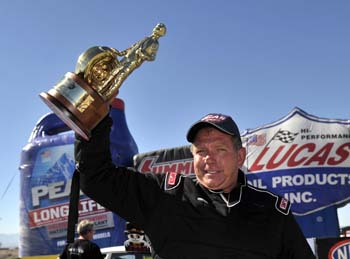 Jim Whiteley celebrates championship.
be compared to John Force it has to be a good thing, and when your numbers are comparable or better well, that's great!....But as good as those two are, and they are good, they pale in comparison to Frank who just won his 103
rd
race in Top Alcohol Funny Car and he did it in 252 races, which means he won over 40% of the races he entered. Amazing, isn't it? And if anyone asks you who has won the most NHRA national championships remember it could be a trick question. The answer is not John Force it's Frank Manzo. Frank had never raced at the "Strip" before so he adds another venue to his list of winning tracks.
Did you know
that makes twenty-two different national events that Frank has won over the course of his career?...By my calculations Luke Bogacki has put enough points on the board that nobody can catch him so I'm saying that he is the 2013 national champ in Super Comp even though it hasn't been officially announced by anyone (other than me) yet. Math never was my strong suit but he has 676 points and with the races that remain I believe that's enough to make him the champ..A special tip of the hat to
Terry Keddington
who won his first NHRA national event when he beat
Kevin Kleineweber
in the Super Gas final.
Did you know
that Terry started eliminations with a perfect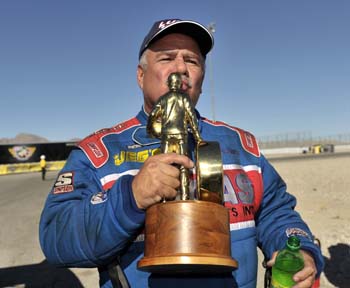 Frank Manzo celebrates championship.
run, a 10.050 with a .000 reaction time in round one? Now that's the way to start your day, isn't it?
One little thing before I go. You may have heard that a racer by the name of Darrell Wallace Jr. won a race this week. Well, it pains me to say it but NASCAR will probably get more publicity from the fact that he won a truck race, a truck race, than NHRA did for Antron Brown winning the Top Fuel championship last year. Already media outlets are touting the significance of the Wallace win, the first for a "black driver" (their words, not mine) on NASCAR's national level in fifty years. They are also showing how it proves the success of NASCAR's "diversity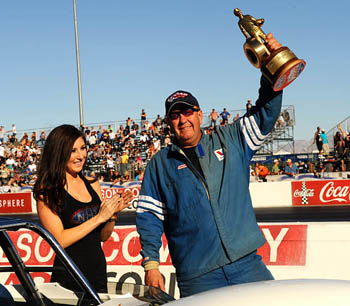 Terry Keddington won his first National event.
Photo copyright 2013 Bob Johnson Photography
program" that encourages women and minorities to go racing. Things like that are common place on the NHRA tour, so much so that we almost take it for granted, and yet NASCAR gets major coverage for the Wallace win. By the way, did I mention that it was a truck race? Anyway, I just had to get that off my chest..On the bright side of things John Force's win did make
ESPN's
morning
Sports Center
as one of their top ten plays of the weekend, and I promise not to let the fact that is was number ten bother me. Much!




NHRA: 10 Most Recent Entries [ top ]

Apr 24- CHARLOTTE 1 - Steve Torrence Enjoying Four-Wide Success Heading to NGK Spark Plugs NHRA Four-Wide Nationals
Apr 24- CHARLOTTE 1 - Fact Sheet
Apr 24- Kalitta Motorsports Welcomes NASCAR Stars to the SealMaster Track Walk in Charlotte
Apr 24- zMAX Dragway Celebrates 10th Anniversary
Apr 24- CHARLOTTE 1 - NGK Spark Plugs NHRA Four-Wide Nationals Brings 40,000 Horsepower Thrill Show to zMAX Dragway
Apr 23- HOUSTON - Lucas Oil Drag Racing Series Wrap Up The NHRA Lucas Oil Drag Racing Series Wrap Up
Apr 23- CHARLOTTE 1 - J.R. Todd Aiming for Two Four-Wide Racing Wins in 2018
Apr 23- Mid America Dragway Joins NHRA Member Track Network
Apr 23- HOUSTON - Special Awards
Apr 23- HOUSTON - Sunday Video