Wed, 23 Oct 2013, 15:21 PM



Kinsley's Fourth Win Rocks North Star Dragway



By Chris Graves


Photo copyright 2013 Max Cackle Photography





DENTON, Texas --
The Painless Performance Outlaw Fuel Altered Association held its eighth event of the nine race 2013 season at North Star Dragway in Denton, Texas, headlining the Fall Nostalgia Nationals on October 5th. Entering this event, two time defending series Champion Jimmy Jones and the "Texas Tremor" team held the points lead by slim eight points over Kebin Kinsley in the Roger Hennen Motorsports "Nitro Junkie" entry. Mary Reep also stood a chance just twenty two points out of the lead in her "Grim Reeper" altered. With fifteen cars on the property, the title contenders would have their work cut out as each round would play a crucial hand in the hunt for the Championship.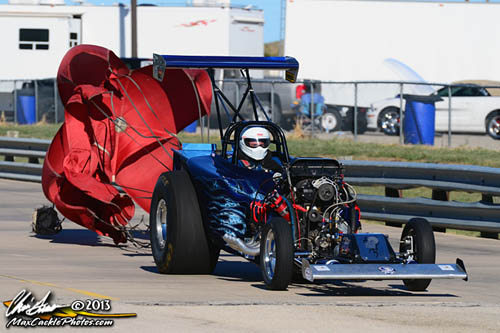 Dodad Burton
A wicked cold front arrived later than expected and drenched the NSD facility right as the first round of qualifying was set to begin. With a drop of over twenty degrees, the sun setting and continued drizzle into the late evening hours, North Star Dragway had no choice but to postpone the event one day. An incredible forecast of sunny skies and temperatures in the high 70's welcomed the OFAA racers and fans on Sunday, October 6th as teams filled the morning sky with nitro fumes on their pre-race warm-ups.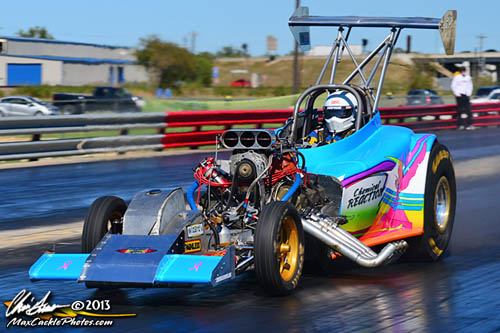 Doyle Smith
The first pair out was a rough one for both DoDad Burton and Nick Poloson. Burton shook and spun the tires off the line while Poloson took an oil bath at the top end on a 4.08 at 169 mph. After the clean-up, some teams fought tricky track conditions including Bobby Marriott who shook so hard he rattled the trunk body panels off his newly re-built "Shockwave" fuel altered. Donny McSwain blasted down the eighth mile to a strong 3.90 at 175 mph in the "Wild One" entry tuned by Kenny Trumble. Mary Reep posted a 3.97, Kebin Kinsley laid down a 4.09 but Doyle Smith made the biggest impression with his career best, a pedaling 4.10 at 146 mph in the "Chemical Reaction" nitro burner.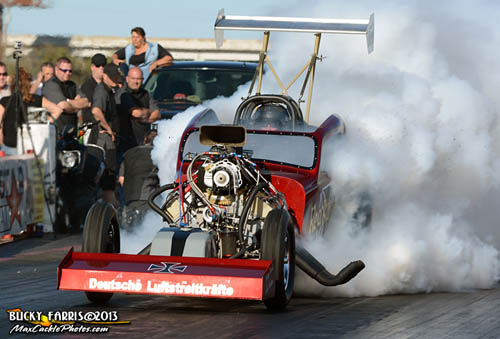 John Hale
In the final qualifying round, Bobby Marriott was not qualified as his team fired the car in the first pair out. Marriott secured his spot in the field with a clean 4.06 at 169 mph, good for the number three spot. Terry Brian also laid down a 4.06 in the "II N'Tense" entry to qualify in the top half of the field. Raymond Dawson's "High Octane" altered stepped up to a 4.20 at 163 mph and Jimmy Jones pedaled his way to a 4.25 at 182 mph as qualifying concluded. Clint Cross's "Crossways", John Hale in Paul Gordon's "Red Baron" and John Broussard's "Purple Haze" feel short of the twelve car bump spot. Mary Reep's converted 4.021 held on to qualify in the top spot heading into eliminations, as she collected a valuable eight points on Jones as he qualified number nine.
Final Qualifying Order:
1. Mary Reep (Austin, TX) - 4.021 (3.978) @ 151
2. Terry Brian (New London, TX) - 4.064 @ 178
3. Bobby Marriott (Pilot Point, TX) - 4.065 @ 169
4. Nick Poloson (San Antonio, TX) - 4.08 @ 169
5. Donny McSwain (Rockwall, TX) - 4.093 (3.906) @ 175
6. Kebin Kinsley (Arlington, TX) - 4.096 @ 170
7. Doyle Smith (Paris, TX) - 4.10 @ 146
8. Raymond Dawson (Nevada, TX) - 4.20 @ 163
9. Jimmy Jones (Cleburne, Texas) - 4.25 @ 182
10. DoDad Burton (Tyler, Texas) - 4.32 @ 162
11. Howard Farris (Springtown, TX) - 4.48 @ 116
12. Mark Bowman (Oklahoma City, OK) - 4.68 @ 166
13. Clint Cross (Crossroads, TX) - 5.03 @ 95
14. John Hale (Arlington, TX) - 6.09 @ 95
15. John Broussard (Lake Charles, LA) - 6.98 @ 72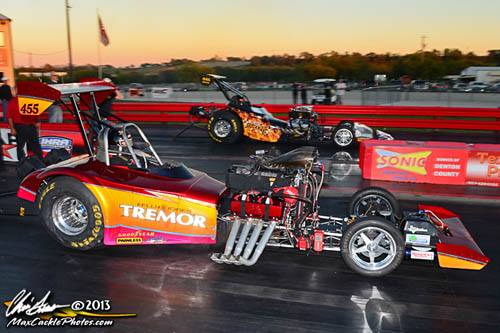 Jimmy Jones vs. Bobby Marriott in round one.
John Broussard was inserted as an alternate for Nick Poloson as the ladder was set for the opening round of eliminations. The two quickest winners from this round would advance to the final. The opening pair was a powerhouse matchup between points leader Jimmy Jones and the always tough Bobby Marriott. After side by side burnouts, the crew members pulled the drivers to the line. Jones blasted off the line first and never looked back, clicking off a stellar 3.86 at 187 mph to Marriott's 4.40 at 182 mph.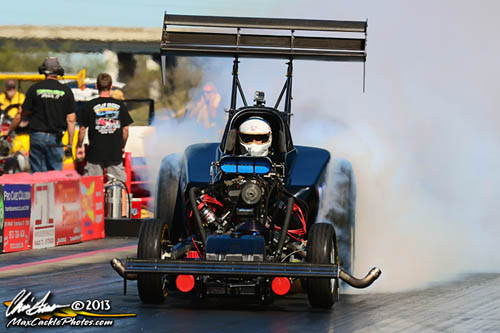 Kebin Kinsley
Donny McSwain was out next in a competition bye run. The "Wild One" entry launched hard and clicked off a 3.97 at 179 mph to take the round win. Next out was Doyle Smith up against Mary Reep. Reep had to win here to keep her chances alive, while Smith was carrying momentum from his career best pass in qualifying. Unfortunately for Reep, this one ended on the starting line as she went red and tossed away a 3.93 at 186 mph, to Smith's 5.01 at 100 mph as Smith earned his second straight first round win of the season. Reep had her hands full at the top end when the throttle pedal stick on the cross bar and Reep did a masterful job of keeping the car on all four wheels and actually made the turn at the top end of the track despite exiting multiple rods from the engine block. A wild ride for sure as Reep climbed out under her own power and uninjured.
In the next pair, DoDad Burton and John Broussard rolled to the line. Burton launched off the line to soon, while Broussard never left the line at all. After playing the first or worst rule, Broussard was credited with the win as eliminations continued. Kebin Kinsley and Mark Bowman were out next as Kinsley was in a must win situation looking to Bowman's Oklahoma based entry. Kinsley was fired up and on his game, leaving first and posting a jaw dropping 3.77 at 201 mph in the "Nitro Junkie" to earn the much needed points and guarantee himself a spot in the final round with one pair to go.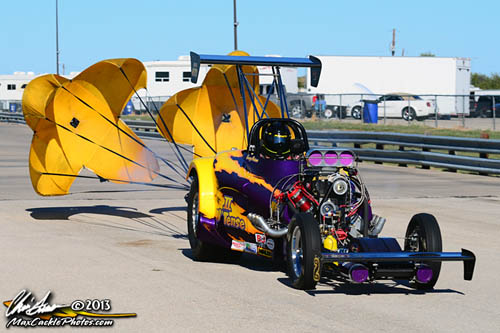 Terry Brian
Terry Brian and Raymond Dawson fired up their blown alcohol powered altereds, both knew they had to win and beat Jones' 3.86 to advance to the final. Brian was off the line first with a huge starting line advantage and earned the round win with a 4.12 at 183 mph. Dawson lost the round and was sleeping on the line, but posted a career best 3.98 at 173 mph to place the "High Octane" team and crew chief Danny Wright into the twentieth and final spot of the famed OFAA 3 Second Club.
Congratulations to Dawson on grabbing the last spot of this prestigious group as the real battle was still yet to be settled between Kinsley and Jones. The number one and two in points, blown alcohol vs. blown nitro, ready to duke it out in a huge final round pairing with major points implications.
First Round Results:
(W) Jimmy Jones (.105 rt) 3.86 @ 187 mph vs. (L) Bobby Marriott (.091 rt) 4.40 @ 182 mph
(W) Donny McSwain (.192 rt) 3.97 @ 179 mph vs. (L) Bye Run
(W) Doyle Smith (.023 rt) 5.01 @ 100 mph vs. (L) Mary Reep (-.258 rt) 3.93 @ 186 mph
(W) John Broussard (24.60 rt) No Time vs. (L) DoDad Burton (-.397 rt) 5.51 @ 93 mph
(W) Kebin Kinsley (.053 rt) 3.77 @ 201 mph vs. (L) Mark Bowman (.087 rt) 7.48 @ 58 mph
(W) Terry Brian (.061 rt) 4.12 @ 183 mph vs. (L) Raymond Dawson (.234 rt) 3.98 @ 173 mph

By now the sun had set and the temperature was cooling off quickly as night set in to close a long weekend in Denton, Texas. Several fans stuck around to watch this epic battle as the cars were brought to life and rolled through the water box. Jones crept into the beams and brought up the rpms on his blown alcohol entry while Kinsley crept forward in his flame belching nitro burner. At the flash of amber, Jones was out of the gate first with a .011 reaction time but soon went into tire shake and was forced to lift. Kinsley blasted by with header flames high in the air and ran it out the back door to a 3.76 at 200 mph to claim the Roger Hennen Motorsports team's fourth OFAA event win of the season!
Final Round Results:
(W) Kebin Kinsley (.071 rt) 3.76 @ 200 mph vs. (L) Jimmy Jones (.011 rt) 6.38 @ 69 mph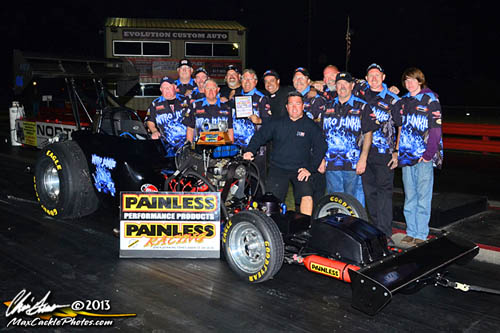 Kebin Kinsley celebrates win.
With this win, Kinsley now trails Jones by just two points in the Painless Performance Products point standings with just one event remaining on the 2013 tour. The Champion will be crowned at Texas Raceway in Kennedale, Texas on Friday, October 25th. It's the final race, the title is on the line, the bragging rights are up for grabs, you don't want to miss the OFAA Finals. The OFAA would like to thanks Painless Performance Products, Good Vibrations Motorsports, North Texas Diesel, 3rd Coast Commissioning Services, Wizard's Warehouse and Competition Sales of Dallas for their support this season. For more information visit
www.ofaa.net
.




Drag News: 10 Most Recent Entries [ top ]

Apr 22- K&N Spring Fling Million Final Day Results
Apr 21- K&N Spring Fling Million Friday Results
Apr 20- K&N Spring Fling Million– Thursday Results
Apr 19- K&N Spring Fling Million- Wednesday Results
Apr 18- Buckeye S/SS @ National Trail April 28th
Apr 18- Don "the Snake" Prudhomme Returns To Baja Competition After 50 Years
Apr 18- K&N Spring Fling Million Tuesday Results
Apr 17- K&N Spring Fling Million Pre-Race
Apr 12- Summit Racing Equipment is Newest Sponsor of Midwest Junior Super Series
Apr 12- Summit Racing Named Official MWPMS Sponsor and Event Title Rights Holder