Wed, 23 Oct 2013, 15:17 PM



Breiten, Godwin, Walden, Jarvis & Erwin Win SHRA Finals



By Chris Graves


Photo copyright 2013 Max Cackle Photography





DENTON, Texas --
The Southwest Heritage Racing Association presented by MalloryPrint.com held its sixth and final event of the season at North Star Dragway in Denton, Texas. With a heavy amount of afternoon rain and temperatures dipping into the upper forties behind a cold front that blew through Saturday evening, the decision was made by NSD to postpone the event to Sunday, October 6th where sunny skies and temperatures in the high 70's were expected. That forecast came true and the SHRA Finals were concluded under blue skies and great racing conditions for the teams that were able to stay for Sunday's festivities. With two class Championships still up for grabs (Nostalgia Bracket & NE 2) the pressure was on in this final event of the season to determine inaugural SHRA class Championship winners, while the rest of the racers were looking to play spoiler and earn themselves title of SHRA Finals event winner to end the season on a high note.
Hot Rod Bracket Class Champion Bill Cogswell
HOT ROD BRACKET RESULTS:
In the no electronics Hot Rod class, Bill Cogswell had the Championship locked up heading into Denton. Cogswell was unable to attend the postponed event which was good news to the competition as Cogswell had won both previous events this season in his dominating 1971 Ford Pinto. As the eliminations entered the late rounds, Brad Thompson and Charles Powell were the first pair of cars to kick off the semi-final round. Powell left he line too soon with a -.146 reaction time as Thompson took the win light in his 1966 Pontiac Tempest with a 6.55 at 104 mph. Chris Jarvis benefitted from the competition bye run in his flamed silver 1967 Camaro posting a 6.45 at 108 mph to move into his first SHRA final round.
Hot Rod Bracket Event Winner Chris Jarvis
Thompson and Jarvis rolled through the water box and laid down big smoky burnouts, both searching for their first wins and hoping to take home the glory of winning the SHRA finals. Jarvis dialed a 6.40 and took a slight starting line advantage. Thompson dialed a 6.55 and the cars were side by side all the way through the eighth mile. At the stripe, Jarvis lit the scoreboards with a winning 6.44 at 107 mph to Thompson's break out 6.50 at 102 mph. Jarvis' crew erupted in celebration on the starting line and packed into the winners circle to celebrate his first SHRA win. Congratulations to Chris Jarvis and team on a great performance in Denton and with his win Jarvis moved up to finish second in Hot Rod points standings. Congratulations to Bill Cogswell on winning the inaugural SHRA Hot Rod class Championship!
Hot Rod Bracket Final Round Results:
(W) Chris Jarvis (.100 rt) (6.40 Dial) 6.446 @ 107 vs. (L) Brad Thompson (.122 rt) (6.55 Dial) 6.50 @ 102
NOSTALGIA BRACKET RESULTS:
The Nostalgia Bracket class provided the most heated racing in the bracket program of the SHRA Finals. Sharon Godwin and James Armstrong came into the event tied for first with another two way tie for second, followed by a three way tie for third, as numerous drivers had a chance at the Championship run. James Armstrong and the Leprechaun Racing team's chances ended early as they discovered a broken steering box in the pits before time trials, which kept them from making the call. After two time trials the remaining contenders prepared for a very important opening round of eliminations.
Sharon Godwin
In an unexpected turn of events, Sharon Godwin and Jimmy Haar, both top runners in the points, were defeated in the opening round. Godwin still held the lead as elimination rounds continued but her lead was quickly dwindling as John Erwin racked up round wins in his 1969 Camaro. Erwin came into the event tied for third in points and as the ladder came into the late rounds, Erwin had a chance to claim the points lead with a win in the semi-final round against Kim Humphrey.
Art Howard
Humphrey dialed a 5.37 to Erwin's 5.47. This one ended on the starting line when Humphrey went -.012 red allowing John Erwin to cruise to the round win and in turn claiming the points lead from Godwin, locking in the Nostalgia Bracket Championship! Art Howard advanced to the semis in his Chevy Nova and benefitted from the competition bye run to meet Erwin in the final round.
Nostalgia Bracket Event Winner & Class Champion John Erwin
Erwin stuck with his 5.47 dial in for the final ready to take on Howard who dialed a 6.07. The drivers were almost identical off the starting line, Erwin with a slight advantage. At the stripe, Howard went 6.08 on his 6.07 but Erwin was better with a 5.476 on his 5.47 and that doubled up his efforts as he was crowed not only class Champion but also the event winner of the SHRA Finals! Congratulations to John Erwin and company on an impressive outing at North Star Dragway!
Nostalgia Bracket Final Round Results:
(W) John Erwin (.031 rt) (5.47 Dial) 5.476 @ 126 vs. (L) Art Howard (.037 rt) (6.07 Dial) 6.08 @ 112
NOSTALGIA ELIMINATOR 3 RESULTS: The rain delayed Sunday event took its toll on the Nostalgia Eliminator car count, but the teams who were able to stay another day provided some great racing at the SHRA Finals. In the 5.50 index Nostalgia Eliminator 3 class, Doug Morrison entered the event with a commanding lead in the points standings, but second through fifth was up for grabs as the top contenders were ready to battle for position in the top three which would earn SHRA year-end payout monies. Ron Muncy held the number two spot, but was sidelined from competing after a testing accident on Friday night where Muncy's injected altered went sky high off the starting line after his wheelie bar broke. The impact when the car came back to Earth broke many parts and bent the frame on Muncy's beautiful machine. An unfortunate result for Muncy and company who looked to finish the season with a win in NE 3.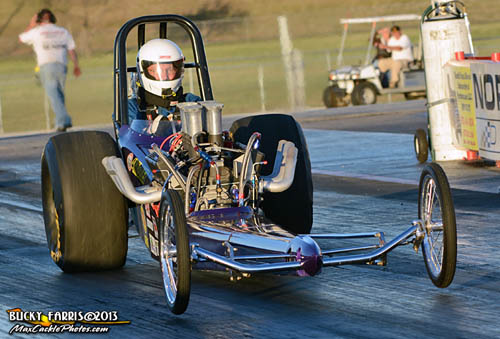 Ron Walden
With Muncy out, Ron Walden and Dusty Rose had a chance to climb the charts. The nostalgia eliminator teams were welcomed with incredible weather conditions and were running in better air than they had all season, which resulted in a lot of runs under the 5.50 index during time trials. This created some entertaining racing as drivers adjusted their tune-ups and strategies to run the number. After two qualifying sessions, Doug Morrison ended up claiming his first number one qualifying position of the season with a 5.66 at 96 mph.
Nostalgia Eliminator 3 Final Qualifying Order:
1) Doug Morrison (Gainesville, TX) - 5.66 @ 96
2) Bobby Reed (Dallas, TX) - 5.94 @ 110
3) Dusty Rose (Moore, OK) - 5.48 @ 124
4) Ron Walden (Kilgore, TX) - 5.43 @ 123
5) Gary Mitchell (Dallas, TX) - 5.39 @ 108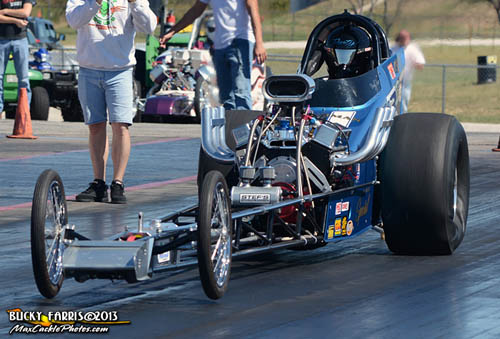 Dusty Rose
Ron Walden, Dusty Rose and Doug Morrison all earned first round wins which brought them into the semi-final round. Dusty Rose lined up with Doug Morrison in a very close drag race at the finish line. Rose blasted off the line in his "Foggy Mountain Special" front engine dragster with a .405 reaction time and posted a 5.515 at 111 mph to take out the Champion, as Morrison's 5.516 at 106 mph amazingly came up short at the stripe (margin of victory = .018). Ron Walden benefitted from the competition bye run and clicked off a 5.47 at 124 mph to advance to his first NE 3 final round to take on fellow first time finalist Rose.
NE3 Class Champion Doug Morrison
By this point, Walden had clinched the number two points spot in the standings and Rose had now passed Muncy as well, clinching the number three points position. This race was for the SHRA Finals title and the first taste of NE 3 victory for one of these drivers. Dusty Rose was off the line with a strong .407 reaction time, but was left on by Walden's incredible .402 light. The front engine dragsters were side by side at half-track and both drivers were off the throttle just before the finish line, making sure not to break out. Walden lit the scoreboards with a winning 5.59 at 104 mph to Rose' close 5.60 at 106 mph. This was the closest race of the class with a .011 margin of victory at the stripe. Walden's very successful effort at the SHRA Finals earned him his first NE 3 victory and the respectable finishing position of number two in class points. Congratulations to Ron Walden and his team on their win!
NE3 Event Winner Ron Walden
Nostalgia Eliminator 3 Round 1 Eliminations:
(W) Ron Walden (.261 rt) 5.90 @ 87 mph vs. (L) Bobby Reed (Foul - No Time)
(W) Dusty Rose (.434 rt) 5.64 @ 106 mph vs. (L) Gary Mitchell (.545 rt) 5.47 @ 107 mph
(W) Doug Morrison (.788 rt) 5.64 @ 101 mph vs. (L) Competition Bye Run
Nostalgia Eliminator 3 Semi-Final Eliminations:
(W) Dusty Rose (.405 rt) 5.515 @ 111 mph vs. (L) Doug Morrison (.422 rt) 5.516 @ 106 mph
(W) Ron Walden (.508 rt) 5.47 @ 124 mph vs. (L) Competition Bye Run
Nostalgia Eliminator 3 Final Round Eliminations:
(W) Ron Walden (.402 rt) 5.59 @ 104 mph vs. (L) Dusty Rose (.407 rt) 5.60 @ 106 mph
NOSTALGIA ELIMINATOR 2 RESULTS:
In the 5.00 Index Nostalgia Eliminator 2 class, Bee Godwin entered the final event of the season in the points lead, with Ross Laird in second and Thomas Hixson in third. The NE 2 teams were also running quicker than they had all season, adjusting their tune ups and playing the finish line game to ensure they didn't go under the index. After two qualifying sessions, Tommy Drozd clicked off a perfect 5.00 to qualify number one for the third time this season in his flamed altered. Points leader Bee Godwin claimed the number two spot with a strong 5.01 at 136 mph in his front engine dragster.
Nostalgia Eliminator 2 Final Qualifying Order:
1) Tommy Drozd (Lake Dallas, TX) - 5.00 @ 136
2) Bee Godwin (Iowa Park, TX) - 5.01 @ 136
3) Thomas Hixson (Keller, TX) - 5.14 @ 133
4) Mark Moore (Sanger, TX) - 5.53 @ 141
5) Ross Laird (Ardmore, OK) - 4.96 @ 127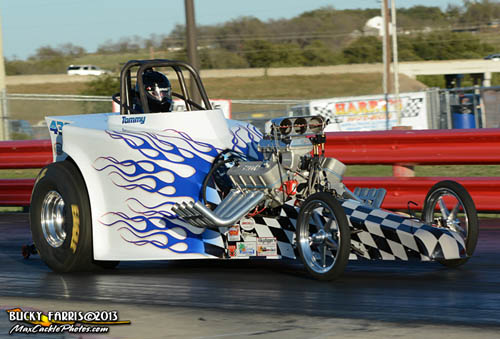 Tommy Drozd
Ross Laird, Bee Godwin and Tommy Drozd earned first round wins which advanced them to the semi-finals. Laird and Drozd met in the opening pair of the semis as Drozd had already moved into the third points position and looked to take out the number two runner. This one ended on the starting line as Drozd went -.218 red while Laird clicked off a 4.96 at 121 mph pass to advance to the team's second final round of the season. There they met Bee Godwin who advanced to the final on a competition bye run.
NE2 Event Winner & Class Champion Bee Godwin
The number one and two in points lined up to settle the final round of the season in NE 2 and claim the SHRA Finals victory. The pair of front engine dragsters crept into the stage beams and Laird was off the line first. By half-track Godwin had closed the gap and at the stripe Godwin took the win light with a 5.01 at 136 mph to Laird's 5.09 at 120 mph. Godwin capped off a Championship season with his second event win of the year at the SHRA Finals. With his wife and official back-up girl Sharon finishing second in Nostalgia Bracket and Bee claiming the NE 2 Championship, this husband and wife team enjoyed a very successful season with the SHRA, congratulations to the them!
Nostalgia Eliminator 2 Round 1 Eliminations:
(W) Ross Laird (.032 rt) 5.05 @ 123 mph vs. (L) Thomas Hixson (.003 rt) 5.13 @ 134 mph
(W) Bee Godwin (.024 rt) 5.07 @ 135 mph vs. (L) Mark Moore (-.370 rt) 5.00 @ 128 mph
(W) Tommy Drozd (.001 rt) 5.03 @ 136 mph vs. Competition Bye Run

Nostalgia Eliminator 2 Semi-Final Eliminations:
(W) Ross Laird (.011 rt) 4.96 @ 121 mph vs. (L) Tommy Drozd (-.218 rt) 6.45 @ 68 mph
(W) Bee Godwin (.634 rt) 12.16 @ 54 mph vs. (L) Competition Bye Run

Nostalgia Eliminator 2 Final Round Eliminations:
(W) Bee Godwin (.093 rt) 5.01 @ 136 mph vs. (L) Ross Laird (.039 rt) 5.09 @ 120 mph
NOSTALGIA ELIMINATOR 1 RESULTS:
In the 4.65 index Nostalgia Eliminator 1 class, Steve Matthews entered the final event with a commanding points lead over second place Chris Graves and third Steve Dunkin. The only female Nostalgia Eliminator competitor, Tera Wendland, entered Denton as the most recent NE 1 winner with her win in August at Ardmore Dragway in Oklahoma. After two sessions of qualifying, Wes Breiten in the "Bad O'Man" blown altered stood atop the qualifying charts with a "perfect" 4.65 at 149 mph with points leader Steve Matthews qualified second with a 4.72 at 148 mph in his blown front engine dragster.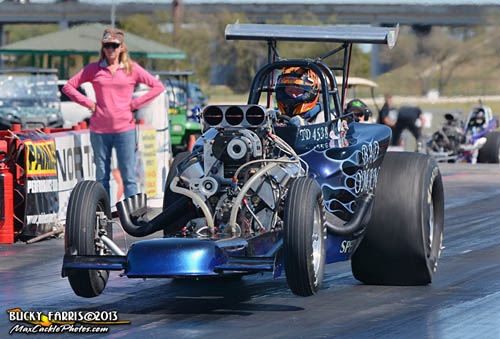 NE1 Wes Breiten
Nostalgia Eliminator 1 Final Qualifying Order:
1) Wes Breiten (Wolfe City, TX) - 4.65 @ 149
2) Steve Matthews (Marietta, OK) - 4.72 @ 148
3) Chris Graves (Carrollton, TX) - 4.99 @ 151
4) Tera Wendland (Commerce, TX) - 4.44 @ 158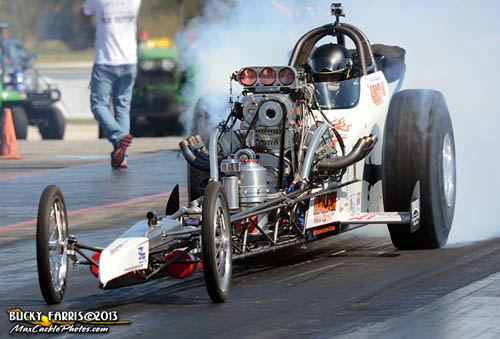 NE1 Tera Wendland
In the first round of eliminations, Tera Wendland wheeled the Walden Power Equipment blown slingshot dragster to a strong 4.66 at 133 mph to take out Steve Matthews' 4.79 at 148 mph. Number one qualifier Wes Breiten brought his altered to the line against Chris Graves' "Blown Inheritance" front engine dragster. Breiten left the line first and never looked back, posting a 4.90 at 115 mph to take out Graves' 6.35 at 70 mph. Wendland would be advancing to her second straight NE 1 final while Breiten hoped to claim his first SHRA win of the season in his first trip to the finals this season.
NE1 Event Winner Wes Breiten
Side by side burnouts kicked off the NE 1 final as Breiten and Wendland brought their blown machines into the stage beams. This one was decided on the starting line when Wendland left too soon with a -.020 light, as her 4.61 at 152 mph lost to Breiten's 4.71 at 145 mph. Breiten ended his season with a win at the SHRA Finals which jumped him up to finish number three in the overall standings. Congratulations to Wes and the "Bad O'Man" team on their win and Top 3 finish in the NE 1 class!
Nostalgia Eliminator 1 Round 1 Eliminations:
(W) Tera Wendland (.010 rt) 4.66 @ 133 mph vs. (L) Steve Matthews (.015 rt) 4.79 @ 148 mph
(W) Wes Breiten (.045 rt) 4.90 @ 115 mph vs. (L) Chris Graves (.057 rt) 6.35 @ 70 mph
Nostalgia Eliminator 1 Final Round Eliminations:
(W) Wes Breiten (.039 rt) 4.71 @ 145 mph vs. (L) Tera Wendland (-.020 rt) 4.61 @ 152 mph
NE1 Class Champion Steve Matthews
The SHRA would like to again congratulate Steve Matthews, Bee Godwin, Doug Morrison, Bill Cogswell and John Erwin on their inaugural SHRA Class Championships! A great showing of support from racers and fans alike proved a successful season for the freshman SHRA series, presented by Mallory Screen Print & Embroidery. The winter off season will be an active one for both SHRA staffers working hard to finalize plans for next season as well as racers, as rumors were floating throughout the pits with teams planning new engine combinations and hearing from new racers eager to join the fun in 2014.
A huge thank you goes out to SHRA sponsors Mallory Screen Print & Embroidery, Robinson Restoration & Service and Meyer Enterprises as well as the bonus program sponsors Good Vibrations Motorsports, Harry's Hot Rod Auto & Truck Accessories, Triple C Insurance Agency, North Texas Diesel Automotive & Performance, Competition Sales of Dallas and AlkyDigger.com. Without the support of these companies in our inaugural season, the SHRA wouldn't have been able to pay out over $20,000 in race and year end awards to the racers.
Each champion was presented with a custom designed Championship trophy at the SHRA Finals, supplied by series sponsor Meyer Enterprises. Additional awards including a custom designed and personalized SHRA Championship jacket for each of the five class Champions, supplied by Mallory Screen Print & Embroidery, as well as plaques for the top five nostalgia eliminator teams and several other goodies will be presented at the SHRA winter gathering on December 14th, held in conjunction with the annual Texas Drag Geezers Reunion at Trail Dust Steak House in Aubrey, Texas.
Thanks is also due to everyone on the SHRA staff including Chris Graves, Justin Haas, Maxwell McGlothin, Thomas Hixson, David Graves, Allen Meyer, Rick Huckabee and Darrell Walden for their hard work and dedication to preserving a fun and affordable way to continue and grow the greatest niche of the sport, nostalgia drag racing! For more information visit www.shraracing.com.




Drag News: 10 Most Recent Entries [ top ]

Apr 24- NHRA Heritage Series Heads To Wild Horse Pass
Apr 22- K&N Spring Fling Million Final Day Results
Apr 21- K&N Spring Fling Million Friday Results
Apr 20- K&N Spring Fling Million– Thursday Results
Apr 19- K&N Spring Fling Million- Wednesday Results
Apr 18- Buckeye S/SS @ National Trail April 28th
Apr 18- Don "the Snake" Prudhomme Returns To Baja Competition After 50 Years
Apr 18- K&N Spring Fling Million Tuesday Results
Apr 17- K&N Spring Fling Million Pre-Race
Apr 12- Summit Racing Equipment is Newest Sponsor of Midwest Junior Super Series