Tue, 22 Oct 2013, 20:31 PM



Farris Claims First OFAA Win In Over a Decade at Baytown



Courtesy of Chris Graves


Photo copyright 2013 Max Cackle Photography





BAYTOWN, Texas --
The Painless Performance Outlaw Fuel Altered Association rumbled through the gates of Royal Purple Raceway to headline the exhibition portion of the 2013 Super Chevy Show, on Saturday, September 28th. With a heated points battle shaping up as the season comes to a close, the pressure was on and each round was critical for three major players in the OFAA Championship hunt.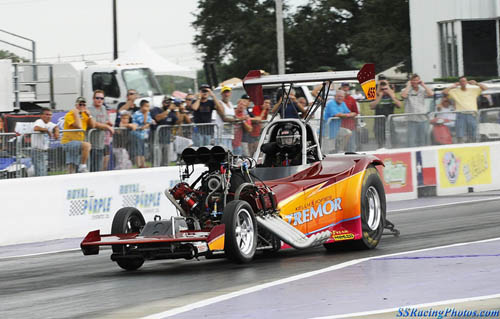 Jimmy Jones
Jimmy Jones, the two time defending series Champ, entered Baytown in the lead by just five points in his "Texas Tremor" blown alcohol entry, followed closely by the Hennen Motorsports "Nitro Junkie" team with the red hot Kebin Kinsley behind the wheel. Jones started off the 2013 season with a win at North Star Dragway, but since then hasn't seen the winners circle or even a final round, yet he continues to hold his points lead with consistency and a handful of round wins. Kinsley came from below the top ten in points early in the season to the number two position with an incredibly strong summer, winning the last three straight OFAA events heading into Baytown.
While Jones and Kinsley are sweating each other, Mary Reep is currently third in points chipping away at the boys at the top in her "Grim Reeper" entry from Austin, Texas. Reep has enjoyed a career year, claiming her first series win at Thunder Valley Raceway in April then posting a runner-up finish at the most recent event at Mo-Kan Dragway. Reep entered Baytown twenty five points behind Jones, a gap that could easily be closed with three events left on this year's tour.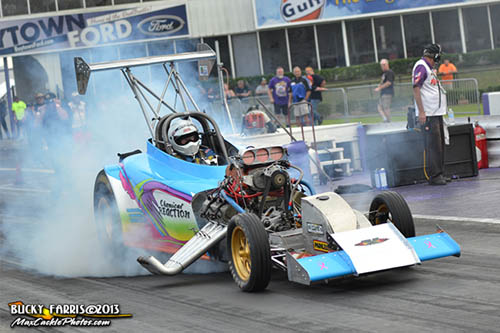 Doyle Smith
The call went out for the start of the first qualifying session in the early afternoon as the Super Chevy Series entered their exhibition portion of the event. With twelve cars on the property for the twelve car field, the pressure of making the show was off, but battles for points positions in the qualifying order kept things very interesting.
After two sessions were concluded, John Broussard and the Louisiana based "Purple Haze" team qualified in the top spot for the second time this season with a 4.02 elapsed time. Chris Trussell's "Assassin" nitro burner earned the number two spot with a 4.031 and Kebin Kinsley slid into the third spot with a 4.033. Terry Brian's 4.038 qualified him number four with points leader Jimmy Jones in fifth with a 4.05. Mark Bowman's "Blown Income" rounded out the top half of the field with a 4.06 as the OFAA teams laid down a plethora of 4.0's in qualifying, making a favorite hard to pick.

Final Qualifying Order:
1.  John Broussard (Lake Charles, LA) - 4.02
2.  Chris Trussell (Canton, TX) - 4.031
3.  Kebin Kinsley (Arlington, TX) - 4.033
4.  Terry Brian (New London, TX) - 4.038
5.  Jimmy Jones (Cleburne, TX) - 4.05
6.  Mark Bowman (Oklahoma City, OK) - 4.06
7.  Donny McSwain (Rockwall, TX) - 4.07
8.  Mary Reep (Austin, TX) - 4.08
9.  Howard Farris (Springtown, TX) - 4.17 (3.82)
10.  DoDad Burton (Tyler, TX) - 4.293
11.  Clint Cross (Crossroads, TX) - 4.299
12.  Doyle Smith (Paris, TX) - 9.30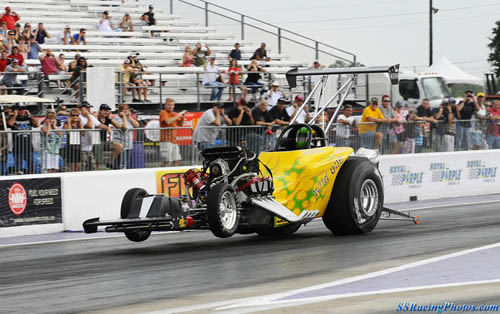 Donny McSwain
Donny McSwain's "Wild One" and John Broussard's "Purple Haze" kicked off the all-important first round of eliminations. The quickest two winners of this round advance to the final, so not only winning, but elapsed times, are critical. The cars were off the line together and side by side all the way through the eighth mile. McSwain lit the win light with a 3.92 at 184 mph to Broussard's close 3.97 at 183 mph in a great side by side three second opening pair.
Chris Trussell's "Assassin" lined up next against Mary Reep's "Grim Reeper" as Reep was looking at a must win round to keep her in contention for the Championship. Trussell was off the line with a great .047 reaction time, but got left on by Mary's quicker .038 and she never looked back, posting a stout 3.91 at 186 mph to take the win over Trussell's 4.06 at 182 mph.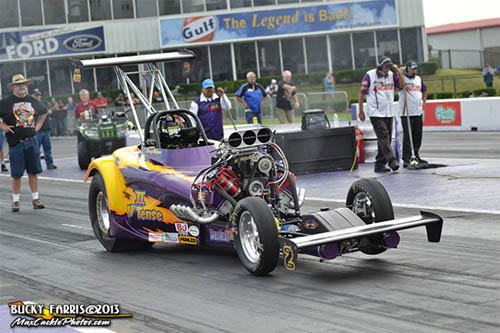 Terry Brian
DoDad Burton and Terry Brian were the next pair out in the battle of the east Texas based blown alcohol entries. Burton took a slight starting line advantage and laid down a nice 4.17 at 171 mph in the "Free Spirit" entry but it wasn't enough to hold off Terry Brian's quicker 4.09 at 179 mph as the "II N'Tense" team earned the round win.
As eliminations continued, a monster match-up between Howard Farris' "War Wagon" and Kebin Kinsley's "Nitro Junkie" rolled through the water box. Two of the nastiest behaving, noisiest and quickest cars on the planet crept into the beams as Kinsley was in desperate search of those Painless Performance points here. Kinsley took over a tenth of a second advantage off the starting line and posted an incredible 3.84 at 220 mph, a new OFAA series mile per hour record, but lost to Farris' jaw dropping 3.72 at 213 mph in one of the quickest and fastest side by side pass in OFAA history. This loss didn't help the cause, but would certainly not eliminate Kinsley from a Championship run.
Jimmy Jones had the best seat in the house to watch Farris take out Kinsley as he was in the water box ready to fire up in the next pair. Jones was set to face Clint Cross and the "Crossways" team but clutch issues kept them from making the call so Jones was set for an automatic win in this solo pass. His next goal was to run quicker than Mary Reep's 3.91 to try and secure his spot in the final round. The "Texas Tremor" machine blasted off the line and trucked right down broadway, posting a 3.93 at 185 mph, again coming up just short of a trip to the finals, but earning the round win points none the less.
Mark Bowman's "Blown Income" and Doyle Smith's "Chemical Reaction" were the final pair of the round. Bowman's car was leaking while backing up from the burnout and was forced to shut off, which sent Smith on a single as he earned his first OFAA round win with a solo 4.90 at 113 mph.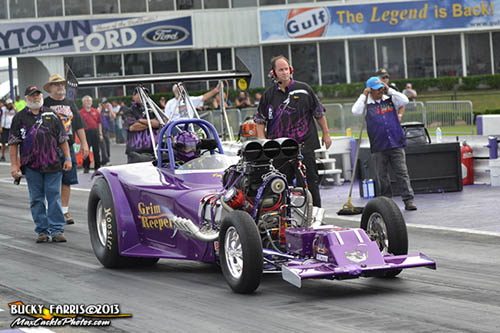 Mary Reep
Mary Reep's 3.91 held on for a spot in the final round to take on the staggering Howard Farris as Reep was entering her third final of the season while Farris was moving into his second final of the season in search of his first OFAA win in over twelve years.

First Round Results:
(W) Donny McSwain (.141 rt) 3.92 @ 184 mph vs. (L) John Broussard (.139 rt) 3.97 @ 183 mph
(W) Chris Trussell (.047 rt) 4.06 @ 182 mph vs. (L) Mary Reep (.038 rt) 3.91 @ 186 mph
(W) DoDad Burton (.067 rt) 4.17 @ 171 mph vs. (L) Terry Brian (.089 rt) 4.09 @ 179 mph
(W) Howard Farris (.174 rt) 3.72 @ 213 mph vs. (L) Kebin Kinsley (.072 rt) 3.84 @ 220 mph
(W) Jimmy Jones (.053 rt) 3.93 @ 185 mph vs. (L) Clint Cross (No Time - Broke)
(W) Doyle Smith (.167 rt) 4.90 @ 113 mph vs. (L) Mark Bowman (No Time - Shutoff)

The thrash was on in the pits as the finalists prepared their machines for one last blast down the Royal Purple Raceway to determine a winner here in Baytown. The teams brought their cars to the lanes and the drivers suited up. Reep hoped to continue chipping away at the leaders in the standings while Farris' looking to win his first OFAA event of the season. The call went out to fire em' up and troubles set in for Reep. Despite desperate attempts to get the car started, the "Grim Reeper" just would not fire up and the signal was given to Farris' that they would finish the race on a single.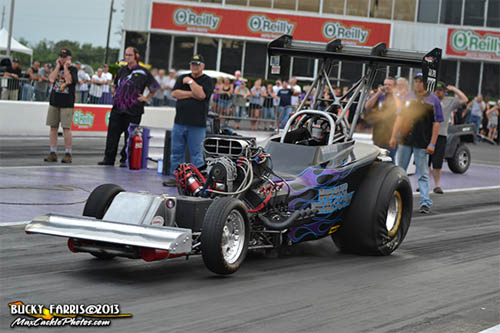 Howard Farris
Farris staged the "War Wagon" and thundered down the strip with a spectacular finish as the rear end let go and the motor over revved lifting the blower and exiting the rods from the engine block in a costly 3.72 at 191 mph, but who cares, they won! The Farris Racing crew celebrated on the starting line as they added another achievement to a career year for the team as Farris was also the winner of the 2013 World Fuel Altered Nationals in Eddyville, Iowa in August.
Final Round Results:
(W) Howard Farris (.172 rt) 3.72 @ 191 mph vs. (L) Mary Reep (No Time - Broke)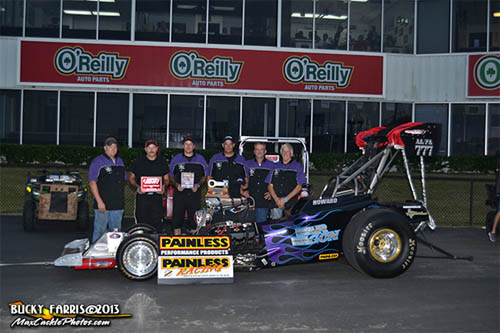 Farris and crew celebrate win.
"We blew it up in the final but we won the race and we're very excited about that! The track was in great condition today and we knew we could put some power down and it would stick. I want to thank my crew, without all their hard work we wouldn't be here. I also want to thank Icon Pistons for their support of our team. We'll get back to the shop and take a look and hopefully be able to get it repaired to make Denton next weekend," said Farris.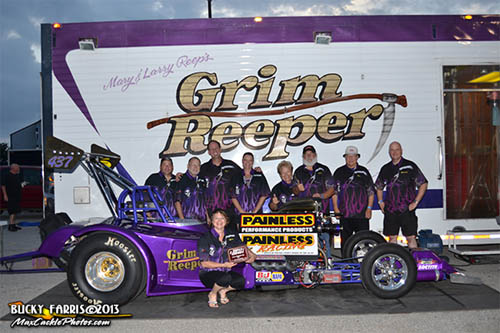 Reep and crew celebrate runner up.
Upon a closer look, Reep discovered some damage to the coil and points box which occurred when the blower belt broke in the first round of eliminations. An issue the team didn't know they had until they went to fire up for the final. After Baytown, Jones continues to hold the points lead now by just eight points over Kinsley. Jones made up some ground, but Reep made up the most, as she trails the top spot by twenty one points with two events remaining. The OFAA racers have just a few days off before the eighth event of the season this weekend, Saturday, October 5th at the North Star Dragway "Fall Nostalgia Nationals". With three racers in contention, the OFAA action at Denton should be well worth the price of admission!
The Outlaw Fuel Altered Association would like to thank Painless Performance Products, Good Vibrations Motorsports, North Texas Diesel, 3rd Coast Commissioning Services, Wizard's Warehouse and Competition Sales of Dallas for their support of the series this season! For more information visit http://www.ofaa.net.




Drag News: 10 Most Recent Entries [ top ]

Apr 24- NHRA Heritage Series Heads To Wild Horse Pass
Apr 22- K&N Spring Fling Million Final Day Results
Apr 21- K&N Spring Fling Million Friday Results
Apr 20- K&N Spring Fling Million– Thursday Results
Apr 19- K&N Spring Fling Million- Wednesday Results
Apr 18- Buckeye S/SS @ National Trail April 28th
Apr 18- Don "the Snake" Prudhomme Returns To Baja Competition After 50 Years
Apr 18- K&N Spring Fling Million Tuesday Results
Apr 17- K&N Spring Fling Million Pre-Race
Apr 12- Summit Racing Equipment is Newest Sponsor of Midwest Junior Super Series