Mon, 21 Oct 2013, 22:10 PM



The Million Dollar Race - Finally A Winner



Courtesy of John DiBartolomeo



MONTGOMERY, Ala. --
Needless to say, Mother Nature has not been kind to the C.A.R.S Protection Plus Million Dollar Race. To reiterate slightly, Thursday's Triple 20 event was rained out. Friday's race only got to the fourth round and rain on Saturday morning put another damper to an otherwise great race. But Sunday dawned with clear blue sunshine and the actual Million Dollar Race was on and it was time to crown some winners.
Roughly 100 miles north of Montgomery Motorsports Park, the NASCAR boys were going around in circles at Talladega. Here in Montgomery though, 214 racers lined up to take a shot at the largest single payday in the history of drag racing.
One time shot for all Million entrants occurred followed by eliminations. With five cars left in the Million, Kenny Underwood received the bye run in his Camaro due to his .007 reaction time the previous round. Perennial NHRA finalist, Mia Tedesco faced off with former K&N Spring Fling winner Denver Maltba with Maltba using a .015 reaction time, .007 under the dial for the win. And in the final pair, former Million Dollar winner Dave Triplett kept his hopes for a second Million Dollar win alive when he defeated another NHRA and bracket racing heavyweight Nick Folk.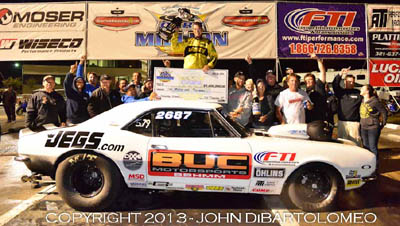 With three cars left for the title, Triplett from Eustis, Florida, received the bye run to the final ensuring a door car will race for the trophy. Maltba and Underwood squared off and Maltba turning on the red light by one-thousandth-of-a-second. And for the first time in the history of the race, two door cars will face off for the big check. With Tripletts "trip" to the final, it only marks the fifth time someone has been to more than one Million Dollar final round.
Underwood, from Delaware, Ohio, received the handicap start and never looked back as he defeated Triplett with a .021 reaction time and a dead on the dial with a "5" to add his name to the roll call of Million Dollar champions.
The man who has been to every single Million Dollar Race, finishing as high as only the semifinal round at the very first event in 1996, was so excited. When questioned as to how it feels, he said, "Relieved. This was my first Million Dollar final and I bet John Coughlin that if I won I was gonna blow this car up." He tried and failed in that department but it didn't matter anyway.
"I have to thank Anthony Bertozzi," Underwood added, "and the entire Coughlin family, Jeg Sr., John, Troy, Mike, Jeggie, TJ, Megan, every one of them. This was awesome!"
The entire purse for the C.A.R.S. Protection Plus Million Dollar Race is guaranteed but the winner's share is based on a sliding scale according to car count. For this year's event, Underwood received $200,000 for his win which once again, for 18 straight years, is the highest single payout in the history of the sport.
And finally to end the night, the last Triple 20 of the weekend took place after the Million had finished. As the midnight hour struck, an all Florida final round found Brendan George from Gainesville and Gary Williams from Bradenton facing off for $20K to win. At the hit of the throttle, George had .004 on Williams and used a dead on with a 4 to defeat Williams.




Drag News: 10 Most Recent Entries [ top ]

Apr 21- K&N Spring Fling Million Friday Results
Apr 20- K&N Spring Fling Million– Thursday Results
Apr 19- K&N Spring Fling Million- Wednesday Results
Apr 18- Buckeye S/SS @ National Trail April 28th
Apr 18- Don "the Snake" Prudhomme Returns To Baja Competition After 50 Years
Apr 18- K&N Spring Fling Million Tuesday Results
Apr 17- K&N Spring Fling Million Pre-Race
Apr 12- Summit Racing Equipment is Newest Sponsor of Midwest Junior Super Series
Apr 12- Summit Racing Named Official MWPMS Sponsor and Event Title Rights Holder
Apr 11- NMCA All-Star Nationals Chevrolet Performance Challenge Series Final Results