Fri, 11 Oct 2013, 20:13 PM



IHRA Kicks Off Summit World Finals with Media Day at Hard Rock Café on Beale Street



Courtesy of IHRA Communications



Championship Drag Racing Returns to Memphis International Raceway



MEMPHIS, Tenn. --
IHRA's biggest and most prestigious event kicked off in the most exciting way possible on Thursday - with a huge rock-n-roll bash on world famous Beale Street during the IHRA Summit Racing Equipment World Finals Media Day at the Hard Rock Caf? in Memphis, Tenn.
IHRA drivers Clay Millican, Bruce Litton, Ron Hope, Randy Brown and Chase Huffman were on hand to talk about this weekend's championship finale at Memphis International Raceway, joining IHRA CEO Jason Rittenberry, IHRA VP Skooter Peaco and Memphis International Raceway GM Pam Kendrick.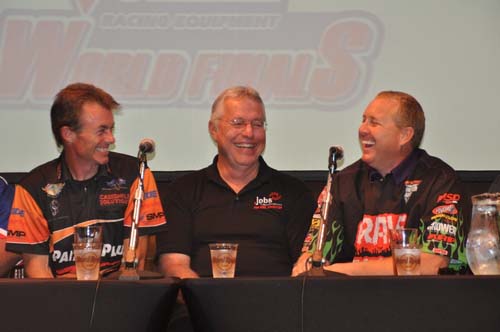 Top Fuel drivers Clay Millican and Bruce Litton enjoy a laugh
with Grave Digger's Randy Brown during Thursday's IHRA Summit World Finals Media Day at the Hard Rock Caf? in Memphis
Beale Street was blocked off for Thursday's rocking IHRA party as Top Fuel Dragsters, the world famous Grave Digger monster truck the Rat Trap Fuel Altered and more lined the iconic street allowing for fans to have a closer look and get autographs.
IHRA and Memphis International Raceway held a joint press conference during the afternoon to welcome the IHRA Summit World Finals back to Memphis and announce that longtime sponsor Summit Racing Equipment has signed on to bring the race and the IHRA World Championships back to Memphis for the next few years.
In recognition of the race and the fan celebration to be held at the Hard Rock Cafe on Memphis' legendary Beale Street, Memphis Mayor A.C. Wharton officially declared in a proclamation that Thursday, October 10 was "IHRA World Finals Day" in the city.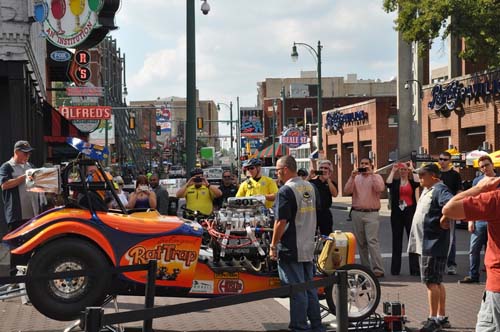 The Rat Trap Fuel Altered fired up right on iconic Beale Street.
IHRA Top Fuel stars Clay Millican and Bruce Litton completed the day with a tour of Memphis' top morning shows.
The 2013 IHRA Summit Racing Equipment World Finals will take place October 11-12 at Memphis International Raceway. The event will include two huge races as the Nitro Jam professional drag racing series and the Summit World Championships all collide for two huge days of racing.
Nitro Jam will feature professional competition in Top Fuel Dragster, Prostalgia Nitro Funny Car, Fuel Altered and Nitro Harley plus a huge show feature Grave Digger as the world's most recognizable race machine takes on the 30,000 horsepower Super Shockwave jet-powered '57 Chevy. Among the highlights of this year's race is the return of six-time IHRA Top Fuel World Champion Clay Millican who will return to the IHRA for the first time in five years to take on longtime rival Bruce Litton in a 320 mph, side-by-side Top Fuel showdown.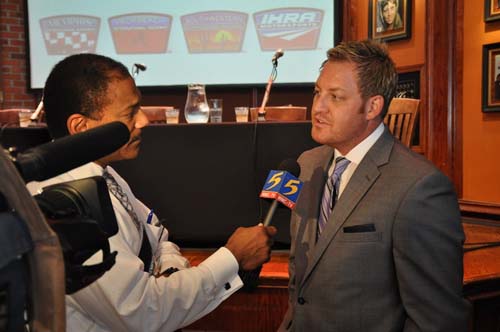 IHRA CEO Jason Rittenberry talks about
this weekend's IHRA Summit World Finals.
The Summit World Championships will feature two sportsman racing crowning 10 IHRA World Champions. The Summit Tournament of Champions and Summit SuperSeries will pit the greatest sportsman racers from around the world in March Madness-style tournament to determine the champion in 10 IHRA classes. Drivers from 25 states, five Canadian provinces and from as far away as Alaska, Hawaii and the island nation of Aruba will be in competition.
Tickets to the IHRA Summit Racing Equipment World Finals are available online at www.nitrojam.com or by calling MIR at (901) 969-7223. Don't miss the return of Clay Millican and Nitro Jam and the crowning of IHRA's 2013 World Champions the weekend of October 11-12 at Memphis International Raceway.




IHRA: 10 Most Recent Entries [ top ]

Jun 30- World Champion Beard, Hometown Driver Powell Headline IHRA Summit Sportsman Spectacular
Jun 30- Glenn Doubles Up at IHRA Summit Sportsman Spectacular at Darlington Dragway
Jun 30- Soucek's Big Day Highlights IHRA Summit Sportsman Spectacular at Dragway 42
Jun 30- IHRA Summit Sportsman Spectacular US 131 Motorsports Park
Jun 30- IHRA Summit Sportsman Spectacular Xtreme Raceway Park July 26-28, 2019
May 12- Richmond Dragway Remains Strong Part of IHRA Family
May 12- Michigan Track Undergoes Renovation, Joins IHRA Family
May 10- IHRA Summit Sportsman Spectacular Darlington Dragway
May 10- IHRA Summit Sportsman Spectacular Dragway 42
Apr 23- Historic Delaware Track Gets Off to Another Strong Start