Thu, 10 Oct 2013, 06:12 AM



The Drought Is Over



By Bob Frey


Photo copyright 2013 Auto Imagery, Inc.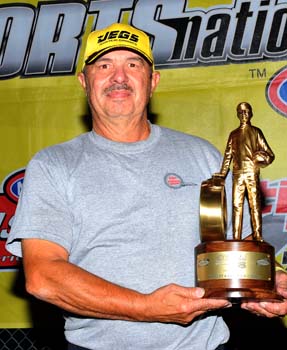 Leo Zynda
There are a lot of great things about sports, all sports, and winning is certainly one of them. Of course most people will tell you that it's simply the thrill of competing that motivates them and that winning is just the icing on the cake. Now that I think about it those may be the same people who never win. Then there are those like the long-suffering Chicago Cubs fans who just enjoy watching their team compete even if they haven't won a championship since 1908. Ok, so maybe "enjoy" isn't the right word, but they continually support their team and hope that someday, one day before they die the Cubs will win a championship. Drag racers are no different. They go out and race and challenge for a win at a national or divisional event, and even though the odds are against them (based on the number of entrants in each class) they return week after week to try and try again, and once they win they can't wait to do it again. Of course getting that first win is never easy and there are racers who have tried for years, decades even and never succeeded, but the great thing about drag racers is they won't give up. It's just not in their nature, and if you don't believe me just ask Leo Zynda.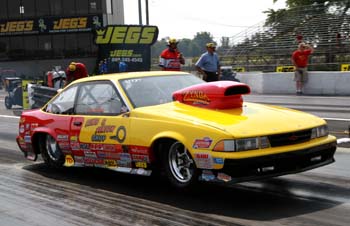 Leo Zynda' Super Gas car.
Leo is a sixty-two year old man from Clinton Township, Michigan, who has been running his own business, the Ring & Pinion Shop, for over forty years and he has been racing for almost as many years. "I started with a 1969 Chevy Nova that I ran in the old Modified Eliminator" he said. "It was your classic car, a small-block Chevy, about277 cubic inches that had lots of rpm's and not much power." Well, I'm not sure I've ever heard a Modified Production car described quite that way but it was Leo's car so he should know. Leo ran that car at the first NHRA Sportsnationals in Bowling Green in 1974 and he also competed at local tracks, like Milan Dragway, in and around his Michigan home. "After that we went to a four-cylinder, Pontiac-powered dragster that ran in the F/ED class." While he didn't state how many rpm's or how much power it made Leo did say that he had some success with the little dragster. "It was a pretty quick car," he said. "We were the number two qualifier at Indy in 1987, and during the year we made it down to the quarter-finals here and the semi-finals there but were never able to break through and win the big one." By the "big one" he means an NHRA national event but he was able to go to a couple of finals at the divisional level and he won the Great Lakes race in 1988. "It was a good car but after a while it started to require more money and more work than I wanted to put into it." When he means more work he means things like putting the flywheel back in place between rounds. "Yeah, we made a run at Indy at about 149 miles per hour and when we came back to the pits to work on it the flywheel fell off. Imagine that!" Shortly after that minor incident Leo decided to switch to the Super categories. "That was in 1991 and I have never looked back."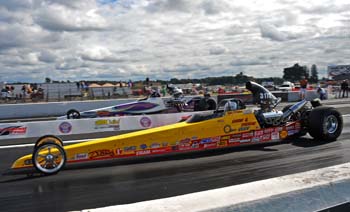 Leo Zynda's Super Comp car.
His entry into the Super Gas category was rather unspectacular. "I started with the Chevrolet Cavalier that had a 350 engine." And over twenty years later he still has that same little Chevy. "It's been a very good car and has had a few upgrades but basically it's the same. It now has a 565 cubic inch engine with Dart heads and Stinnett carburetors. It's nothing elaborate but it gets the job done." That car, which has literally made thousands of passes down the track, carried Leo to several divisional final rounds and a couple of wins. "I guess you could say I got my money's worth from it." Now that's an understatement.
As good as the Cavalier has been it was his other car that took Leo to the long-awaited national event win. "I have a Super Comp dragster that Ken Bowers built. It also has a 565 engine, a Dart Big Chief, with all the standard stuff and it is a very god car." And it was the best car at the recently completed Sportsnationals in Columbus. "I got into the Shootout that they have and I did well there," he said, "and then Sunday came and things just seemed to fall into place." A second round red-light by his opponent, an 8.90 in the third round, a fifth round bye and a holeshot win in round five didn't hurt, but mostly it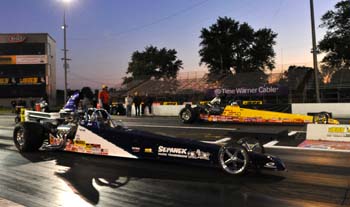 Leo Zynda (far lane) defeated
Jack Sepanek in the final.
was Leo's new frame of mind that carried the day. "A while back I said to myself that I was putting too much pressure on myself at the races. This is supposed to be fun so I took a new approach and decided to just enjoy myself." It worked, and he has never enjoyed himself as much as he did at Columbus. Besides winning with the dragster he went deep into eliminations with the Cavalier and he posted a perfect 9.900 in the fourth round with that car. "It was just one of those days that you dream about. It is so cool to finally win one."
Another part of the mind games that helped Leo was the fact that he was basically unaware of who he was running in the final. "It wasn't until after the race that I found out that he (Jack Sepanek) had just won a national event a week earlier in Charlotte and that he had been to the final round at this race a year ago. I don't think I was nervous going into that final round, but if I knew all of that about Jack before the run I probably would have been." What's that old expression..ignorance is bliss!!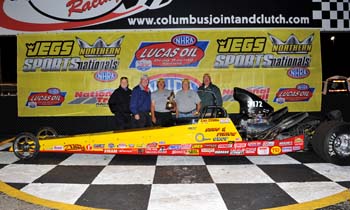 Zynda celebrates win.
After winning his first national event you would think that Leo would be really anxious to get out and try for a second win, but according to him that will have to wait. "Yeah, I'm done for the year. When I made my schedule up I figured that Columbus would be my last race and so I scheduled a couple of car shows to go to. I'm a judge there and I just couldn't leave them hanging." So while he savors that win, that long-awaited win, he will spend the Michigan winter running his business, freshening up his cars and working on his new motor coach. "I bought a used NRC coach and I need to work on it a bit. It should make going to the races easier next year." So, along with his long-time friend and helper, Paul Turini, Leo will get his trusty Cavalier and his national event winning dragster all ready for 2014 when he will once again hit the Division 3 races, the Sportsnationals and a few other national events. The only difference between that and the start of the 2013 season will be the fact that Leo Zynda is now a national event winner. At last!
Leo added that he wanted to say a special thanks to Paul for retiring so "he can be with me again," and to Mike Martin, Nick Serra, Angelo Roberti and all those who have supported him all these years.




NHRA: 10 Most Recent Entries [ top ]

Nov 16- Torrence Wins Camping World Title
Nov 11- NHRA Announces Complete 2021 Class Schedule
Nov 10- Don Prudhomme Shares Life Story On and Off the Track
Nov 10- Justin Ashley Wins 2020 NHRA Rookie of the Year
Nov 10- Matt Hagan Crowned 2020 NHRA Funny Car World Champion
Nov 09- LAS VEGAS - Enders Claims Her Fourth Pro Stock World Championship
Nov 05- LAS VEGAS SN - Super Stock Final, Round 7 Eliminations
Nov 05- LAS VEGAS SN - Stock Eliminator Final, Round 7 Eliminations
Nov 05- LAS VEGAS SN - Super Street Final, Round 7 Eliminations
Nov 05- LAS VEGAS SN - Super Comp Final, Round 7 Eliminations