Tue, 01 Oct 2013, 19:42 PM



I'm Lovin' It



By Bob Frey


Photo copyright 2013 Auto Imagery, Inc.





As most of you probably know I am a big
McDonald's
fan. Go ahead, make all of your snide little remarks about my eating habits but at the age of sixty-seven you're not going to change my mind and I'm not going to change my culinary (if you can call it that) ways. In the interest of fair reporting I should admit that I not only eat at McD's but I am also a stockholder and the company has been very good to me. I have eaten at a McDonald's in forty-nine states, five countries and two continents and I'm not ashamed to admit it. Hey, that Jarod guy made a living out of eating at Subway, didn't he? Anyway, the reason for this little introduction to this week's story is because I was in my local eating emporium the other day and was pleasantly surprised to see that all of the tray liners that they were using were promoting the upcoming NHRA national event at Maple Grove this week and it was complete with pictures of the record-setters from last year and a $10 off coupon for Sunday's final eliminations. I don't know who was responsible for it (although I'm sure the folks at
Coca-Cola
were involved) but I was thrilled to see the
NHRA Mello Yello Series
and the
Auto Plus Nationals
being promoted at one of the busiest and best venues around. Let's face it, any time you can team up with McDonald's you've hit the big time. Now as cool as I think it is to be looking at
Antron Brown
,
Andrew Hines
,
Jack Beckman
and others while I eat the real purpose of this is to tell you to get to one of the many McDonald's in and around the Philadelphia area and get that coupon. Ten bucks is a good deal (and it includes a free kid's pass, too) and then enjoy what is sure to be a very good, quick, fast and entertaining day at the races. I'm sure after the race is over you'll join me in saying "I'm Lovin' It."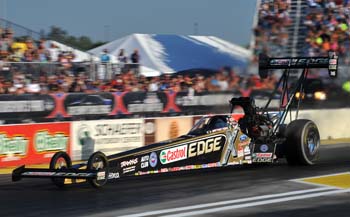 Brittany Force
The "Rookie of the Year" voting was just announced and it should be interesting this year. Six candidates are eligible and among them are the two front-runners (at least I think they are) Brittany Force and Adam Arana. Brittany came into the year with high expectations, and let's face it, anytime you are part of "Team Force" you are expected to do well. Her rookie year has been good, but not spectacular, and that is all part of the learning curve for anyone regardless of your pedigree. For his part Adam has had a very good season, especially for a first year driver, and he made his way into the "Countdown" in a very competitive class. Toss in a number one qualifying spot and a final round in Epping, New Hampshire and you have a season that any rookie would be proud to put on their résumé. Members of the media, not the fans, vote for this award and it maybe one of the closest votes in years. Of course the other four drivers, Chad Head, Sidnei Frigo, Leah Pruett and Billy Torrence are also worthy of consideration and could get some votes, but I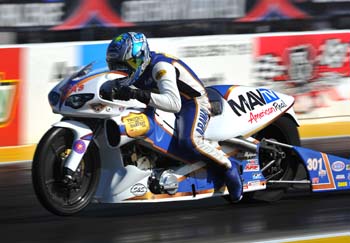 Adam Arana
think in the long run it will come down to the two newest members of two very good drag racing families, the Force's and the Arana's. Let the discussion begin.
Did you know
that there were sixteen, count 'em, sixteen former winners of the "Rookie of the Year" award (or the "Road to the Future Award") driving in
St. Louis
this past weekend? And of course some came from the Force family and one came from the Arana family.
Did Antron Brown put himself back into title contention with his win in St. Louis? Well, he is now slightly more than five rounds out of first place with twelve rounds of racing remaining so you make the call. At least he has a shot now which is probably more than he thought he had after Dallas. Did you know that Antron was in eighth place coming into St. Louis and he was 150 points behind the leaders? I have always said that consistency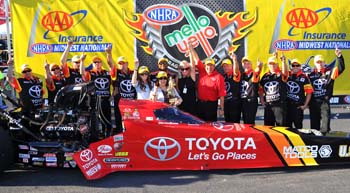 Antron Brown and team celebrate win
is what wins races and ultimately championships and Antron put together four runs between a 3.78 and 3.82 and that's very good. When you throw in the fact that he was first off the line in all four rounds you have the combination for a title contender.
Did you know
that over the course of his career Antron "leaves first" 62% of the time and that's very good for any driver in any class? Add to it the fact that he is coming to
Maple Grove
and that has to make him and the rest of his
Matco Tools
team feel good about their position.
Did you know
that Antron set the national record at 3.701 last year at the Grove?...
Shawn Langdon
held on to the top spot in the points despite the fact that he lost in round two to
David Grubnic
. Shawn was the top qualifier and, as I've pointed out several times before, that is certainly no guarantee of success in the Top Fuel class, or any class for that matter.
Did you know
that Shawn now has been the top qualifier six times this year and has won just once from the top spot? But he is not alone.
Did you know
that since the Maple Grove race last year the number one qualifier in Top Fuel has only won two times?...There are only seventy-two points between Shawn and
Tony Schumacher
who is in fifth place so it looks like NHRA will get exactly what they want with the "Countdown" and that is a multi-team battle down the stretch?.Tony has won the Maple Grove race four times and that's the most for any TF driver, so if the "Sarge" is going to make a move maybe Reading is the place to start.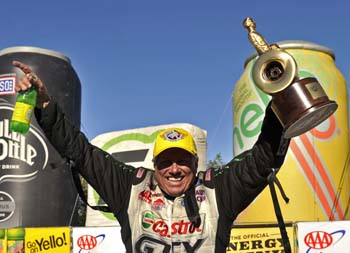 John Force celebrates win
You may have heard that John Force "isn't dead yet" and he proved it on Sunday. By beating Jack Beckman in the final round John moved to within six points of the leader, Matt Hagan, and that has to worry Matt and all of the other Funny Car drivers. John's win was the 136th of his amazing career and he shows no signs of slowing down on or off the track. John is coming to Maple Grove where he has won six times and that's the best in the Funny Car class. Having said that did you know that John hasn't won in Pennsylvania in over a decade?....Matt Hagan, like Shawn, started from the number one spot, and like Shawn he wasn't able to take advantage of that. Matt ran low elapsed time, 4.001, and top speed at 320.20 miles per hour so you know that he has a really good car and maybe they will look at this as one race that got away. Hey, it happens. Still, he has a very good car and crew plus the experience needed to handle the pressure down the stretch and that should keep him in the championship battle until the end. Did you know this was the fifth time this year that Matt has been number one and he has won once from that lofty position? And for his career he has been the top guy at fifteen races and has converted them into three wins. Did you know that those fifteen top spots have Matt tied with Ron Capps and Ashley Force for tenth place on the Funny Car list?...The Funny Car field has been tough all year and it sure looks like the race at Maple Grove this week could be crucial for those who want to stay in title contention. Did you know that there will be eight former Maple Grove Funny Car winners in action this weekend?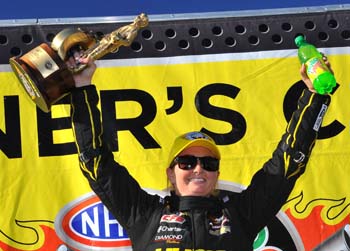 Erica Enders-Stevens celebrates win
Erica Enders-Stevens put herself in position to make a serious run for the championship when she successfully defended her St. Louis Pro Stock championship. Erica beat Mike Edwards on a slight holeshot in the final to give the new-look Husky Liners Chevy the win and move her to within sixty points, or three rounds, of Mike who went back to the top spot. Did you know that the final round was the twelfth for Erica over the past two seasons and that's very impressive, especially when you consider that she missed several races this year? With a number one spot at the Dallas race and a win in St. Louis Erica certainly has to be considered a real threat for the championship. Still there are three very good drivers ahead of her so it won't be easy to grab that top spot? Did you know that this was the second time this year that Erica beat Mike on a holeshot and that both of them have come in the final round? She also beat him that way at Phoenix to grab her first win of the 2013 season. And did you know that the last three national events that she has won have all come on holeshots including the St. Louis race last year?...?.Mike went back into the lead when he beat Jason Line in a monster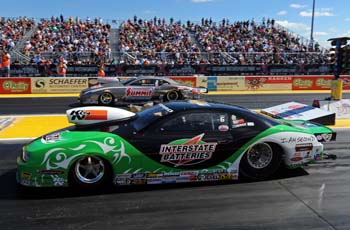 Mike Edwards defeated Jason Line
in round one.
matchup in round one. This was the 34
th
meeting between the two great drivers and Mike now leads the series 18-16.
Did you know
that of all their previous matchups only six had taken place in round one and Jason had won all six of them? Since I pointed out that Mike lost the final on a holeshot it's only fair that I point out that he won his round one encounter with Jason on a holeshot?The reigning Pro Stock champ,
Allen Johnson
, is only sixty-nine points out of first so he is within striking distance of the leader but he will need a good showing in Reading if he wants to defend that crown. Allen lost to the surprising
Rickie Jones
in round two, and while you might think Rickie did it on a holeshot the truth of the matter is he actually outran AJ, his 6.537 beating Allen's 6.543. I mentioned a week ago that Rickie could be a spoiler and it looks like that might be the case. What a pleasant surprise that team has been this year.
Did you know
that Rickie has now gone seven races without losing in round one, and for a team that's not in the "Countdown" that's very impressive? Actually that's impressive for any driver.
Did you know
that of all the drivers who are in the "Countdown" only Allen Johnson has gone through the last seven races without a first round loss? In fact he hasn't lost in round one since the
Atlanta
race and he hopes to keep that streak alive this week in Reading?.The opening round race between
Jeg Coughlin
and
Greg Stanfield
featured two of the best drivers in the class. Jeg is often acknowledged as the best on the starting line and he certainly is up there.
Did you know
that for his career Jeg "leaves first" on his opponents 64% of the time? And as good as that is
did you know
that Greg "leaves first" 67% of the time, and in their head-to-head races Greg is off the line first 59% of the time? Of course none of that mattered when Greg fouled out against Jeg on Sunday sending the former champ into the second round where he lost on a holeshot to
Greg Anderson
.
Did you know
this was just the second time in his career that Greg beat Jeg on a holeshot?....With Mike regaining the lead it marks the fifth time this season that the Pro Stock points lead has changed hands.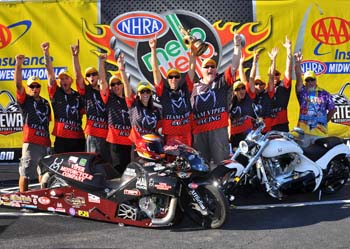 Matt Smith and team celebrate win
Matt Smith won the race and he has the biggest lead of any driver in the Mello Yello classes right now. Matt is a hefty 75 points up on Hector Arana Sr. and Jr. who are tied for second place. It's the first time Matt has been in the lead since the 2009 season and the first time this year that Hector Arana Jr. has been out of first place. It will be interesting to see how the young rider responds to the pressure at the final three races of the season?.Even though Matt won the race Hector Sr. may have had the best bike, after all, he was the top qualifier and set low elapsed time. But as I mentioned before being number one and winning are two entirely different things and nobody knows that better than Hector. Did you know that this was the eighteenth time in a row that Hector failed to win after being number one and that's the biggest drought for any pro driver in the history of the sport? Matt Hines once went ten in a row and Jason Line went thirteen races without winning from the top spot but eighteen is a record and I'm sure it's one that Hector would rather not have. Still, he has to feel good that he has a very good bike and one that can run with anyone and one that could take him to another championship?.Matt won by being quick,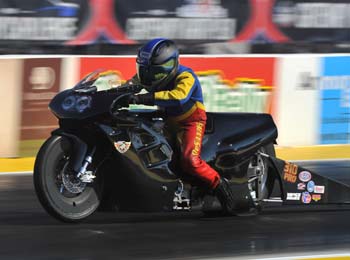 Joe DeSantis
fast and consistent and his four runs on Sunday were 6.84, 6.88, 6.84 and 6.88 and it's tough to beat that kind of consistency?..Matt just missed a chance to join his father,
Rickie Smith
, in the winner's circle when Rickie lost to
Mike Castellana
in the finals of the Pro Mod class. With his final round appearance Rickie was able to garner enough points to win the Pro Mod season championship, his first on the NHRA tour after seven IHRA national championships.
Did you know
that Rickie's first IHRA championship came in 1976 in the Super Modified class? He added one more in that category in 1977 and five in the mountain motor Pro Stock class with the last one coming in 1989. Congratulations to Rickie on a great career and for adding an NHRA title to his already impressive résumé?.And one more thing. A big congratulations to
Joe DeSantis
for making his career best runs this past weekend. The seventy-one year old ran 6.920 - 193.02 for his quickest and fastest runs ever. It's folks like Joe who make this a great sport and it's always nice to see him at the track, running well and qualifying. By the way,
did you know
that Joe's former quickest run was made at the same Gateway track in 2008?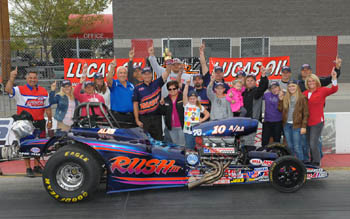 Alan Ellis and team celebrate win.
Photo copyright 2013 Bob Johnson Photography
In my Thursday story last week I mentioned some of the challengers to the Lucas Oil championships and two of them Alan Ellis (Comp) and Rick Beckstrom (Super Gas) helped their causes by winning the Division 7 race in Utah. Should be a lot of fun watching and sorting out the title contenders in all of the Lucas Oil classes, and as I mentioned some could come into clearer focus after this week's race in Maple Grove. Stay tuned.




NHRA: 10 Most Recent Entries [ top ]

Mar 19- GAINESVILLE - Sunday Video
Mar 18- GAINESVILLE - Pro Mod Sunday Wrap Up
Mar 18- GAINESVILLE - Sunday Wrap Up
Mar 18- GAINESVILLE - Pro Mod Championship Points
Mar 18- GAINESVILLE - Bonus Points
Mar 18- GAINESVILLE - Championship Points
Mar 18- GAINESVILLE - Mickey Thompson Top Fuel Harley Series Championship Points
Mar 18- GAINESVILLE - Bonus Points
Mar 18- GAINESVILLE - Summary of Eliminations in Top Fuel
Mar 18- GAINESVILLE - Summary of Eliminations in Funny Car