Tue, 01 Oct 2013, 15:52 PM



Dallas Raceway Tops IHRA Division 4 Summit Team Finals



Courtesy of IHRA Communications



Summit SuperSeries Field Almost Set as Six More Drivers Advance



CRANDAL, Texas --
During a busy opening day at the Division 4 Summit Racing Equipment Team Finals at Dallas Raceway six more drivers advanced to the Summit World Finals to compete for the Summit SuperSeries championships in Memphis.
Buzz Johnson (Top ET), Joe Boner (Mod ET) and Leroy Thomae (Junior Dragster) each won their respective classes during opening day of the D4 Summit Team Finals in Dallas, joining runner-up finishers Don Boulware (Top ET), Kevin Grider (Mod ET) and Michael Turman Jr. (Junior Dragster) who also punched their tickets to the World Finals in Memphis.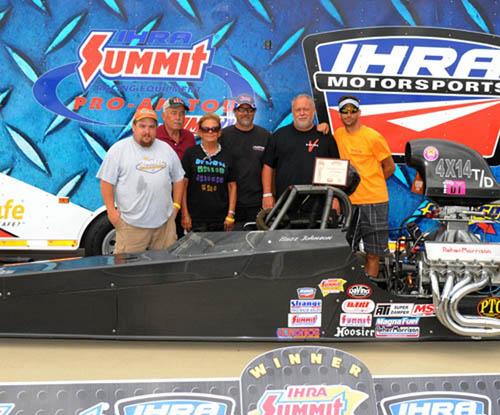 Division 4 Summit SuperSeries Top ET winner Buzz Johnson
Dallas Raceway won the Summit Team Finals team competition, racking up 55 points to edge second place Pine Valley Raceway by eight points. Redline Raceway was third with 45 points, followed by Little River Dragway with 41 and Big Country Raceway with 38. The rest of the team finishers were San Antonio Raceway (34), Wichita Raceway Park (31), Lonestar Motorsports Park (26), Edinburg Raceway (15), Caprock Motorplex (13), Desert Thunder Raceway (10), Northstar Dragway (6), Amarillo Dragway (6) and State Capitol Raceway (2).
Buzz Johnson, representing home track Desert Thunder Raceway won at the starting line over runner-up finisher Don Boulware of Dallas Raceway. Johnson had a much better .043 light and used that advantage to post a 4.848 elapsed time at 141.91 miles per hour on a 4.72 dial to take the win. Boulware had a .170 light and ran a 4.919 on a 4.82.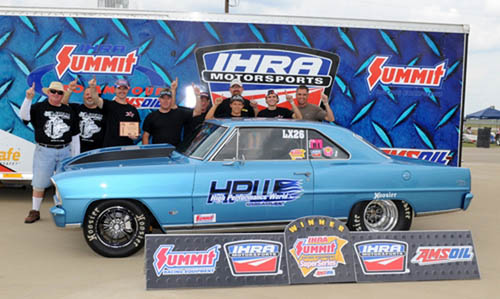 Division 4 Summit SuperSeries Mod ET winner Joe Boner
In Mod ET Joe Boner took the win for Redline Raceway in a close race over Wichita Raceway's Kevin Grider. Grider beat Boner off the line with a .004 to a .040, but Boner made it up on the top end with a 6.051 on a 6.02 dial at 111.78 mph while Grider posted a 6.843 on a 6.77 dial.
Leroy Thomae wrapped up the first day of competition at Dallas with a big win over Michael Turman Jr. in Junior Dragster. Representing Edinburg Raceway, Thomae had a .058 reaction time and ran a near dead-on 8.666 on an 8.64 at 73.80 mph while Turman, representing Little River Dragway, had a ..079 light and had a very close 8.018 on a 7.99.
Other big winners during the weekend as Dallas Raceway were Main Event winner Jeff McClure of Wichita Raceway Park in Top ET, Jake Howard of Redline Raceway in Mod ET and Carson Lewis of Big Country Raceway in Junior Dragster.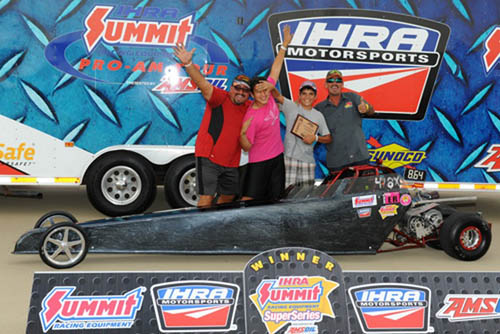 Division 4 Summit SuperSeries Junior Dragster winner Leroy Thomae
The following are the final results from the Division 4 IHRA Summit Team Finals at Dallas Raceway.

Division 4 Summit Team Finals Team Standings

1. Dallas Raceway - 55
2. Pine Valley Raceway - 47
3. Redline Raceway - 45
4. Little River Dragway - 41
5. Big Country Raceway - 38
6. San Antonio Raceway - 34
7. Wichita Raceway Park - 31
8. Lonestar Motorsports Park - 26
9. Edinburg Raceway - 15
10. Caprock Motorplex - 13
11. Desert Thunder Raceway - 10
12. Northstar Dragway - 6
13. Amarillo Dragway - 6
14. State Capitol Raceway - 2

SUMMIT SUPERSERIES RESULTS
SUMMIT SUPERSERIES RUNOFF TOP ET - Buzz Johnson (Desert Thunder) .043 RT, 4.848, 141.91 def. Don Boulware (Dallas) .170 RT, 4.919, 144.84
SUMMIT SUPERSERIES RUNOFF MOD ET - Joe Boner (Redline) .040 RT, 6.051, 111.78 def. Kevin Grider (Wichita) .004 RT, 6.843, 94.80
SUMMIT SUPERSERIES RUNOFF JUNIOR - Leroy Thomae (Edinburg) .058 RT, 8.666, 73.80 def. Michael Turman Jr. (Little River) .079 RT, 8.018, 80.68
INDIVIDUAL RESULTS
Main Event Top ET - Jeff McClure (Wichita) .009 RT, 5.003, 138.03 def. Kyle Rickman (Dallas) -.006 FOUL
Main Event Mod ET - Jake Howard (Redline) .025 RT, 6.604, 101.72 def. Drew Porcher (Pine Valley) -.006 FOUL
Main Event Juniors - Carson Lewis (Big Country) .069 RT, 7.931, 82.06 def. Carlie Jo Wendland (Redline) .098 RT, 7.916, 79.82




IHRA: 10 Most Recent Entries [ top ]

Jun 30- World Champion Beard, Hometown Driver Powell Headline IHRA Summit Sportsman Spectacular
Jun 30- Glenn Doubles Up at IHRA Summit Sportsman Spectacular at Darlington Dragway
Jun 30- Soucek's Big Day Highlights IHRA Summit Sportsman Spectacular at Dragway 42
Jun 30- IHRA Summit Sportsman Spectacular US 131 Motorsports Park
Jun 30- IHRA Summit Sportsman Spectacular Xtreme Raceway Park July 26-28, 2019
May 12- Richmond Dragway Remains Strong Part of IHRA Family
May 12- Michigan Track Undergoes Renovation, Joins IHRA Family
May 10- IHRA Summit Sportsman Spectacular Darlington Dragway
May 10- IHRA Summit Sportsman Spectacular Dragway 42
Apr 23- Historic Delaware Track Gets Off to Another Strong Start