Tue, 01 Oct 2013, 15:42 PM



Fayetteville Motorsports Park Takes D9 Summit Team Finals Championship



Courtesy of IHRA Communications



Six More Drivers Advance to Summit World Finals in Memphis out of Division 9



JULIAN, N.C. --
North Carolina's finest took center stage during the opening day of the Division 9 Summit Racing Equipment Team Finals as six more drivers punched their ticket to the Summit World Finals next month to compete for the Summit SuperSeries World Championship.
Tim Lucas (Top ET), Brian Perkins (Mod ET) and Noah Strickland (Junior Dragster) each won their respective classes on Friday during the opening day of the D9 Summit Team Finals, while runner-up finishers Michael Paschal (Top ET), Jim "Bo" Sells (Mod ET) and Dawson Wiggins (Junior Dragster) also advanced in the Summit SuperSeries championships.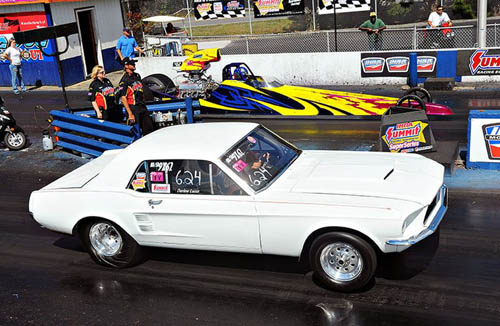 Division 9 Summit SuperSeries Top ET Final
In the team competition Fayetteville Motorsports Park took the overall crown at the Division 9 Summit Team Finals with 67 points, 20 markers ahead of runner-up Greer Dragway. Mooresville Dragway was third with 46 points, followed by Farmington Dragway (44) and Dunn-Benson Dragstrip (41). The remainder of the top 10 were Piedmont Dragway (34), Elk Creek Dragway (22), Coastal Plains Dragway (14) and Rockingham Dragway (12).
In easily the closest battle of the first day of competition, Fayetteville Motorsports Park's Tim Lucas took the win in an incredibly close race with Farmington Dragway's Michael Paschal. With the Top ET title on the line, Lucas edged his opponent by the slimmest of margins at the line with a ..010 reaction time to a .014, and ran a near dead-on 6.247 elapsed time at 107.75 mph on a 6.24 dial. Paschal ran a 4.634 on a 4.62 in a runner-up effort.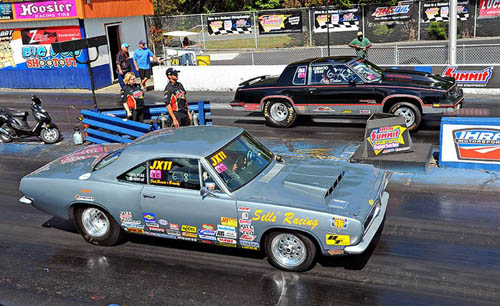 Division 9 Summit SuperSeries Mod ET Final
In Mod ET Dunn-Benson Dragstrip's Brian Perkins was handed the win when the lone non-North Carolina track representative Jim Sells of Elk Creek lit the red bulb by -.008. Still, Perkins closed out the race with a 6.734 on a 6.70 dial with a .030 reaction time.
Noah Strickland, representing Mooresville Dragway, took the Junior Dragster title over Dunn-Benson Dragstrip's Dawson Wigging who ran just a tad too quick on his dial. Strickland had a .049 light and ran a 7.916 on a 7.90 dial at 81.65 mph while Wigging had a 9.043 on a 9.08.
Other big winners at the Division 9 Team Finals were Main Event winners Cameron Manuel from Farmington Dragway in Top ET, Jeff Longhany from Fayetteville Motorsports Park in Mod ET and Zachary Houser from Farmington Dragway in Junior Dragster.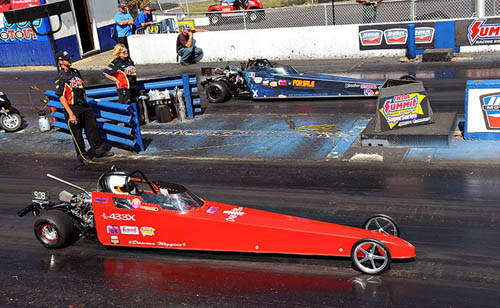 Division 9 Summit SuperSeries Junior Dragster Final
The following are the final results from the Division 9 IHRA Summit Team Finals at Piedmont Dragway.

Division 9 Summit Team Finals Team Standings

1. Fayetteville Motorsports Park - 67
2. Greer Dragway - 47
3. Mooresville Dragway - 46
4. Farmington Dragway - 44
5. Dunn-Benson Dragstrip - 41
6. Piedmont Dragway - 34
7. Elk Creek Dragway - 22
8. Coastal Plains Dragway - 14
9. Rockingham Dragway - 12

SUMMIT SUPERSERIES RESULTS
SUMMIT SUPERSERIES RUNOFF TOP ET - Tim Lucas (Fayetteville) .010 RT, 6.247, 107.75 def. Michael Paschal (Farmington) .014 RT, 4.634, 148.27
SUMMIT SUPERSERIES RUNOFF MOD ET - Brian Perkins (Dunn-Benson) .030 RT, 6.734, 101.93 def. Jim "Bo" Sells (Elk Creek) -.008 FOUL
SUMMIT SUPERSERIES RUNOFF JUNIOR - Noah Strickland (Mooresville) .049 RT, 7.916, 81.65 def. Dawson Wiggins (Dunn-Benson) .067 RT, 9.043, 72.13
INDIVIDUAL RESULTS
Main Event Top ET - Cameron Manuel (Farmington) .008 RT, 4.923, 103.56 def. Jut Crumpler (Dunn-Benson) BROKE
Main Event Mod ET - Jeff Longhany (Fayetteville) .014 RT, 6.615, 102.83 def. Rodney Lunsford (Piedmont) .018 RT, 6.686, 102.98
Main Event Juniors - Zachary Houser (Farmington) .017 RT, 7.913, 82.71 def. Luke Eggers (Farmington) .024 RT, 8.244, 79.24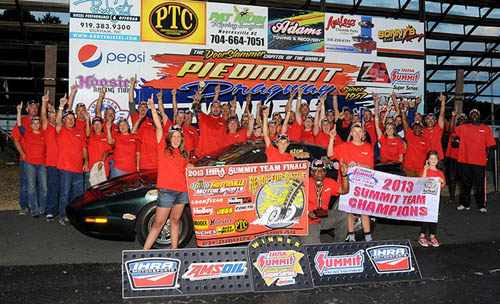 Fayetteville Motorsports Park celebrates team win.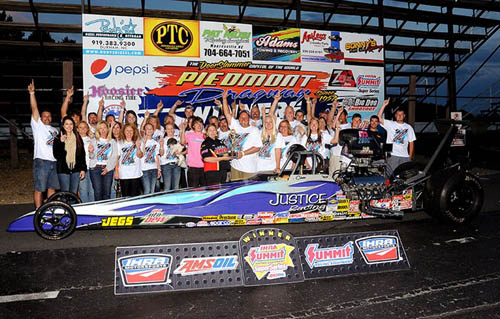 Main Event Top Winner Circle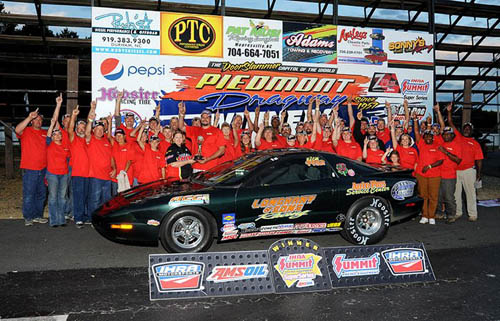 Main Event Mod Winner Circle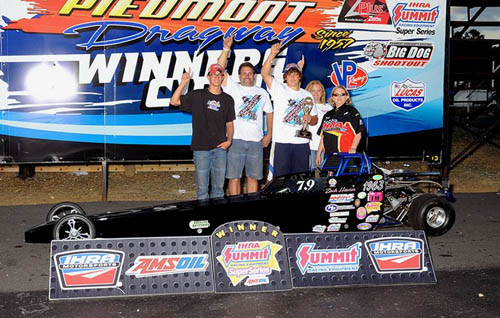 Main Event Junior Winner Circle




IHRA: 10 Most Recent Entries [ top ]

Jun 30- World Champion Beard, Hometown Driver Powell Headline IHRA Summit Sportsman Spectacular
Jun 30- Glenn Doubles Up at IHRA Summit Sportsman Spectacular at Darlington Dragway
Jun 30- Soucek's Big Day Highlights IHRA Summit Sportsman Spectacular at Dragway 42
Jun 30- IHRA Summit Sportsman Spectacular US 131 Motorsports Park
Jun 30- IHRA Summit Sportsman Spectacular Xtreme Raceway Park July 26-28, 2019
May 12- Richmond Dragway Remains Strong Part of IHRA Family
May 12- Michigan Track Undergoes Renovation, Joins IHRA Family
May 10- IHRA Summit Sportsman Spectacular Darlington Dragway
May 10- IHRA Summit Sportsman Spectacular Dragway 42
Apr 23- Historic Delaware Track Gets Off to Another Strong Start